From Posh to Budget- 5 Great Equestrian Holidays in the UK
Great picks for equestrian holidays in the UK, including a place to ride rare Fell Ponies in England, a stunning destination that helps you ride unguided in the Cambrian Mountains of Wales and beyond.
Ever since Equitrekking launched on Horse & Country TV in the UK, Ireland, Scandinavia, the Netherlands and beyond, we here at Equitrekking have gotten more and more requests from international travelers who want to take an equestrian holiday. For all you British fans of Equitrekking and Anglophiles, check out these destinations where you can take a riding holiday in Great Britain. For those of you living in the UK, many of these destinations will allow you to bring your own horse.
Looking to ride abroad? Check out the Equitrekking Vacation Guide for top riding vacations, including great places to ride in Europe, and Top20Ranches.com. For more guidance when planning your vacation, talk to an equestrian travel specialist from EquitrekkingTravel.com.
A between the ears shot riding along beautiful trails with FreeRein Riding Holidays in Wales.
UK Equestrian Holidays
England's Rossendale Valley in the South Pennines with Peers Clough Packhorses
Ride locally bred Fell ponies, an endangered breed, in small groups consisting of one to four riders through the wild moorland landscapes with family-run Peers Clough Packhorses. Peers Clough Farm is an over 200-year-old former dairy farm located on the borders of Lancashire and West Yorkshire. Peers Clough rests on the Mary Towneley Loop, part of Britain's first long-distance bridleway, making for lots of great trails for riding. From this British Horse Society approved riding center, take a trail ride lasting from one hour to the five day Mary Towneley Loop riding holiday. This 47-mile circular route at the heart of the Pennine Bridleway National Trail will earn you bragging rights! The terrain ranges from wooded valleys and peaceful reservoirs to undulating moorland. Riders trek along historic packhorse trails, stopping for picnic lunches and staying at local inns and B&Bs. Peers Clough also runs popular pub rides and invites travelers to stay in the farm's bed and breakfast accommodation. This is a good option for riders traveling with non-riders, who may wish to go cycling or hiking while their companion rides horses. Cost: B&B rates start from $46 USD* (£28) per person per night and guided rides start at $216 USD* (£130) per person per night, based on twin accommodation, and including all meals and riding activities.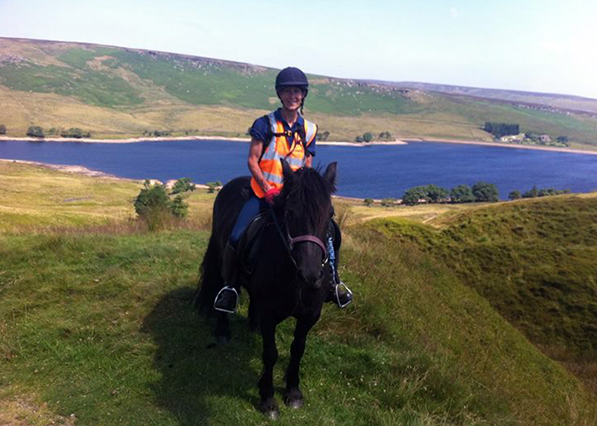 Chris and Bangle taking in the views with Peers Clough Packhorses.
Cambrian Mountains in West Wales with Caeiago
We were able to explore this beautiful part of rural Wales with Caeiago for our Equitrekking TV show. Lots of riders from the UK, including a fair number of single female travelers, choose Caeiago for their equestrian breaks, ranging from full weeks, mid-week or weekends. It's got a great homey atmosphere, strong Welsh Cobs for trekking and beautiful surroundings. You can ride your horse right out of the stables to reach trails that run through forests, by lakes, into small villages and rugged mountains. Travelers normally ride for four to five hours each day to explore the Cambrian Mountains, take in views of a nearby lake or enjoy a picnic lunch or ride to a local pub. Guests to this longtime, family-run riding destination stay in the family's Victorian farmhouse or in the newly built accommodations opposite the home. Riding holiday packages are year-round, including in winter snow, and include full board accommodation, guided riding and more. Cost: Riding holidays start at $293 USD* (£177) per person per day.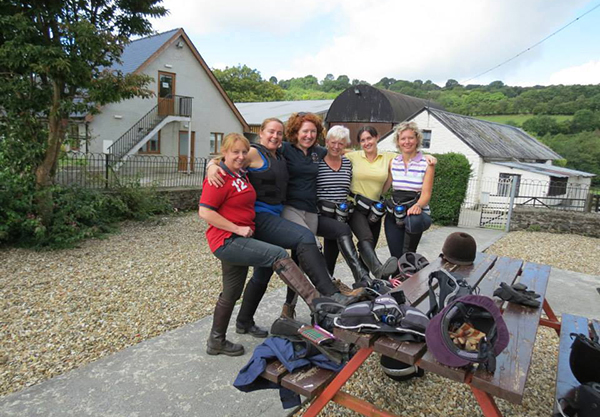 A group of ladies from Liverpool at Caeigao in Wales.

Cambrian Mountains in mid-Wales with FreeRein- Guided or Unguided Riding Holidays
The Cambrian Mountains in Wales are a beautiful place to saddle up. UK equestrians can saddle up on one of FreeRein's horses to explore on self-guided or guided riding adventures with FreeRein Holidays on Horseback, whose vacations take place in mid-Wales between the Brecon Beacons National Park and the Snowdonia National Park. Enjoy a two-day trail riding vacation, horseback riding across the Wye Valley to the Black Mountains and outstandingly beautiful Brecon Beacons. Chellenge yourself with a seven-day trek that covers around 100 miles along Great Cambrain Horse Trail network. Guests normally ride from between five to eight hours each day and cozy down in an old stone farm house, inn or B&B each night along their route. On some trails, riders may be able to stop at a local pub for lunch, while on others, you'll picnic with your packed lunch. Cost: From $539 USD* (£325) per person for two days, including everything except daily lunches and evening meals when you stay at an inn or hotel.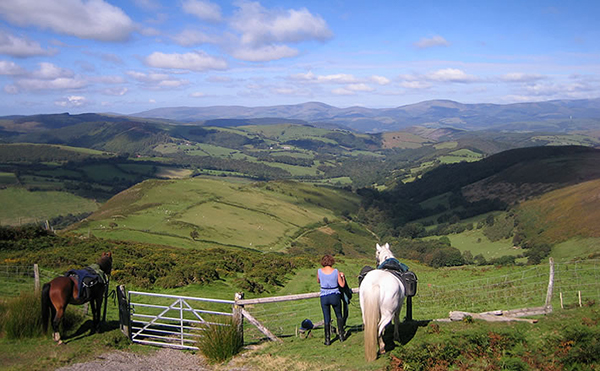 Stopping for lunch and to take in the views with FreeRein Riding Holidays.

England's Lake District with Cumbria Rural Academy and Cumbria Trail Riding, Bigland Hall Riding Centre
Located 15 minutes from Lake Windermere, Bigland Hall Riding Centre is British Horse Society Approved riding centre that offers treks across Lakeland Fells, ranging from a one hour trail ride to a six day horseback riding holiday. After riding through wooded trails in Grizedale Forest, make a stop at a 16th century farmhouse and enjoy lunch at the pub on the two or three-day Coniston Trail Ride. Experienced riders may saddle up for a five-day riding vacation through historic villages, steep ancient byways and old quarry roads, taking in views of the lakes and staying in B&B's and inns. Back at the riding center, there is an indoor arena and lessons available in Classical Riding. Cost: From $332 USD* (£200) per person per day for multi-day riding holidays, including accommodation and evening meals.
The 6 day trail riding vacation for intermediate riders takes travelers on a tour of the Lakes and to visit the historic sites of Beatrix Potter and William Wordsworth.

England's Shropshire Hills Trail Riding with Country Treks
Country Treks is a BHS Approved Riding Centre in the village of Stottesdon on the Shropshire/Worcestershire border offering tailor made treks, two-day trail rides and a variety of accommodations ranging from camping in the tented village to dormitory accommodations to country inns. Guests may bring their own horse or ride one from the riding centre, enjoying the 20x40 foot outdoor arena, day rides and the two-day trail ride. Guests have enjoyed trekking here for over 15 years, conquering ancient sheep trails, quaint villages, riding to the local pub or to the ancient Bronze Age Fort Nordy Ring. Travelers on the special two-day trail ride will enjoy ending the first day at The Tally Ho, a pub frequented by Elton John. Equestrians who enjoy jumping can explore 50 cross country jumps ranging from tiny logs to larger obstacles on the second day, trekking through Tugford Farm. Cost: The two-day trail ride runs $456 USD* (£275) per person, including luggage transfer and B&B. Meals are extra.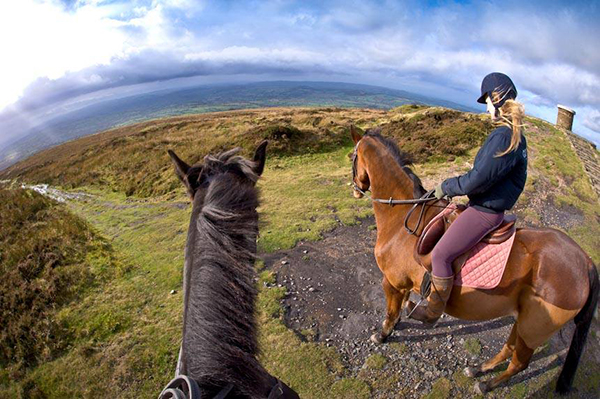 Riding over the beautiful Brown Clee through herds of wild horses to enjoy views across the Malverns and into Wales.
Check out the Equitrekking Vacation Guide for top riding vacations, including great places to ride in Europe, and Top20Ranches.com. For more guidance when planning your vacation, talk to an equestrian travel specialist from EquitrekkingTravel.com.

* Prices are based on the GBP. US prices subject to changes because of currency conversions. The pricing and information was accurate at the time of this article's publication. Please contact each place directly for more information and the most up to date pricing and itineraries.