Fort Robinson Trail Riding in Nebraska
After receiving many e-mails from Equitrekking viewers who raved about their experiences riding at Fort Robinson, I had to find out why this Nebraska park is so popular.
by Darley Newman, as published in her Trail Rider column in True West magazine

Situated near Crawford, Fort Robinson is a microcosm of American and military history. The U.S. Army established this Indian Wars outpost in 1874 to protect the Red Cloud Agency. The fort saw the surrender of Sioux Chief Crazy Horse in 1877 and the tragic outbreak of a band of young Cheyennes the following winter.
Soldiers also guarded the heavily trafficked Sidney-Deadwood Trail to the Black Hills. Sometimes that traffic included horse thieves. In March 1877, a cavalry company and Indian scouts covered nearly 350 miles over a two-week span to apprehend three thieves. The soldiers recovered two army horses, one mule and 68 Indian ponies!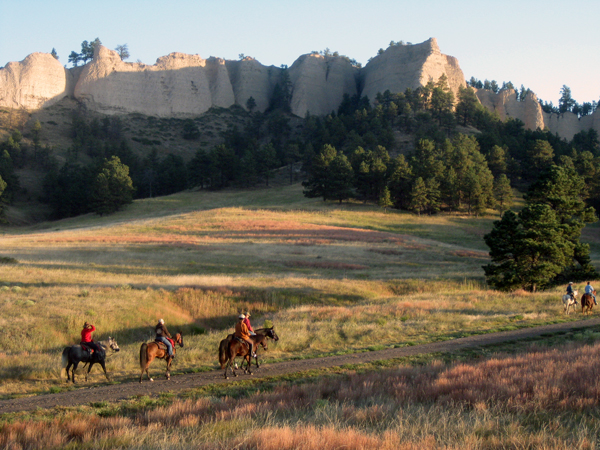 From 1887-98, the post hosted the black soldiers of the 9th Cavalry, during a time when the Army was still segregated. Frederic Remington rode these trails with them, while he was sketching at the post for a magazine assignment.
Records in 1876 show that soldiers counted among their duties escorting remount horses from the railroad at Sidney to the post. Fort Robinson would grow into the Army's largest remount depot. Horses were broken, bred and trained at the fort, and it was not an easy task. "Actually we had a rodeo every day, or every day that there were horses to ride. Once a horse quit bucking, he'd walk, trot, gallop. We'd call them well broke and gentle. Some of the cavalry and artillery didn't quite agree with that classification, but that's the way they were issued out," said remount veteran Ed Bieganski, in Tom Buecker's book, Fort Robinson and the American Century, 1900-1948.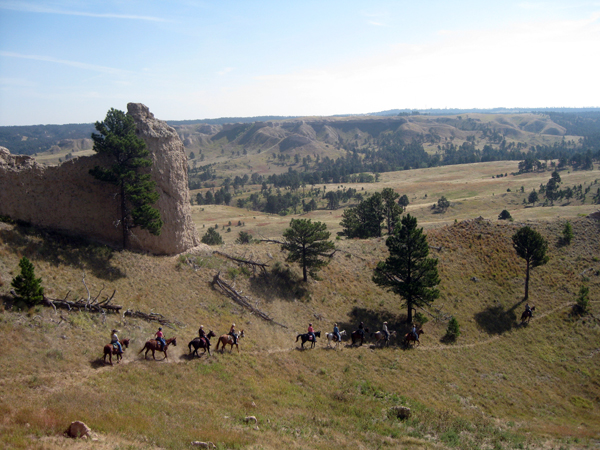 Many famous horses were a part of the fort's breeding program. The first Triple Crown winner in 1919, Sir Barton, was loaned to Fort Robinson's stud. Silver medalist and jumper Jenny Camp was one of the more notable mares. By 1943 an estimated 12,000 horses had been trained at Fort Robinson.
At Fort Robinson, visitors can retrace the fort's frontier history at a dozen historic structures, including the remaining blacksmith, mare barn and harness shops, and the Fort Robinson Museum.
On horseback, you can ride all kinds of trails, most of which are fire or two-track trails, meaning they are nice and wide. You'll trek amid herds of Texas longhorns and buffalo. Vast open meadows lead to tall buttes and stunning rock formations that you can ascend to take in views of the area. Besides trekking through the park on your own horse, you can also take guided trail rides during the warmer months. You can make riding in this 22,000-acre park as challenging or as laid back as you choose, depending on which route you pick.
The park plays host to several trail rides each year. "Ride the Ridge" is an annual ride that follows the historic Sidney-Deadwood stagecoach trail down Breakneck Hill to Fort Robinson, usually in July. All horse breeds are welcome for the Arabian Horse Association Fort Robinson trail ride.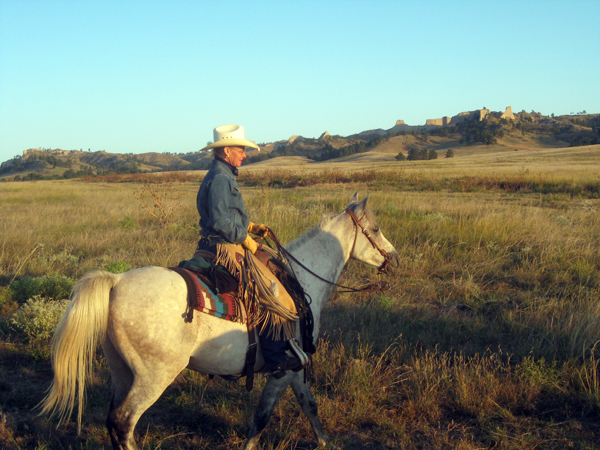 A rider in Fort Robinson participates in the Arabian Horse Association Fort Robinson Trail Ride.
For those who wish to bring their own horses to ride at the park, the horses can stay in classic stables that have been remodeled. The mare barn is popular, because it's within walking distance of the campground. You can camp or sleep in historic accommodations, including the 1909 enlisted men's quarters or the former officers quarters that date from 1874-1909.
While resting your head after your trail ride, you can think back to the horse races that were a favorite pastime of these soldiers. Second Lt. Homer W. Wheeler was definitely the richer because of one held in 1876; when his 5th Cavalry horse won, he got $200!

More Information on How to Visit Fort Robinson in Nebraska:
Fort Robinson State Park tel: 308-665-2900
Fort Robinson Museum tel: 308-665-2919
Horseback Trails in Nebraska