Flying Horse Farms: Interview with Founder Jenni Belford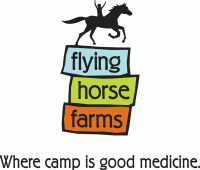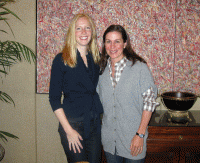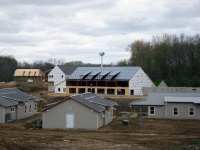 by Darley Newman

On my recent visit to speak at Equine Affaire in Columbus, Ohio, I had the opportunity to meet with representatives from Flying Horse Farms, a camp for kids with serious illnesses that is opening in Ohio in the fall. Having attended summer camps every summer of my childhood, camps in general hold a special place in my heart. It's at camp that I was introduced to a lifelong passion, horses, and made great friends that I am still close with today.
Besides the camp's 16 cabins (currently 12 are built), Ohio's children with serious illnesses will be able to utilize an equestrian center with an indoor riding area, an arts and crafts center, an amphitheater, an indoor recreation center, an archery range, a wheelchair accessible tree house, a boating and fishing harbor, an outdoor pool with a warming hut for children with sickle cell anemia, a dining hall and a 100-year-old barn that has been reconstructed as the Welcome Center. There will also be a 24-hour medical facility and 24/7 on-site medical staff.
Jenni Belford, the camp's founder, has been a driving force behind Flying Horse Farms. Belford herself came up with the camp's name, based on a children's book called "The Big Red Barn" by Margaret Wise Brown.
"The Big Red Barn is one of children's author Margaret Wise Brown's most famous books. One of the pages in the book talks about the golden flying horse on top of the weather vane on the barn, and we thought that sounded like fun. Imagine a child with wind in (his or her) hair on a horse, experiencing the here and now. To us, it symbolized freedom from pain and suffering," Belford said.
Darley: Will the camp actually have a big red barn?
Jenni: Yes, the camp received a 100-year-old historical barn as a gift. We had a team of Amish builders take the barn apart, beam by beam and board by board. The barn was moved in thousands of pieces and reconstructed at the Flying Horse Farms camp site by the same dedicated group of Amish builders. When complete, the barn will serve as our welcome center for the kids – once they walk through the barn doors they will retreat into camp - a place of magical transforming fun!
Darley: What inspired you to found Flying Horse Farms?
Jenni: For many summers our family had a one day event at our Mt. Gilead Ohio farm where we invited Special Wish kids to come with their families and enjoy a day of horseback riding, fishing, hay rides, smores, boat rides and family fun. We looked forward to this day all year and wished that we could use our farm more often to give kids and their families a much needed break. The happiness and joy we felt giving back to these kids and their families was an amazing feeling, and we wanted to find a way to make that feeling a permanent one. The annual event inspired us to open a camp where we could serve children with serious illnesses and their families all year long.
Darley: What are some illnesses from which children who have the opportunity to go to camp at Flying Horse Farms might suffer?
Jenni: When fully operational, Flying Horse Farms will serve up to 2,500 children of all ages and their families each year with:
Arthritis
Severe Asthma
Cancer
Gastrointestinal Diseases
Heart Disease
Hemophilia and Related Blood Disorders
Sickle Cell Disease
Our 24-hour on-site medical facility will be staffed by volunteer doctors and nurses from area children's hospitals. Children can receive treatments, daily infusions or medications, allowing thousands of children to attend camp who otherwise would be unable.
Darley: What makes this time at camp special for these kids and their parents?
Jenni: For seriously ill children their diseases begin to define them. They spend many days in and out of the hospital undergoing painful treatments and procedures. Once they are diagnosed, their activities are restricted and their school and social life dramatically changes. At camp, children with serious illnesses have an opportunity to be independent, to be away from their parents, doctors and medical procedures. Their focus changes from what they can't do to what they can do. The kids are surrounded by other kids who are just like them. For many of our campers, they finally feel as if they fit in with their peers – they all share a common bond and similar stories. Their week at camp is a time of freedom and fun and a time when these kids focus more on the incredibly fun camp experience and less on the disease they are fighting.
For the parents of a sick child their lives change in an instant with the diagnosis of diseases such cancer, heart disease, sickle cell and gastrointestinal disease. When their child goes to camp, the week is a time for mothers and fathers to reconnect with their healthy children and with each other. All too often the child with a serious illness becomes the entire family focus which can be difficult for the healthy siblings in the family. The week at camp provides a wonderful respite for the seriously ill child as well as their family.
Darley: I know I loved my summers at camp as a child. Were you a camp kid?
Jenni: Absolutely! I went to Marmon Valley Camp in Zanesfield, Ohio where I spent some of the happiest days of my childhood mucking stalls, riding horses and enjoying friends!
Darley: What are some activities that kids who attend will be able to experience?
Jenni: At Flying Horse Farms children will have an opportunity to enjoy a total camp experience. Our goal at camp is to make EVERY activity accessible to EVERY child – regardless of their disease or physical problems.
Children who attend Flying Horse Farms experience camp like an ordinary child. For one magical week, they step outside of their sickness to experience activities such as: canoeing, swimming, horseback riding, arts & crafts, ropes course, and much more.
Darley: How will horses play a role in camp activities?
Jenni: All of the Hole in the Wall Camps have found that horseback riding is very therapeutic to the campers. For so many, working with and riding the horses provides the most unforgettable camp experience. With opportunities for arena and trail riding, our campers can develop their own "horse sense" as they learn how to care for, tack and ride a horse.
Our equestrian center will have 16 stables, a tack room, office and veterinarian space totaling 6,400 square feet, and a 11,500 square foot covered riding arena and expansive grazing pastures.
Darley: Will the camp be operational year-round?
Jenni: Yes, we are a year-round facility. We will have week-long camp sessions in the summer serving up to 120 kids per week and then offer family and sibling weekend retreats during fall, winter and spring.
Darley: What are some of your short and long-term goals for the camp?
Jenni: Our short term goals are to finish raising the funds to complete the construction of our camp. To date we have raised over $11 million dollars and we are working very hard to complete our capital campaign of $20 million dollars. Construction on the camp began last fall and we are thrilled to announce we are on time and under budget! We look forward to opening weekend family camps starting fall 2010!
Our goal is to become the best camp for children with serious illnesses in the world and work with our medical partners and great community resources to bring the healing power of camp ever more effectively to more children. After completing our capital campaign we will continue to raise money to create an endowment for Flying Horse Farms. We will work tirelessly to become a first class camp that is sustainable and recognized as a treasure to all the children, families and children's hospitals throughout the Midwest region.
Darley: Do campers pay to come to Flying Horse Farms?
Jenni: No camper or family will ever pay to attend camp – this was one of Paul Newman's lasting wishes for all of the Hole in the Wall Camps. The fulfillment of Flying Horse Farms' ongoing mission relies on the generous support and participation of volunteers, corporations, foundations and individuals.
Darley: What are some ways that people reading this can help?
Jenni: Your gift of time, talent or treasure can help children with serious illnesses rediscover the wonder of childhood through a magical, transforming and fun experience at camp. We will staff our camp with committed and dedicated volunteers and permanent staff who enjoy working with children in areas such as: horses and the therapeutic riding, arts and crafts, pottery, wood shop, fishing, boating, archery, gardening and cooking.
For more information about Flying Horse Farms or to donate, go to FlyingHorseFarms.org.
Learn more about Hole in the Wall Camps and see an animated version of Flying Horse Farms Camp in the videos below.