Fly-Fishing Ranch Vacations
Three great places where you can combine fly fishing with horse riding on a dude ranch vacation.
In addition to horseback riding, a favorite American outdoor pastime is fishing. According to some estimates, approximately 40 million people are considered "anglers". In recent years a slew of fishing TV shows and iconic movies like "A River Runs Through It" have further popularized the sport of fly fishing. Like riders, fly fishermen are passionate about their sport.
Ranches around the United States, and particularly out West, offer combination fly fishing and riding vacations for both the beginner and experienced angler. Some offer women's-only programs, while others cater to couples, men and even kids, allowing guests to walk or ride to lakes and streams in pristine natural areas, where the trout are as plentiful as the landscape is breathtaking. If you are a beginner going on your first fly fishing vacation, you may want to take notes or study up on your terms, because like riders, people who love fly fishing have their own lingo.
I've tried fly-fishing a on many of my travels. During one summer, I traveled to many favorite Wyoming rivers and streams around Yellowstone and the Bridger-Tetons to see if I could get into the Zen of fly fishing. I should be pretty good at it by now, and while I'm definitely not a pro, it is something that I enjoy when I'm on location at dude ranches, guest ranches and great natural settings across the U.S. and around the world. I even recently went fly fishing in Botswana!
Here's a rundown of three diverse and great ranches to experience fly-fishing and riding. What a combination! But there are many more. For more great ranches with fishing and other activities, visit the Equitrekking Vacation Guide.

Red Horse Mountain Ranch, Idaho
At this Idaho dude ranch, you can enjoy leisurely self-guided fishing adventures on site at the ranch's pond, or head out for a lesson with the pros. On the ranch, where fishing is catch and release, fly rods or conventional fishing tackle are provided for you, as are kayaks. The pond's waters are home to perch, trout ranging in size from 1/2 pound to over 5 pounds, smallmouth bass, largemouth bass, crappie and brook trout.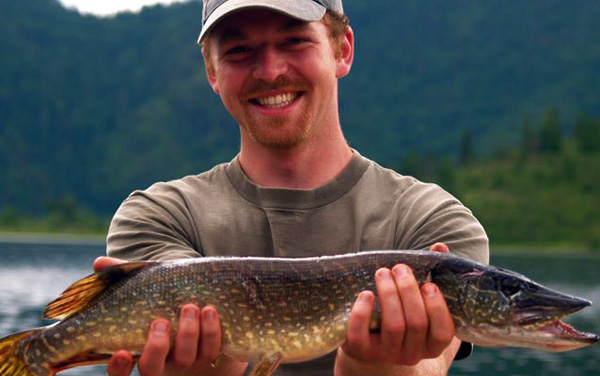 Traveling a little further afield, about a five minute drive from Red Horse Mountain Ranch, hop in a motor boat and head out on a guided tour on the Coeur d'Alene Chain Lakes and Lake Coeur d'Alene, where bass is the catch of the day. National Geographic Magazine called Coeur d'Alene Lake "one of the five most beautiful alpine lakes in the world," so you're in for some beautiful scenery on this fishing adventure.
For those you want an all day adventure, take a drift boat fly fishing tour on the St Joe River where major hatches of mayflies, stone flies, and caddis flies produce high fish counts and you'll learn fly fishing techniques from pro guides.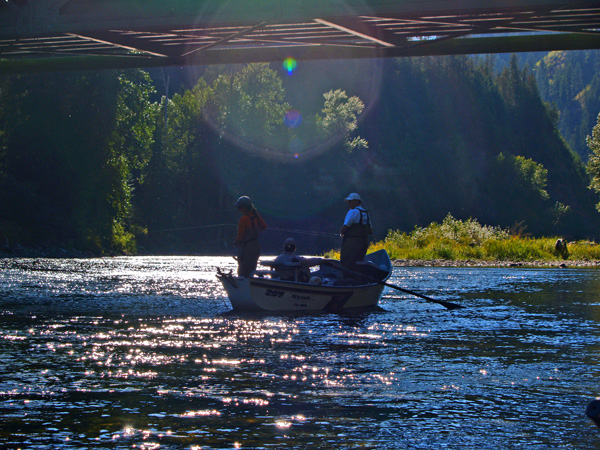 Siwash Lake Ranch, British Columbia
Head up to BC for remote and untouched Cariboo rivers, lakes and streams that are home to legendary 2 to 15 pound rainbow trout. Siwash Lake Ranch, a luxury dude ranch surrounded by 80,000 acres, has more than nine trout fishing lakes and a river within an hour of the ranch.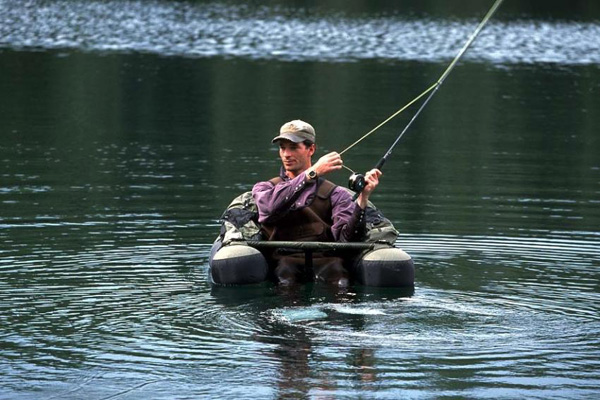 A private guide can teach you fly fishing, traditional spin casting from shore, lead you trolling from a boat and provide waders, float tubes, and the other necessary equipment like rods, reels, flies, bait and lures for your fly fishing adventure. If the fly fishing lingo that you just read is Greek to you, don't worry. You're in professional hands, so will learn a lot!
For the more daring, this guest ranch also offers ice fishing in the winter!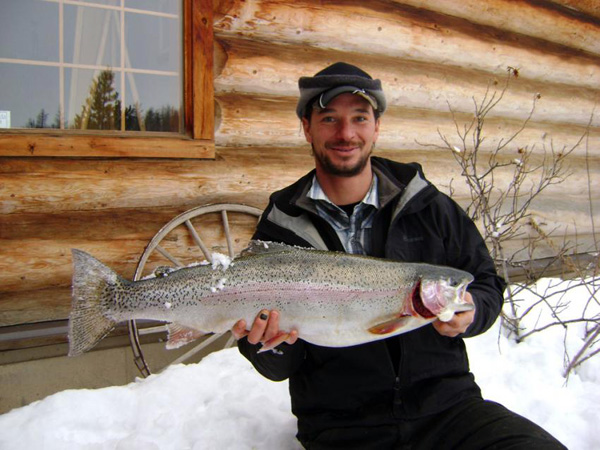 Covered Wagon Ranch, Montana
At Covered Wagon Ranch, horseback riding and fly fishing are a primary reason that folks visit this historic dude ranch that is located only three miles from Yellowstone National Park. This dude ranch is surrounded by over 120 miles of blue-ribbon water in the Gallatin Canyon alone.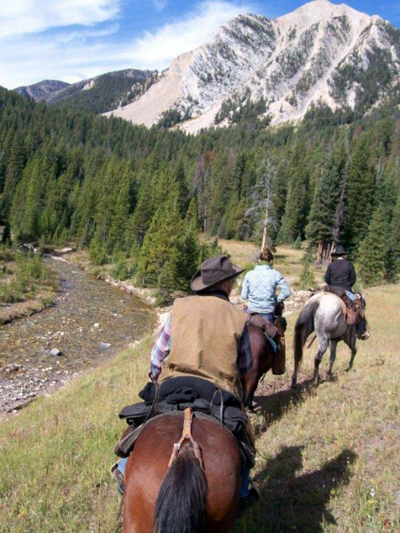 Head over to Yellowstone and enjoy fishing the famous Henry's Fork River, a favorite of Jack Hemmingway, President Theodore Roosevelt and William Jennings Bryan. You can fish on over 50 miles for rainbow and native cutthroat trout here. The famous Madison River is nearby too!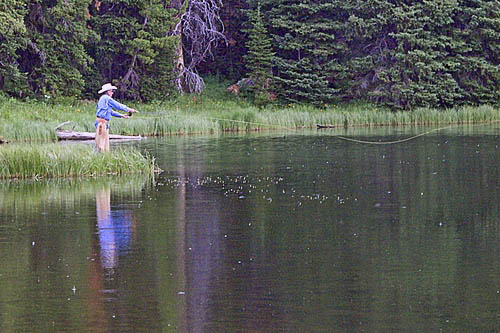 Fly Fishing Tip: Wet vs. Dry. What's the difference? Dry flies will float above the surface, acting like an insect that has fallen, landed or is jumping on the surface of the water. A wet fly goes underwater, acting like insects or larger aquatic creatures such as crawfish or leeches found underneath the surface. Many beginners will start out wet fly casting, because it's easier to throw a wet fly. Remember, you don't want to scare the fish away on your first fly fishing adventure!

Learn about other great ranch vacations with fly fishing in the Equitrekking Vacation Guide, where you can find great dude ranches, guest ranches and cattle drives.