Five Reasons to Visit Montana's Bar W Guest Ranch This Summer
From one of America's premiere national parks to charming Whitefish to kid-friendly fun, there are lots of reasons to head to the Bar W Guest Ranch for a Montana dude ranch vacation this summer. Here are five of the top reasons to go West, saddle up and be ready for adventure.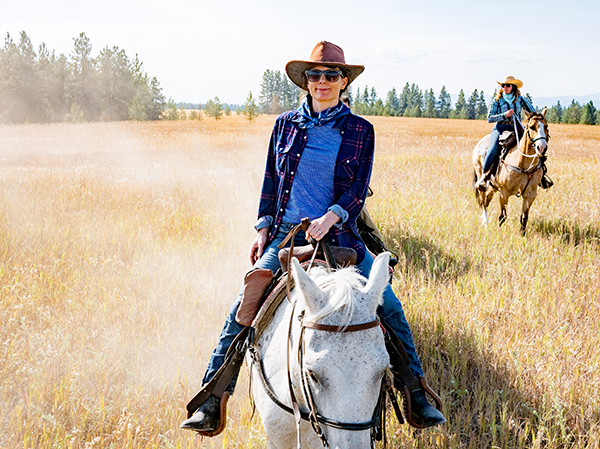 Riding at Bar W is geared to a variety of skill levels.
1. Kid-Friendly Ranch
Parents seeking to enjoy a vacation where they don't have to worry about their kids being bored, often pick a dude ranch vacation. From learning new skills like horseback riding to getting to interact with their peers to giving mom and dad some time alone, there are lots of benefits to vacationing at a guest ranch.
Kids, too, can learn something new and enjoy an adventure vacation at Montana's Bar W Ranch. The children's program at the ranch has something for all ages. Junior Cowpokes, age seven to eleven, will enjoy trail rides with adults as well as special Junior Cowpokes Rides for any child that does not want to do longer rides with their parents. Junior Cowpokes will enjoy miles of trail rides and games in the arena. Parents will have the opportunity to participate with their kids in some of these activities, as well as enjoying adults only rides and activities.
There's plenty for kids to do outside of the saddle as well! The Bar W has two baby goats, a rabbit, chickens, cat, and two ponies so they can have their own "petting zoo" and also have the option to help with chores including; collecting eggs, grooming, feeding, and cleaning the animals' pens. Children are welcome to take a fly casting lesson and fish for trout in our stocked pond. We also have a good ole' fashioned swimming hole on property, Spencer Lake. Kids are welcome to swim, kayak, row boat, or even stand up paddle board! Lots of crafts are available including; painting a horseshoe, or the always popular "paint your horse," coloring in your very own "dude ranch vacation coloring book," and tie dye a shirt.
The kids program is designed to allow parents the freedom to experience all we have to offer, while being confident that their child is receiving the best care and making lifelong memories of their own!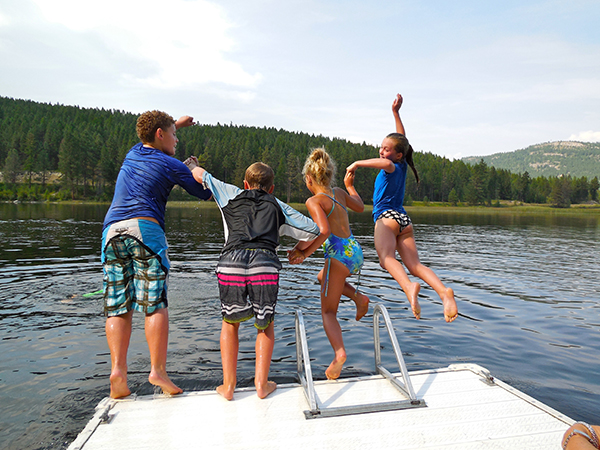 Kid-friendly fun at Spencer Lake.
2. Family Fun
One of the challenges of planning a modern vacation is pleasing your entire group. Bar W Guest Ranch offers a plethora of activities on site and just nearby to engage your entire family. In addition, their 6 night itinerary takes away the challenge of planning with a well-balanced combination of Western activities and scheduled down-time.
Montana summers bring a variety of outdoor activities around the ranch and the surrounding area. The fishing is as good as the sunsets, catching large trout and Pike both on the Bar W trout pond and Spencer Lake. Take the family for a leisurely cruise around the lake on a row boat or canoe, jump in for a refreshing swim, hike miles of trails, enjoy a relaxing afternoon of birding and lawn games, or explore the unspoiled nature of Montana on Bar W mountain bikes. Follow their expert wranglers to the play meadow for skeet shooting or archery or take the afternoon to whitewater raft down the Middle Fork of the Flathead River with Glacier Raft Company. After a long day of activities, unwind in the hot tub or sit back, relax and let Montana surround you. Your day doesn't have to be over when the horses are fed and put out for the night. Enjoy an evening wagon ride, cowboy singing, campfires, cookout dinners, western dancing, and even experience the excitement of the local rodeo when scheduled.
Of course, horseback riding is a premiere ranch activity with trail rides ranging from one hour to all day rides to the Canadian border. Here's what one family recently had to say about their Bar W vacation.
"We had hoped that this vacation would be somewhere in the same ball park as the Disney vacation we recently took. Well, Bar W, you knocked it out of the park. We now have something we can do as a family anywhere in the world. There wasn't all that stimulation prompting us to buy things. We weren't afraid to just relax and let the kids just run free. We spent more time together as a family and we were more engaged as a family with the never ending abundance of things to do. It was the best vacation we have had together – we will be back." Bernadette, Wellesley , MA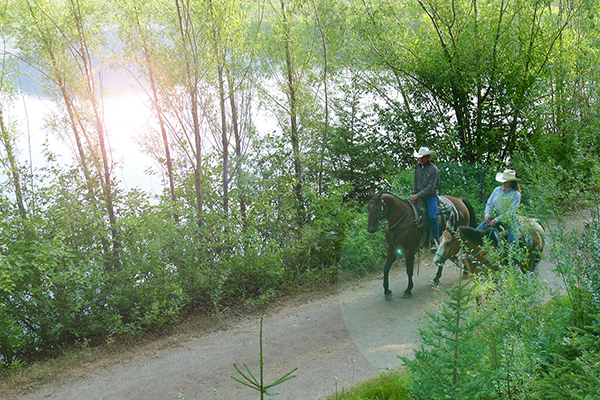 Experiencing the true Western lifestyle on a trail ride at Bar W.
3. Glacier National Park
A true treasure, Glacier National Park is just 23 miles from Bar W Guest Ranch. Travelers can enjoy the Going to-the Sun Road in their car or on a narrated "jammer" Red Bus Tour. This route is a national historic landmark covering 50 miles through the park's interior. Hiking is one of the most popular excursions in this national park, which boasts 700 miles of well marked trails that pass by glaciers, mountain lakes, bighorn sheep, and other wildlife. This national park was named a UNESCO World Heritage Site in 1995 and is a must-see when visiting Bar W Guest Ranch.

4. Whitefish Charm
In an enviable location in the resort town of Whitefish, Bar W gives guests the best of both worlds, feeling a world away at the ranch and being beside the artsy and down-to-earth town of Whitefish, where special events, local galleries, coffeehouses, live music and saloons provide entertainment. Downtown Whitefish is just 3.5 miles from the ranch, and guests are invited to head into town at their leisure, simply ask the ranch for their shuttle to take you into town! While in Whitefish, visitors can shop for handmade crafts at the Purple Pomegranate, grab a pint at the Great Northern Brewery, or schedule a massage at Remedies Day Spa. Forgotten something you wanted to bring for horseback riding or hiking or just some new active wear? Look for it at The Toggery, family owned for over 65 years. This vibrant resort town boasts all locally owned dining, boutique shopping, without losing touch with its Montana roots.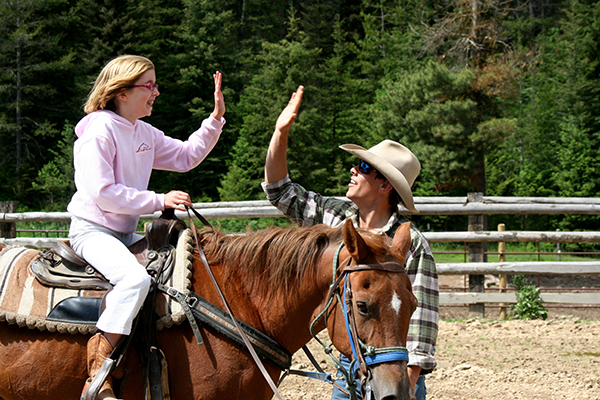 Guests are paired with their own horse for the entire duration of their stay!
5. Glamping
Bar W takes modern camping to a whole nother level with their onsite Glamping, or glamorous camping. Large, luxurious tents set next to wildflower strewn pastures welcome you to feel at one with nature in comfort. Tents are outfitted with a queen size bed, a handcrafted log futon, front porch, refrigerator and coffee maker. A private, heated bathroom is located just a couple of feet from your tent. For those who want to experience camping in Montana, but don't want to rough it, Bar W's unique options offer the best of both worlds, feel apart of nature without sacrificing creature comforts. Other options for accommodations at the Bar W include the traditional western style lodge or rustic log cabin suites.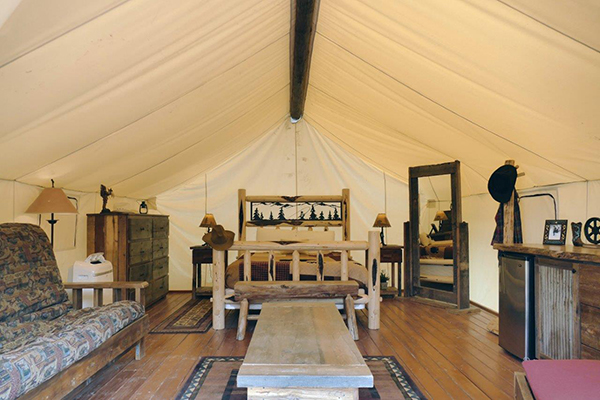 A deluxe Bar W Glamping tent.
Learn about Bar W Guest Ranch on their website and on their page in the Equitrekking Vacation Guide and Top20Ranches.com.