Five Equine Themed Activities to Explore at Salamander Resort & Spa
From yoga on horseback to carriage rides through Middleburg, check out fun equine themed activities (requiring no equestrian experience) for horse lovers visiting Salamander Resort & Spa.
by Caroline Maffry
Heading to Middleburg, Virginia anytime soon? After reading all there is to offer at Salamander Resort & Spa, you'll wish you were. Best of all, you can! Neatly tucked into the Virginia horse country minutes from downtown Middleburg, this is one secret that you will want to share.
On my second visit to Salamander Resort & Spa, I sampled a selection of equine themed activities that do not require any equestrian experience at all. If you have always had a love of horses but riding is just not for you, Salamander is the solution to your dilemma.

Although I am an avid equestrian and horse owner, I have many friends that do not ride. I'm asked frequently about vacation possibilities that allow for non-riders to participate, so I have come up with my top five equine themed activities that will allow you to restart your mind and body, Salamander style.
Use your stay to cleanse your mind and body with delicious foods to treat you on the inside, while spa treatments and stunning views pamper you on the outside. From yoga in the stable to carriage rides through Middleburg, there are activities to keep you fit and busy while you work or play visiting the area. The Salamander Resort & Spa is a great family getaway, too.

1. A Horse & Carriage Tour through Middleburg
The age-old art of a horse and carriage ride is alive and healthy at Salamander Resort. Why not ride in style and let someone else do the driving for you? There is nothing more relaxing than a carriage ride through Middleburg with the ever-charming coachman James Houston. I was picked up at the front of the resort, and as we left the property along the tree lined road, I was handed a mimosa to enjoy as I listened to the sound of the horses pulling the carriage along the path. With the clip clop of the horses' hooves, we pulled up alongside a field of broodmares all eager to greet us.
We stopped for some pastries and to refill our champagne flutes before heading down the road to a nearby vineyard. Conversing with James just added to the wonderful tour as he guided the horse drawn carriage over to the Chronicle of the Horse, as if this method of transportation was nothing out of the ordinary. Traveling along the path leading to the front of the resort, I realized my morning in Middleburg was like nothing I'd experienced before. The view from up in the carriage really does allow one to see things differently and what a great way to start your stay at the resort.

Author's reflection: Between activities, I borrowed a book from the Resort library and went to relax on the rear porch. Just off the grand living room, the view onto the lawn was truly stunning. Surrounded by guests this Sunday morning, some out for a stroll, others taking their morning coffee with the newspaper, I sat down for a quiet moment to take it all in. There was the faint sound of music coming from the living room behind me.
An inviting corner in the Resort library or a lunch on the Delaplane Terrace are just two of the perfect places Salamander has to offer for a peaceful spot to relax.
At first I thought the music was recorded as it was early, but it sounded so lovely, too lovely for a recording. As I turned around to dismiss this, I saw the man at the piano. I assumed it was an employee only to discover that it was a guest, quite a talented one to boot. He just felt like giving the grand piano some company and started playing. He played for ten minutes or so and without seeking applause or recognition; he gently stood up and continued with his day.

You might be treated to a guest sitting down at the piano or catch a glimpse of a group of guests heading out on the trail beyond the grand lawn. While sitting on the porch that morning, I really did start to understand the vision General Manager Trey Matheu has in mind for his guests: "We take dreamers and make doers out of them".
2. Sunrise Yoga in the Stable
What better a place than the Salamander Equestrian Center to spend the early morning hours doing yoga to jump start your day as the sun rises! With the horses in the nearby stalls enjoying their breakfast, I guarantee you cannot have this experience at your local gym! Lead by Carolyn Connell, this yoga session was literally breathtaking. We watched the sunrise as we were guided through each position. I am not so sure that the horses understood what we were doing in their aisle though.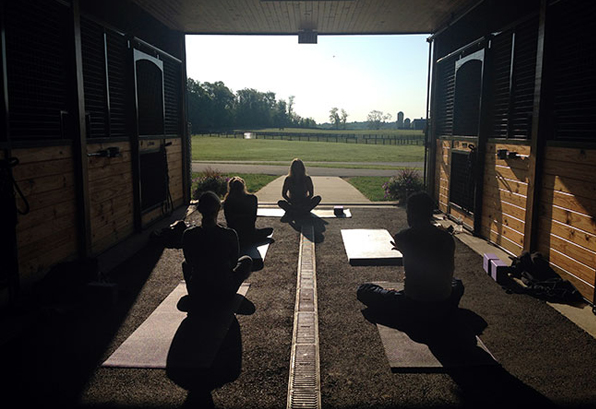 Salamander invites you to relax and unwind, indulge on foods that excite your palate, and try their wide array of activities available year-round.

Author's reflection: On a private tour of the Salamander Culinary Garden, Director of Landscape Randy Gore shared the resort's culinary vision for its guests. While focusing on health and wellness, the resort grows its own vegetables and herbs, selected at the request of the chefs, who then work the menus around the fresh and exciting selection of the season. Classically appointed with traditional Italian urns and stonework, the garden also features a private dining patio available to guests for private parties and functions. If you are looking to polish your culinary skills, try a cooking class in the studio. Immerse yourself in Virginia culture with locally inspired menus featuring culinary treats from Salamander's very own garden paired with local wines to round out your experience. While you're at it, follow up with "Yoga on Horseback," next on my list!
A view of the culinary garden straight into the kitchen for an omelet of my own making with freshly picked ingredients
3. Yoga on Horseback
Definitely a memorable morning! Designed for riders, non-riders, and curious guests in between, Yoga on Horseback gives you a chance to improve your balance, flexibility, strength, and posture both on and off the horse. While this does involve getting on a horse, you are not doing this alone. Immediately following your Sunrise Yoga in the Stable, this unique yoga experience allows guests to practice yoga while mounted on a horse. My daughter and I tried this 30-minute session, and we were amazed at how easy it was!
Using the horse for balance, the movements were carried out one after another under the guidance of the same yoga instructor from sunrise yoga in the stable. Since we had just practiced all of the movements on the ground, doing it on the horse lent us a new experience while continuing our quest for mindfulness and relaxation. The horses breathing helped steady our own.
Wonder how the horse stayed standing still? With the equine instructor team standing by our side, we were in good hands with two spotters on both sides of us and another holding the horse.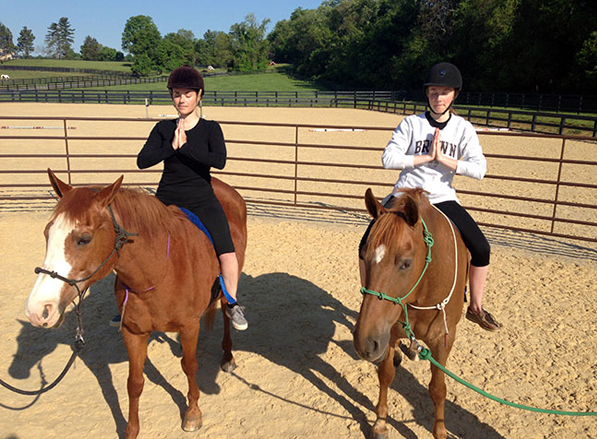 Dining suggestions: When dining at Salamander, there is something for everyone and something different for each meal of the day! A brunch on the veranda at Harrimans Restaurant is truly a symphony of senses for your pallet or dine at the Gold Cup Wine Bar, horse themed of course, which is a great alternative for a quiet night at the resort. From polo mallets as wall décor to the pool table and leather lounge chairs, you'll dine in comfort. Featuring local wineries each month, light bites to a full dinner can be enjoyed while relaxing in the Gold Cup Bar & Lounge.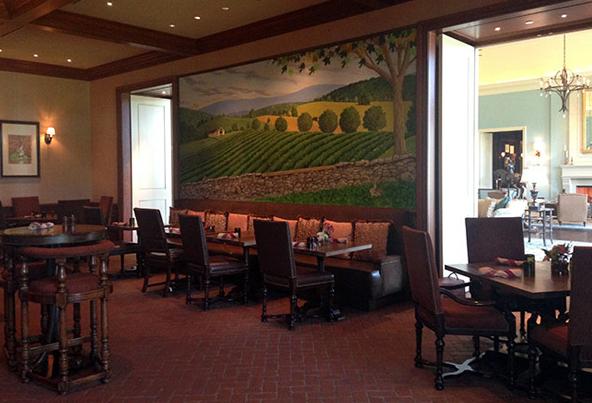 Salamander's Gold Cup Bar & Lounge. For other dining tips read my article which includes other Salamander dining experiences.
4. The Rider's Relief Massage
After a morning of yoga in the stable and yoga on horseback, my fourth choice for an equestrian themed must-do activity at Salamander Resort is their Rider's Relief Massage. Welcomed at the Spa Reception once again by name, I was soon greeted by Natalie Hampshire, the Assistant Director of the Spa. The Spa's naturally inspired location is designed to offer a health and wellness journey while balancing the mind and body.
The Rider's Relief Massage was just what I needed after my morning workout. Described as a unique treatment ideal for equestrian connoisseurs, the massage focused on releasing our muscle tension. Designed to mobilize the joints in affected areas, this massage lived up to its description and beyond. My spa specialist worked up and down my body applying just the desired amount of pressure to relieve the tension. Offered in a 50-minute or 80-minute option, this luxury, top-of-the-line massage is just one of many spa options available.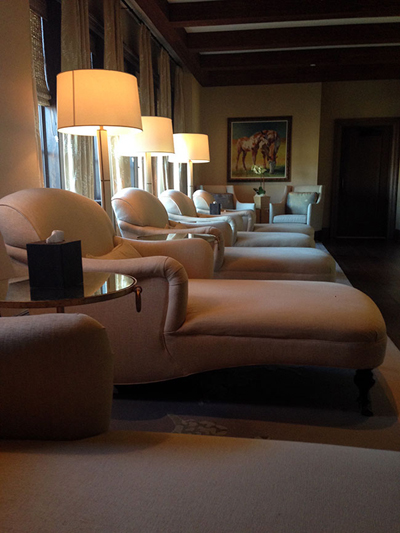 For more information on the resort and spa read my article on Visiting Salamander's Spa.
Whether you set out for a sunset bike ride or take a garden stroll to let your thoughts wander or toast s'mores at the fire pit and share a night cap and conversation to round out your day, Salamander Resort & Spa will leave your mind rested and your body relaxed with a better sense of being and overall wellness.

5. Salamander's Equi-Spective Experience
With the goal of developing extensive leadership expertise, Equi-Spective is a unique self-discovery program uniting horse and human. While observing and working with the horse, participants will explore their own ability to communicate, while focusing on their relationship skills with others to ultimately develop the art of leadership.
During my own Equi-Spective experience at Salamander, I was asked to listen with intention and actively follow my instincts. Perception can soon become reality and despite being a horse owner myself, I quickly realized that I needed to unlearn many habits that were a result of my perception, rather than truth. Instead of a horse (or human) behaving badly, I quickly learned that the fault was my own in how I was asking for something.
While working in the round-pen with an unbridled horse, free of all equipment, I was asked to guide the horse through a series of tasks using only confidence, trust, and by communicating with clarity. I needed to learn how to communicate in a language that the horse could understand. I was amazed how quickly I was able to lead this horse through a connection that we were forming, without the need for pushing or pulling or trying to overpower this animal with 10 times my strength. If I lost focus, the horse did too. If I was not confident in my request, the horse was unsure of what to do next. When I applied myself though, the horse immediately picked up on my own self-carriage, confidence and interest in leading.
Developing these skills and having the ability to practice them through this program went far beyond the round pen that afternoon. Not only was I able to achieve more precise and meaningful communication with my own horse on the ground and in the saddle, but I've been able to apply this new approach to effectively communicating with my colleagues at work and use these tools in my everyday life.
A highlight of my stay, I highly recommend this experience for families looking to better connect or strengthen their unit, friends or couples, and groups of colleagues looking to develop their community's leadership skills. Once again, the horse in the end, knows more than we do about this stuff.

Equine Director, Sheryl Jordan, has extensive experience in facilitating the Equi-Spective Program and will tailor it to suit your needs. It's perfect for a corporate retreat, families, social groups, students and more.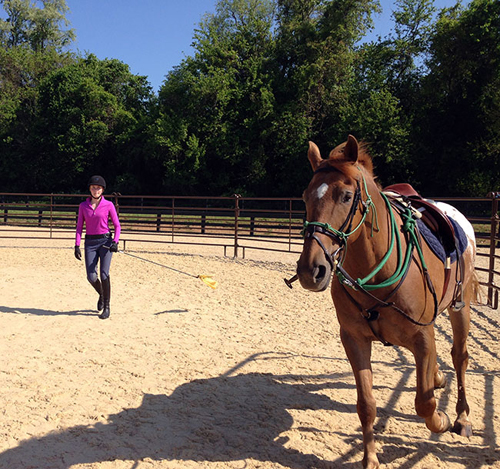 Alexis Mozeleski working with "Snowy" in the round-pen as Alexis learns how to channel her energy to the horse, working in unison as partners.
For more information on all Equine programs offered at Salamander, visit Salamander's website.

Local Equine Themed Activities beyond Salamander
There are lots of equine related activities in the area that should not be missed. These outings are a great way to enhance your stay at the resort while exploring what the local area has to offer. Whether it be the annual Upperville Horse & Colt Horse Show, or Gold Cup Races, horse-themed shopping and antiquing in Middleburg, the annual Hunt Country Stable Tour, trying a polo lesson or an evening at Great Meadow for Twilight Polo, there is something for everyone to explore. Check out the links to Equitrekking articles on all of these activities!
And for those horse lovers that DO want some time in the saddle… Ride out on one of the resorts trail rides with a guide and your equine friend for a canter across the Middleburg countryside for some morning excitement. Custom rides can be tailored to all riding abilities and disciplines, with bring your own horse options available too!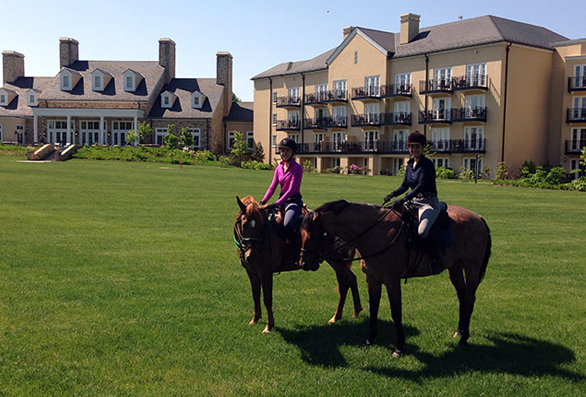 Author, Caroline Maffry, and daughter Alexis Mozeleski on the grand lawn after a morning trail ride. Read more about their mother/ daughter adventures at Salamander.