Filming Equitrekking in the West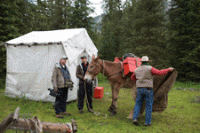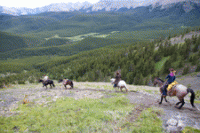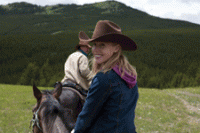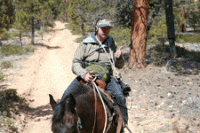 by Equitrekking host Darley Newman, as published in Darley's Trail Rider column in True West magazine
Equitrekking is about experiencing the world by traveling with local people on horseback. The locals are the ones who can take you to those out-of-the-way places about which only they know. This means that many of the places we visit are inaccessible by other means, especially the most beautiful ones, like Bryce Canyon in Utah, Haleakala Crater on Maui, Engineer Mountain in Colorado and Arizona's Sonoran Desert.
Our crew could walk, but we've tried that; they get pretty upset with me around mile two, especially when trying to match the pace of the riders. So we put them on horseback.
Riding to a high point in Arizona's Sonoran Desert wasn't just challenging because we had to zigzag around the prickly desert plants, but also because we had to pack ourselves and our equipment onto riding and pack horses. We prefer to use large, canvas, soft-sided panniers—a pair of containers on either side of the packhorse—to evenly distribute the weight of our gear, including the awkwardly shaped tripod. This packing process usually happens early in the morning and has been known to take place well before sunrise, at which time we pack by the light of truck high beams.
Fortunately, we've been able to compile a talented production crew, all of whom can ride. That's not to say that everyone with whom we work is an expert rider. In fact, I sometimes get an anxious feeling at the beginning of a film shoot when I know our entire crew is going to be on horseback. Though I'm not a professional rider, I've ridden enough horses to be able to handle myself in the saddle, even if my horse is being disagreeable. When I know we're all riding, I work with the horse owner to try to help match each of our crew with a horse that will be a good fit. Greg Barna, our director of photography, asks for a short horse, so he can get off and on more easily. He does a lot of that, especially when we're somewhere beautiful like our recent pack trip in Alberta. We could probably have filmed the entire show in a half-mile area, but we wanted to get deeper into the wilderness and see glacier-fed Mystic Lake. This meant riding some distance, which was certainly worth the trip. Greg also prefers a gaited horse with a smooth trot, which, as many readers know, is not always possible.
Our crew has learned which horse's personality best suits each of us when filming. I know I like a calm horse that can stand still once in a while, but also keep a good pace and get along well with the other horses with whom he's grouped. I've got a list of characteristics that I tell people with whom we're filming, so that they too can know which horses to pick. It's simple stuff, like all of the horses have to get along and be able to walk side by side, instead of nose to tail, if the trail allows for it. Filming a ride is so different than just riding it; many people wouldn't think about those basic things if they were just riding for pleasure.
While some of the scenes we film may look like they are part of an American Western, we're not on a movie set and generally not using movie-trained horses. We actually lucked out on Antelope Island, Utah, where we were able to ride horses from the movies Far and Away and Return to Lonesome Dove. It made for some exciting running scenes, especially when my guide Ron Brown and I cantered alongside the film crew that was shooting out the window of a truck on a smooth stretch.
Just like our horses aren't actors, neither are our local hosts. They are regular folks who lead horse-loving travelers like me out riding. Filming a travel series like Equitrekking means we have to roll with whatever happens. We're always encountering challenges and surprises, which help make the show more exciting for viewers.
On the island of Hawaii, we filmed during a few natural disasters. You could say that our timing wasn't great, but then again it really was, because we skirted a few of them. I experienced my first earthquake in Hilo, and we left just before a hurricane blew into town. Then we luckily received a tsunami warning while we were filming in the Valley of the Kings, one of the most remote and lowest places on the island. Finally, a wild fire threatened the shoot when we were filming at Parker Ranch. Well, that was one of the more extreme shoots, but it's at those times when, as travelers and crew, you really bond.
For every trail ride on Equitrekking, we just hop on and head out—no dress rehearsal. We try to get as much information ahead of time about each horse's personality and quirks from the owners. Then we have to figure them out ourselves pretty quickly.
No matter what happens as we travel the world filming on horseback, we capture a ton of bloopers, along with the magical stories only found on the trail.