Feelin Groovy: Thoroughbred Rescues Teach the Art of Slowing Down
How the simple lyrics to a song help me, once again, enjoy "dappled and drowsy" rides on my rescued Thoroughbreds after an unusually long break in our routine.
Slow down, you move too fast. Simon and Garfunkel had no idea when they penned the light-hearted opening line to their iconic "59th Street Bridge Song (Feelin' Groovy)," how apropos their advice is to staying secure and happy with horses. This year, that first line has been my daily mantra. Repeating those simple words countless times a day has helped me ease back into safe rides with my three rescued off-track Thoroughbreds.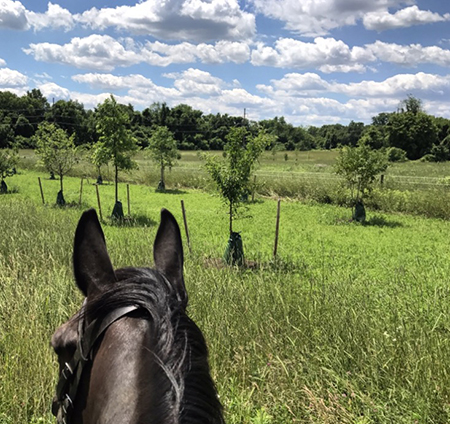 Bitless and bareback, I happily return to riding through the fields on one of my off-track Thoroughbreds, Suave Lord, June 2017. Photo by Juliette Ober.
For the last eight years, I've been spoiled by my ex-racers on our Pennsylvania farm. They came to us off the track and by using love and patience as my primary aids, I was able to ride each day bitless and mostly bareback through our woods and fields with little difficulty. I've written about my horse joy in previous Equitrekking articles, "A Bit to Bitless Bridle Journey," and "A Return to Riding After 40." I was so fortunate, in fact, that I rarely missed a day of riding. I don't necessarily believe in "riding streaks," per se, because you can become a slave to the routine and calendar instead of listening to your horse. But with three willing, healthy horses, there were very few days I missed riding since their arrival at our farm in 2009. In November of 2016, however, all of my former riding fun came to an abrupt halt when life threw two obstacles-- one pleasant, one not-so-pleasant-- into my (bridle) path.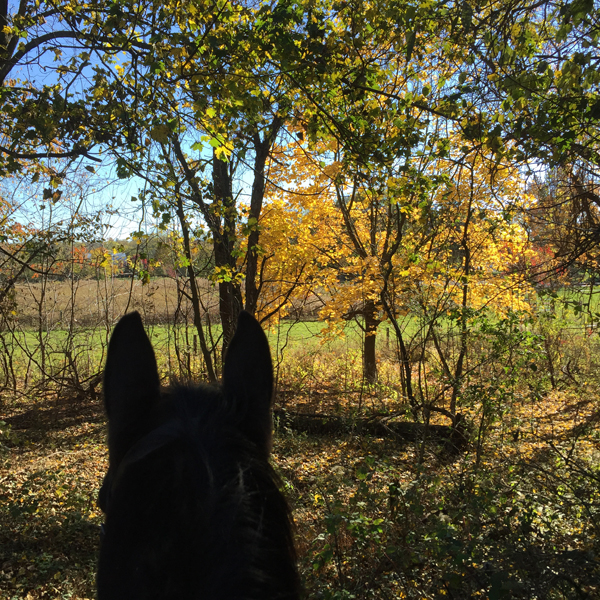 On Election Day, November 8, 2016, Suave Lord and I looked off into the distance and said a tearful goodbye to a much loved field and grove of flowering pear trees on my family's farm. Later that afternoon, a natural gas company started construction of a 75' x 75' pumping station and 1600' pipeline on the land they took from us using the eminent domain law. Photo by Juliette Ober.
Sadly, our farm was targeted to house a large, loud natural gas regulating station and underground pipeline. We, along with our neighbors, fought against the construction, but ultimately lost the battle. The pipeline company started cutting down trees and trenching our land in early November. I was distraught because the pipeline path followed a sizable portion of my perimeter bridle path. Of course, I could find a way to navigate around that side of the farm for my daily rides, but I was extremely emotional about losing our land and trees. I knew I wouldn't be a very relaxed rider for my horses.Thoroughbreds and unhappy emotions don't mix too well! Soon thereafter, another "obstacle" popped up,and unlike the pipeline, this one was greatly welcomed. We had finally reached the top of a local restoration company's waiting list and our bank barn restoration project was slated to begin immediately.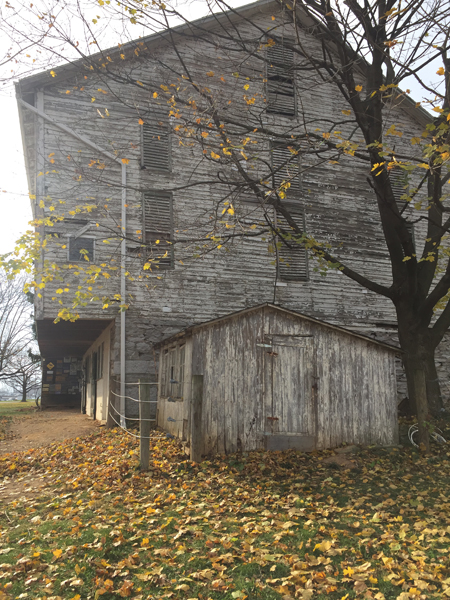 A last photo of our bank barn taken the Sunday afternoon before the restoration project began, November, 2016. Photo by Juliette Ober
The early 20th century bank barn that sat on our 40 acre farm had been in a sad state of disrepair for a long time. My grandparents purchased our farm in 1958 but the years had taken their toll on the barn. We needed to structurally restore the stone foundation and wood framing. In addition we planned to cosmetically update the interior, exterior, and tackroom. The project was involved and the planning had been intense, taking almost two years. When the bank barn construction start date coincided with the pipeline "destruction" start date, I knew that riding was going to be nearly impossible for many months. This was all new territory for me and my horses.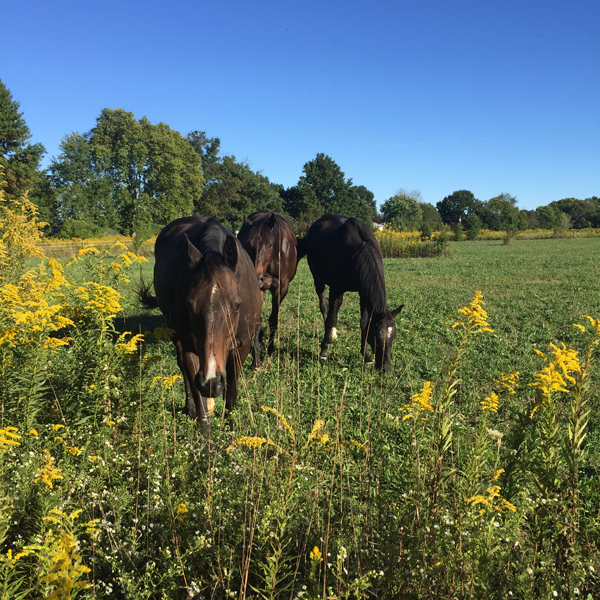 My three thoroughbreds and the autumn goldenrod in a far pasture. Photo by Juliette Ober.
My horses are outside 24/7 with access to 18 acres in 7 connected pastures with two large sheds. They also have heated water buckets in the winter. Every day I bring them inside to three separate roomy 13'x 15' stalls for snacks, grooming, and to check them over. This is also how I ride; when I take one out for a ride, the other two are inside in their stalls, quietly munching hay. I've tried to leave two in the pasture while I am riding one horse, but invariably they will try to call to the horse I am riding, or they race around on their own and risk injury. Our barn (hysterically and smartly), has screen doors which keep summer bugs out, and offer our boys a cool respite from insect bites. Once the bank barn restoration project started, I was told the horses could not come inside their stalls at all. I thought about boarding them, but knew they would be much happier in their familiar pastures. I resolved to groom and check them over each day in the pastures and put riding on the back burner until both the barn restoration and pipeline projects were complete.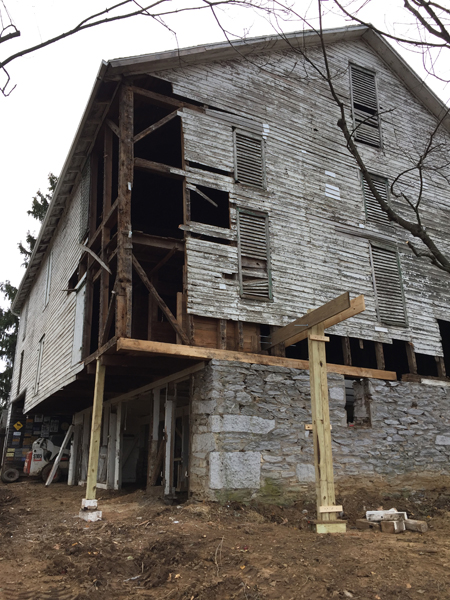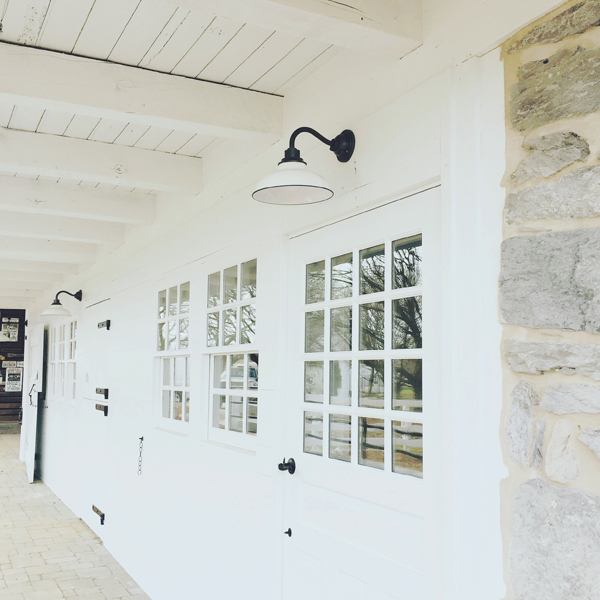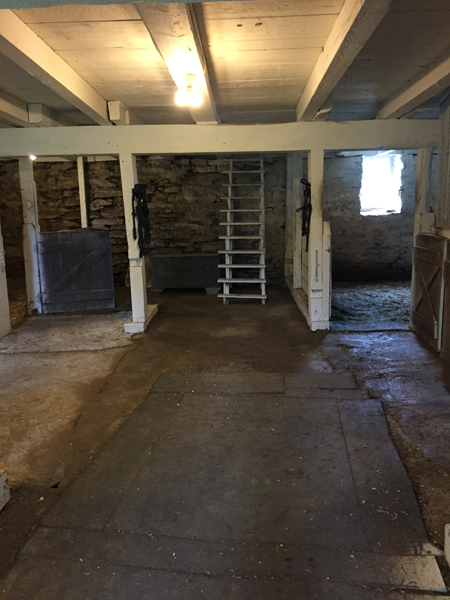 Before and after photos: Forebay and barn interior. Photos by Juliette Ober
The bank barn restoration project was completed in late March and what a transformation it was! Not only was I relieved that our barn would now have the strength to stand for many more years, but I finally realized my vision of a bright, white space to work and enjoy my horses. The tackroom kitchen was an especially grand success, as I saw my 1940's kitchen design come to be a reality.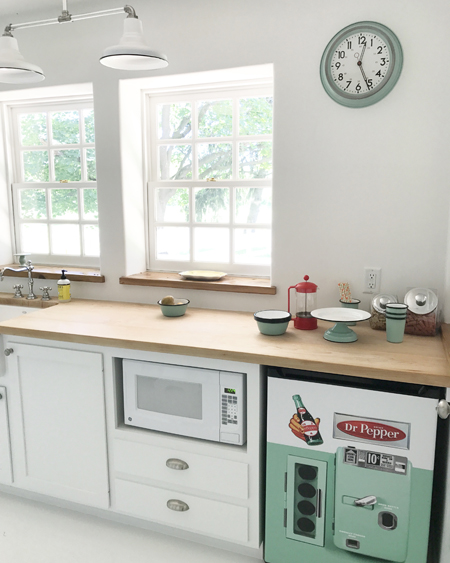 My 1940's kitchen is a dream come true. Photo by Juliette Ober
Happily, the horses remained physically and mentally healthy all winter while staying in their pastures and sheds, thanks to their daily hay, heated water, apples, and my regular inspections for cuts and injuries. In addition, I was so busy with the barn design that I didn't notice the pipeline destroying the other side of the farm. So everything was perfect and I had a beautiful barn in which to resume my perfect horse life of daily grooming and riding!
Uh...not so fast, Pollyanna.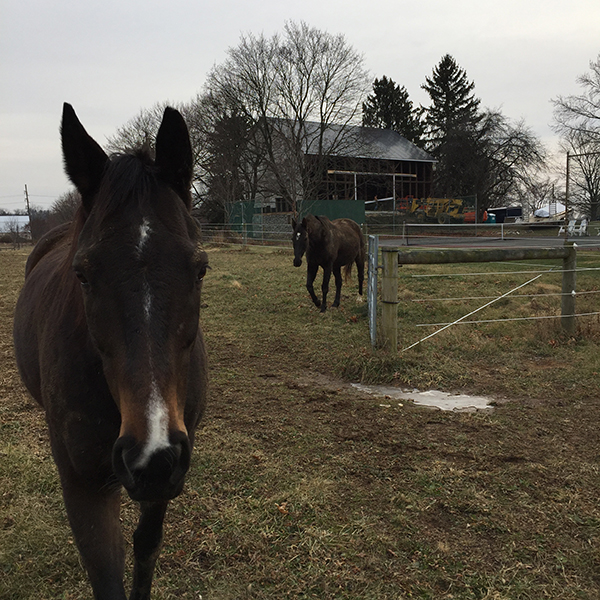 My horses were outside all winter while the barn was restored. Although very happy and healthy (and muddy), they had developed new routines that didn't involve the barn, stalls, and riding. The barn itself–its stalls, floor, walls, windows –didn't look at all like they remembered. Everything was brand new to them and they wanted none of it!
When the barn restoration company pulled away for the last time, I began to ready the stalls with bedding, water buckets, and fresh hay. I put Pie's (racing name Sly Pioneer) halter on and started to bring him up toward the barn, like I always did. He stopped and snorted and backed up. I laughed at his antics and encouraged him forward, but soon realized he was not being silly. He was genuinely scared. Ditto for the other two boys. Sovereign (Suave Lord), was my bravest horse, so I was certain he would break the ice and boldly walk into the "new" barn. He stepped onto the new brick paver forebay and I saw his back two legs start to shake like crazy. He was actually shivering with fright!
In that moment, in my head, I heard Simon and Garfunkel singing,"Slow down, you move too fast". I turned Sovereign around and took him back outside to the "safe" pastures. His legs stopped shaking. The fresh hay and fluffy bedding in the gorgeous new stalls would have to wait. I emptied the water buckets and sat down in my lovely new barn, alone. I thought, "Wow, how weird is this?" In my old dilapidated barn, with the dusty, dirt forebay, I had rescued and retrained my young, off-track thoroughbreds so that I could ride every single day without any problems, and now, here I was with a beautiful, brand new barn and I couldn't even get my horses inside!
Horses teach us so much and this was one of many lessons I have learned from my three rescued Thoroughbreds. If I am honest, it is always the same lesson over and over again. Slow down, you move too fast.
As a fast paced human who asks a willing iphone to immediately answer every request, every minute of every day, it is difficult to stop, slow down, and ask smaller. It is especially difficult to slow down when you've already done all of this with these exact three horses! As horse people love to say in their "Horse for Sale" ads, these horses "have been there, done that," but what does that really mean? To me, those words are now just human gibberish that fail to take the horse's view into account. Yes, I've already groomed these horses. I've already ridden these guys bitless and bareback for almost ten years! So, what is the problem? What is the big deal?
The big deal is that my horses saw something new and scary. The barn was new and not to be trusted. Our routine had changed. Their world was not the same. They deserved my slow patience to reintroduce them to everything that had seemed the same, only "better," to me but was, in fact, not at all the same and very new and frightening to them.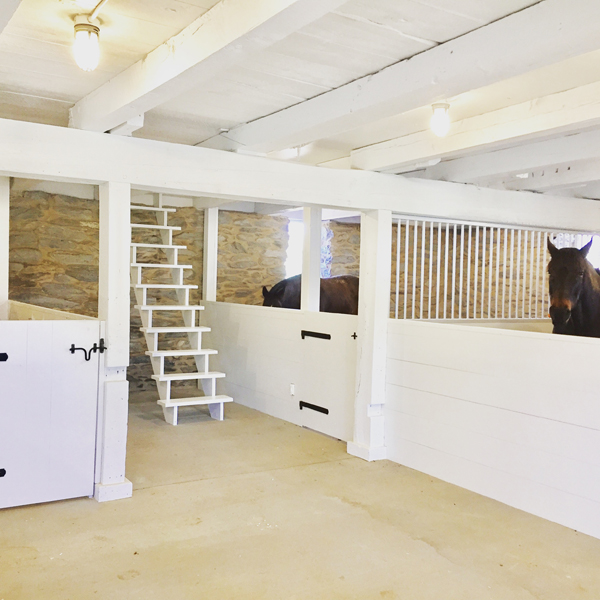 Pie and Sovereign adjust to their new stalls. Photo by Juliette Ober
Since that day in March, I've proceeded very slowly. At a snail's pace, I've reintroduced them to the new forebay, cross ties, stalls, wagonshed, and finally, to the field that was destroyed by the pumping station and pipeline. It hasn't been completely seamless. Sometimes I mess up and ask too big…and they put on the brakes and slow me down again. Pie and Sovereign have resumed our daily rides to the point now where I think we are exactly where we left off. Foggy, (ex-racer Found in the Fog), has had a tougher time adjusting. He isn't as relaxed as he once was in his new stall and our rides are very short now. This upsets me because he used to stretch out in his stall and sleep like a baby. He was easily my calmest horse on our rides before. But I keep working with him each day…slowly. I know Foggy will eventually relax again. My only goal with horses has always been as simple as the final refrain: "I've got no deeds to do, no promises to keep…always groovy."
About the author: Juliette Ober is an avid trail rider and trail runner living in Pennsylvania. Follow her adventures restoring barns and rescuing OTTB's on Instagram.