Famous Horses in History - The Fire Horse
by Heidi Longaberger
As many horse owners will tell you, our equines are often considered part of the family. They are our partners in blazing trails, racing around barrels or jumping over fences. Most often, they are simply our companions, offering a nicker of hello and a quiet strength.
But for most of history, the human need for the horse was as a tangible part of the workforce. From plowing fields to being a major source of transportation, humans used the horse to help develop modern civilization. One such use of the horse was pulling the wagons for fire departments. They became the firefighters' trusted partners.
Duty
The period from the Civil War to the early 1920s could be known in firefighting as the era of the fire horse. Prior to that, humans pulled the wagons that transported the water tanks, ladders and equipment — not an enviable job.
Before the modernizations of the 20th century, fire was a particularly venomous threat. City infrastructures could often not handle the quick transport of water, and buildings were constructed primarily of wood. One small fire could end up burning down an entire city. It took just over a day to raze the center of Chicago in 1871. Firefighting during those times was an especially difficult, exhausting and treacherous profession for man and beast.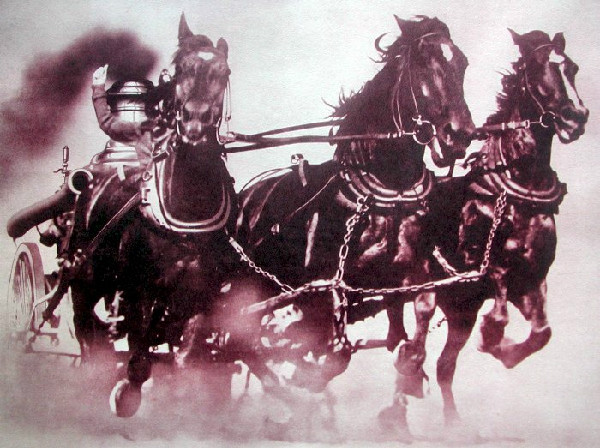 Engine on the Run. The Los Angeles Fire Department Historical Archive.
It was actually before the Civil War that one of the first uses of horses to pull fire wagons was recorded. In 1832, the New York Mutual Hook and Ladder Company No. 1 purchased a horse. Horses in the fire station were not initially accepted with open arms. However, as equipment got more sophisticated and heavier, the need for horse power was eminent.
As their presence in firefighting grew, horses were lauded by firefighters as noble, powerful team members and much loved by the public. They were often very well treated and exceptionally groomed. In those days, humane treatment was not a law and the city work horse was not immune to the dark side of human nature.
Strength
Buying and training one fire horse cost as much as ten firemen, but a horse could pull more than ten times the weight and faster than a man. Detroit was said to even have a "horse college" for training. The Aurora Regional Fire Museum in Aurora, Illinois, has some fascinating video of fire horses in action as part of their display, "Getting There, Getting Water, Getting Rescued." Some of this video can be seen on the museum's YouTube channel. Notice how the horses immediately run to their positions in front of the wagon when let out of their stalls — that is some excellent training.
To be considered as a fire horse, a horse had to meet certain basic conditions. Training was rigorous, taking up to two years. A fire horse's career usually lasted from four to eight years. A horse could fall into one of three categories: lightweight at 1,100 pounds for the hose wagons; middleweight at 1,400 pounds for the steam engine wagons; and heavyweights pulled the hook and ladder wagons. Even the "lightweights" had to be hearty horses at 1,100 pounds.
Breed types were typically Percherons, known for their strength and athletic ability. There is not much on record for the other specific breeds used, other than those characterized as "carriage horses." Carriage horses in the United States at that time could have been anything from the Hackney and Saddlebred to the Cleveland Bay and Thoroughbred.
Bravery
Several fire horses have been remembered and are honored in recollections, memoirs and news stories and at fire history museums.
Jim the Fire Horse, of the Toledo Fire Department, was eulogized in a 1912 newspaper article after suffering a broken leg. The article states, "When and how Jim's leg was broken is a mystery. He had responded to eight calls during the day and was willing to respond to the ninth. The horse was only seven and a half years old, and had only served the fire department for two years, but in that short time had proved himself to be the finest and most accurately trained. He also had the honor of being the most perfect specimen of equine beauty and symmetry of the city's lot of exceptional horses. He was a very large dapple gray, beautifully marked, and was valued by many to be worth as much as $400."
A portrait of Jim had been commissioned prior to his death, but its whereabouts became unknown. However, Bill O'Conner, historian for the Toledo Fire and Rescue Department, and Mike Tressler, reporter for The Blade in Toledo, recently found the portrait after 25 years of searching.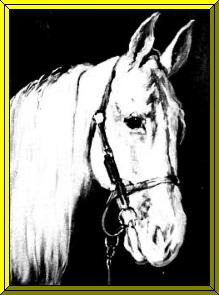 Jim the Fire Horse. The Toledo Firefighters Museum.
Jack and Jack were a famous fire horse team for the Des Moines Fire Department. Old Jack was 23 at the time of his retirement. He had come to the fire department at six years old with the reputation as a "man killer." However, this was an undeserved nickname. Jack had spooked and kicked the head of his original owner, who had fallen over the dashboard of his wagon and right beneath Jack's hooves. Young Jack, who was being used as a carriage horse, was purchased for $175 by the fire department. The two became such a great team that they won a race in the 1903 Iowa State Firemen's Tournament and many thereafter, earning them the title of "World Champions."
As an example of how extremely dangerous the profession was at the time, Jack and Jack collided with a streetcar while rushing to a fire, which resulted in the deaths of two firefighters. The two horses miraculously remained unscathed. Upon their retirement from the department, a councilman noted, "Usually worn out horses are turned over to the Street Department, but if I were to attempt to do that with Jack and Jack, the Fire Department would mob me." Jack and Jack spent the rest of their lives in farm pastures belonging to a firefighter's brother.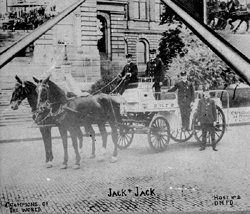 Jack and Jack. City of Des Moines Fire Department.
Fire Horse Fred of New Bern, North Carolina, served for 17 years pulling the company's hose wagon. He was known throughout the area as a champion hose wagon racer. He pulled at top speed while a firefighter stood on the ground, grabbed the end of the unraveling hose, screwed on the nozzle, and got the water flowing. Fred was also present during a notorious town fire that dynamited 100 homes. He helped create a firebreak and save the rest of the town.
The New Bern Firemen's Museum memorializes all of the city's fire horses. Fred was so beloved that the firefighters had his head stuffed and mounted when he died at age 25, which is displayed at the museum. It seems like a bit of an unusual tribute, but their hearts were in a good place.
Chubby was the last Rochester, New York, fire horse. He retired in 1926. A stunning white Percheron, he was the town favorite and struck many a pose.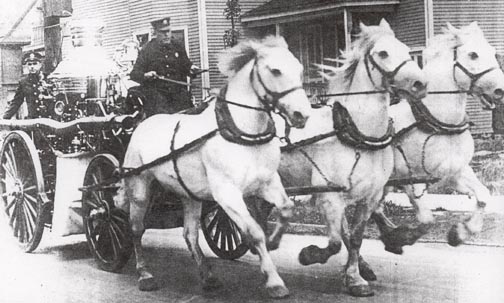 Engine Company No. 6, Rochester, New York and Chubby. Craft Company No. 6.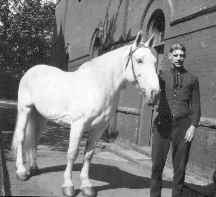 Chubby. Craft Company No. 6.
Honor
The Rochester Fire Department so honored their horses that they petitioned the city cemetery to let them bury fire horses in the firemen's plot, but they were refused. The Rochester American Legion created a bronze plaque in 1926 that still stands today and fittingly describes all fire horses:
Our FireHorses
Glorious in beauty and in service;
Faithful Friends
We cannot call them dumb
Because they spoke in deeds
In every hour of danger
Perpetual remembrance
Enshrines their loyalty and courage
Hardworking fire horses filled a huge gap between the use of human power and mechanized power. Though horses are still used for work in many parts of the world, we often forget that the traits of power and intelligence that carry us in competition or on the trail were once used to build our modern world. Fire horses not only adapted but thrived in their fire department jobs, and they have rightfully earned their spot in firefighting history.

References:
Smith, Dennis. Dennis Smith's History of Firefighting in America: 300 Years. New York: Dial, 1978

Toledo Firefighters Museum. Web. http://www.toledofiremuseum.com/jimhorse/jimhorse.htm

Vicky, Eckenrode. "Fire Horse Fred." Our State North Carolina. Web. November 2010 http://www.ourstate.com/new-bern-firemens-museum/
"The Tale of Jack and Jack Famous East Des Moines Fire Team - Once Champions of the World." City of Des Moines Fire Department. Web. https://www.dmgov.org/Departments/Fire/Pages/JackandJack.aspx
Aurora Regional Fire Museum. Web. http://auroraregionalfiremuseum.org/museum/exhibits.htm#getting_exhibit
The Craft Company No. 6. Web. http://www.craftcompany.com/firefighter.html
Toledo Firefighters Museum. Web. http://www.toledofiremuseum.com/
Heidi Longaberger is an information professional, researcher and writer. She is also owned by a horse that would have probably been really good at rushing down the street with a fire wagon, just not in the direction of the fire.