Famous Horses in History - Sir Barton, America's first Triple Crown Champion
The incredible and unlikely story of America's first Triple Crown Champion
by Jill Overacker
The story of Sir Barton, the first winner of the American Triple Crown, is one of incredible hope, stunning wins and crushing defeats. Though the first horse to ever claim champion to the nation's three most prestigious races, he would wait twenty-eight years before being bestowed racing's highest honor.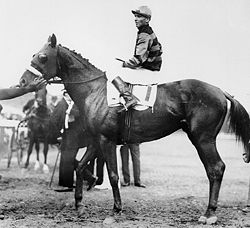 Sir Barton with his jocky Johnny Loftus aboard, 1919.
A Brief History of the Triple Crown
In 1919 the United States did not have a Triple Crown series. The term was commonly used to reference three of England's finest races - the St. Leger, the Epson Derby and the 2,000 Guinea Stakes race - and had been used since 1853 when the racehorse, West Australian, was the first to win all three in the same year. The term was first used in the United States in the 1930s, more than ten years after Sir Barton would win the series, by turf reporter, Charles Hatton. He used it in reference to the nation's top races - the Kentucky Derby, the Preakness Stakes and the Belmont Stakes.
The Grandson of a Champion with Little Promise
Sir Barton's grandsire, a horse named Isinglass, was England's sixth Triple Crown winner having won the title in 1893. Isinglass' son, Star Shoot, was brought to the United States. Here he would sire the chestnut colt Sir Barton.
As a two-year-old Sir Barton was considered speedy but with little stamina. He was plagued with sensitive and soft feet, a trait he inherited from his sire and his lack of stamina was blamed on this. He was grouchy and stubborn with little patience for any human aside from his groom. His two-year-old season was considered a failure; with six starts and no wins he entered his three-year-old season still a maiden.
In 1919 he started his three-year-old season out big with the Kentucky Derby. He was entered by his owner, John K.L. Ross to serve as a rabbit for Ross' star runner, Billy Kelly. Perhaps it was due to his stubborn nature but Sir Barton did not stick to the plan. Seemingly untroubled by his usual hoof issues, Sir Barton finished a stunning five lengths ahead of field to claim the Derby title for himself.
Thought a fluke by most, Ross showed his confidence in Sir Barton by entering him in the Preakness just four days later on May 14. Against a field of well-rested horses, Sir Barton again stunned the racing world by taking the Preakness crown by four lengths. On June 11, 1919 a well-rested Sir Barton took the field at Belmont. Against only two other horses, Sir Barton easily won the Belmont Stakes. He set a new American record at a mile and three-eighths in the process. His feats gained him the prestigious title of Horse of the Year.
If only his racing story ended here.
May the best Man (o' War) Win
While Sir Barton was burning up the track as a three-year-old, there was another horse who was gaining immortality as a two-year-old – the incredible and daunting, Man o' War. Racing fans were clamoring for a match race between the two. In October of 1920, Sir Barton was soundly beaten by Man o' War by more than seven lengths. The defeat, it seems, broke his heart for he never again won a race and was retired soon after the match race.
Despite his early racing success, Sir Barton was quickly forgotten by the racing world and his success as a stud was moderate at best. He spent his later years as a working horse at the U.S. Army Remount Station in Fort Robinson, Nebraska. He was later sold to a Wyoming doctor by the name of J.R. Hylton who allowed the old champion to live out his days on his Wyoming ranch. In 1937 Sir Barton died of colic and was buried on Hylton's farm. He would not be officially recognized as a Triple Crown winner until 1947, after six other racehorses were granted the title. In 1968 Sir Barton, now officially a Triple Crown Champion was moved to Washington Park in Douglas, Wyoming where he is currently buried and memorialized.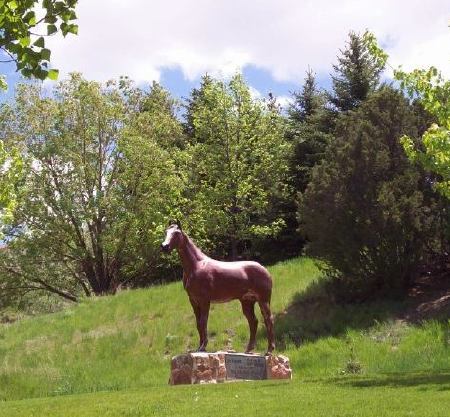 Sir Barton's monument and gravesite in Douglas, Wyoming. Photo by tbheritage.com
Sources:
May, Julian. "Sir Tender Toes." The Triple Crown. Mankato, MN: Creative Education, 1976. 10-13. Print.
"Sir Barton." The Journal of Kentucky History and Genealogy - Society of Kentucky History and Genealogy. Web. 11 Aug. 2011. <http://www.jkhg.org/sirbarton.htm>.
"Triple Crown Winner Sir Barton :: Triple Crown :: Thoroughbred Times." Horse Racing, Horse Breeding, Horse Sales, Racing, News, Videos. Thoroughbred Times. Web. 11 Aug. 2011. <http://www.thoroughbredtimes.com/triple-crown/winners.aspx?tc_winner=SirBarton>.
Kellner, Jenny. "Sir Barton - 1919." BelmontStakes.com | The Official Online Home of the Belmont Stakes. Belmont Stakes. Web. 11 Aug. 2011. <http://www.belmontstakes.com/history/sirbarton.aspx>.