Family Vacation at Hideout Ranch in Arizona
A Georgia family travels back to Hideout Ranch on the Arizona-New Mexico border for another awesome spring break ranch vacation.
by Laurie Orth
Our 2014 Spring Break vacation to Hideout Ranch in southeastern Arizona, was so much more than I ever imagined – full of new experiences, new friends, and great memories. You can read about it my article Visiting Hideout Ranch with an Enthusiastic Rider- When You're Not.

When we got home to Georgia, I kept in touch all year with Tamara Lawson, the ranch owner, and another international guest via social media. It was so much fun to trade pictures from our Spring Break and my boys loved hearing about the ranch. My older son was especially interested in how "his horse" was doing. They kept asking me over and over about going back to the ranch for their next Spring Break. With much anticipation, we returned to Hideout Ranch this April, and this year, my husband was able to take vacation and join us.

Dylan, now 18 years old, had a wonderful reunion with his horse Yaqui. He didn't miss a step, as he got back in the saddle, and Tamara and Craig remarked on how Yaqui and Dylan seemed to read each other's mind out on trail.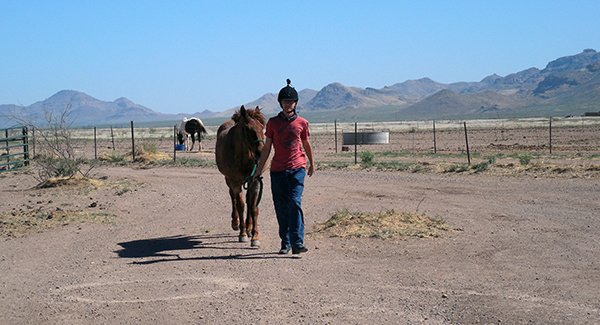 Dylan brought his newest electronic device, an Ion helmet cam, and recorded several hours of video footage during the incredible, high desert rides. Tamara gave Dylan the very cool task of taking over the ranch's Instagram @HideoutRanchAZ account for the week. Followers were treated to incredible pictures making one previous guest "nostalgic" for the ranch.
According to Craig Lawson, the head wrangler, the area received record breaking amounts of rainfall last year. This brought a spectacular, once in every 150 years event which produced all the desert color. I called it eye candy for the soul.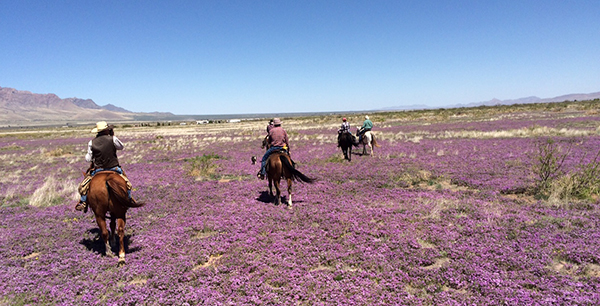 In addition to pictures of lush, flower filled meadows, Dylan posted pictures of rocky, mountain trails through Yaqui's ears.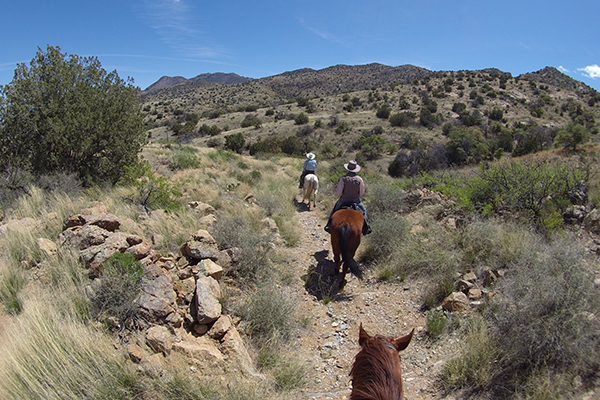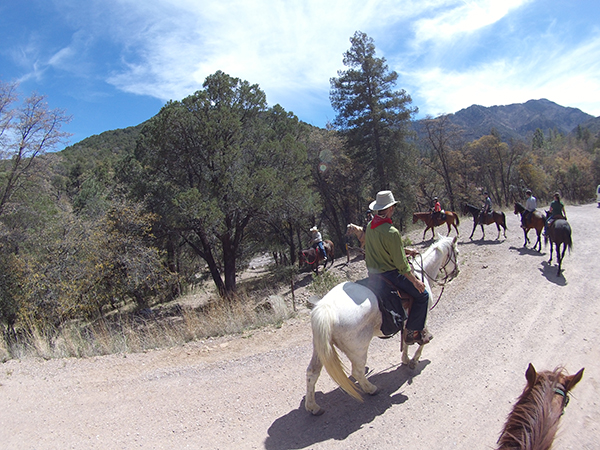 Helmet Cam view of the ride.


The obligatory pictures of Josie, the ranch dog.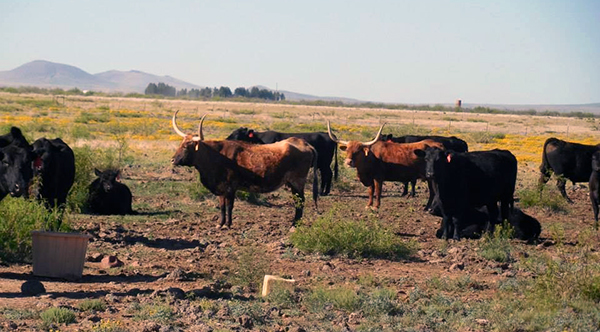 Longhorn and Black Angus cattle.
Dylan's first hand accounts of all the rides to Fort Bowie, Granite Gap, Cave Creek, and White Tail Canyon, where Geronimo and his braves rode... coming soon.

My husband John had only ridden horses a few times in his life. Craig selected the perfect horse for John; a grey gelding named Tyrel. John grew daily in his knowledge of horses, starting with catching Tyrel the first day, in his pasture. John got to know Tyrel before his first ride.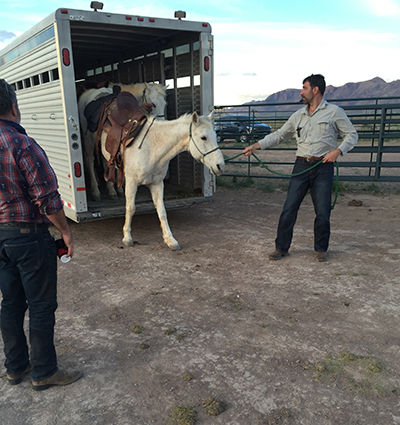 Now he's a pro loading and unloading from the trailer.
Tamara and Craig were always there with encouragement to help John feel comfortable with Tyrel. Each day, John grew more and more relaxed, as he forgot the pressures of his manufacturing executive job. Deadlines, international conference calls, airports, and management challenges were replaced with figuring out how a rope halter goes on a horse's head, how to position a western saddle correctly, and how to sit back in the saddle to trot or lope comfortably and confidently.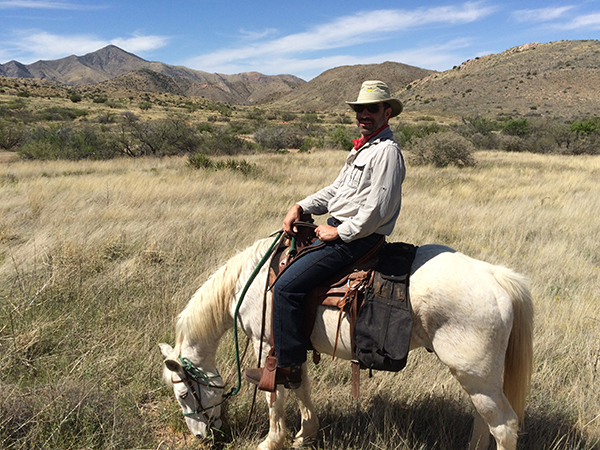 John on the trail with Tyrel.
It's "Beer:thirty." After a long day in the saddle, Craig, Tyrel and John enjoying the peace of the livery.
Emmitt, at 13, loved taking pictures of everything around the ranch. He and I didn't ride this time, but there was never a dull moment. Since Hideout Ranch is a working cattle ranch, there are all sorts of chores waiting to be done.
He collected empty mineral lick buckets from the pastures, and rode along on the Gator cart to feed the horses and donkeys. Emmitt learned how to clean a goat pen; something a typical teen in suburbia doesn't ever get to do. He was able to use all the work he did at the ranch for his service hours required for his school. He made friends with another 13 year old boy at the ranch, who taught him how to play baseball. He loved every minute of it.
I had the very special opportunity to help Tamara groom the oldest horse on the ranch, 44 years young Peppy, who had an amazing career as a cutting horse. Peppy is the grand dame of all the equine pensioners, who have free range of the ranch. Holding Peppy's halter and petting her neck while she was being brushed was gratifying and truly an honor. What an amazing horse. The things she has taught her riders over the decades, with all of her knowledge is inspirational. Peppy graciously gave me my own horse encounter that was just my speed.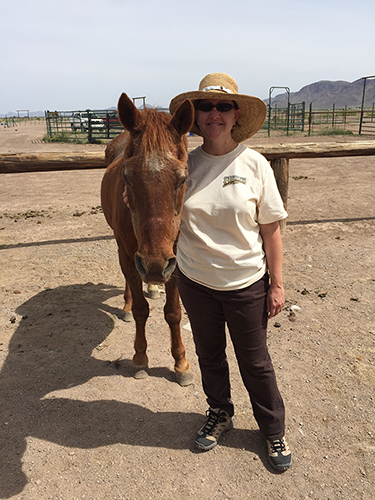 Laurie Orth, the author, with Peppy.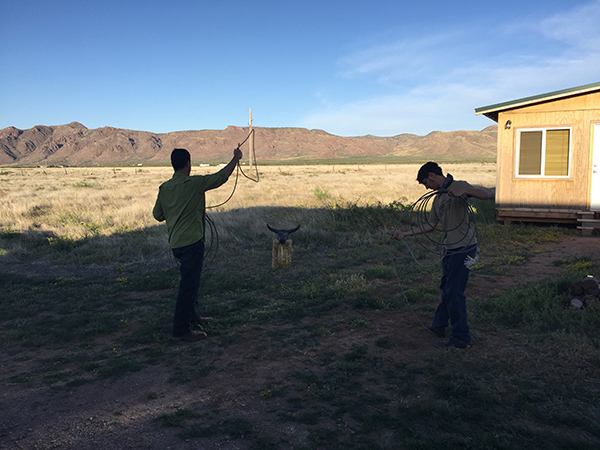 Father and son Lasso Competition. (Dylan won 21-18)
What first appeared to be endless days of vacation quickly came to an end. On our last day, Dylan asked Tamara for one last ride on Yaqui. While the other guests set out for their adventure for the day, Tamara took Dylan out for one last lope through the desert wild flowers.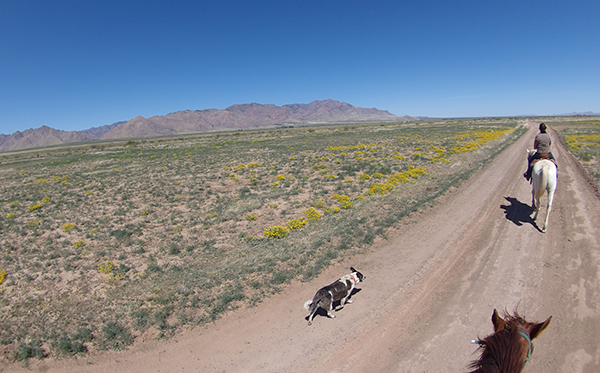 Dylan and Tamara out for one, final ride on our last day. Josie was on the job too.
After grooming Yaqui and turning him out for the last time, we packed up and said our good byes. For the second time, we were ending our vacation at Hideout Ranch with lumps in our throats and sad faces. I don't remember ever being so emotional to leave any other vacation spot in my life. We all hugged and promised to stay in touch on Facebook.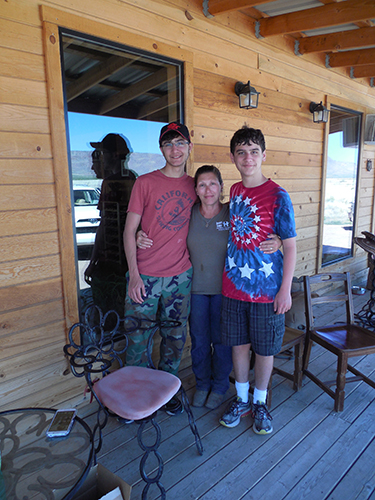 Dylan, Tamara, and Emmitt saying good bye, this time around.
Tamara, Craig and their small staff are the real deal; great people and friends we look forward to seeing again. The wonderful, welcoming way they treat each guest is a testament to their passion for helping people find their inner cowboy. We will definitely see them on down the trail, when we Hideout on horseback.


About the Author: Laurie Orth is a wife and mother and has her own business teaching music to home school students in Augusta, Georgia. She and her boys have taken recreational hunt seat riding lessons for several years.