Family Fun and the Equi-Spective Experience at Salamander Resort
Looking for a family friendly vacation? Join me as I explore all Salamander has to offer its youngest guests for a summertime family vacation, including Equi-Spective, an innovative personal discovery program where kids and adults can learn and grow with horses.
by Alexis Mozeleski
When at Salamander Resort & Spa, there is more than meets the eye for kids to enjoy. As I toured the recreation facility and grounds with Kari Bowman, the recreation director, I learned about all the kid friendly activities in store for visiting families and had my own unique adventure with horses by participating in Equi-Spective. Through their plentiful group activities for families and activities just for kids through Camp Salamander, children are able to explore the grounds of the resort for the ultimate experience.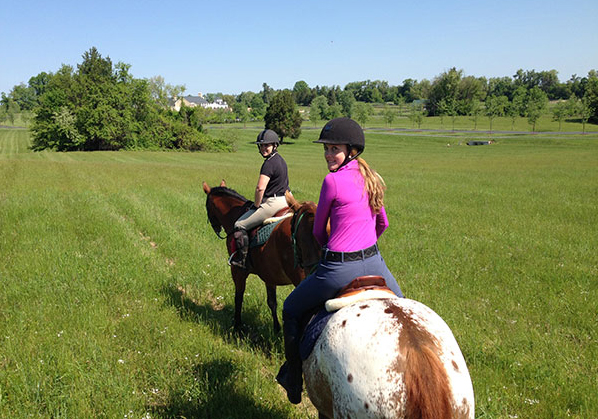 Alexis rides out with Amanda (from the Equestrian center), in the meadow with Salamander Resort & Spa in the background.
For family activities, games on the resort's Grand Lawn are something that the whole family can enjoy anytime they choose. These activities include bingo, bocce ball, flag football, and a scavenger hunt race, to name a few. During the summer months, the family outdoor pool is a great spot to splash and play in the water. Adjacent to the family outdoor pool are the tennis courts where lessons and clinics allow for families to hit some balls and perfect their game. Mountain bikes are ready to ride from the pool area so guests can enjoy a spin around the Salamander grounds or take a family outing into the town of Middleburg.
For parents looking for some time on their own to enjoy the Spa or maybe take a day trip to one of the local wineries, each day of the month, Camp Salamander offers themed activities and events for the kids of the resort guests to enjoy while parents go exploring. For example, a "Silly Scientists" day gives kids a chance to experience science in a fun and creative way. Or maybe your camper tries a "Horse'N Around" day, which stemming from the recurring equestrian theme throughout the resort, allows kids to get creative with horse related arts, crafts and games and perhaps visit and tour the Salamander Equestrian Center to pet the horses. In addition to the scheduled weekly activities, kids are always given the opportunity to go out for an adventurous hike to learn about the different species living in Salamander's pond or take nature hikes on the resort's extensive grounds.

"Salamander Campers"on a hike find their very own tad-pole pond to explore.
My Equi-Spective Experience
While visiting the resort, I met up with equestrian director Sheryl Jordan who allowed me to work with a horse named Snowy in the round pen as part of Equi-Spective. This program is designed to allow individuals and families a chance to learn about relationships while connecting through the horse. By discovering skills necessary in establishing a successful relationship, this program allows you to discover your own leadership skills in a way that comes naturally in the horse world.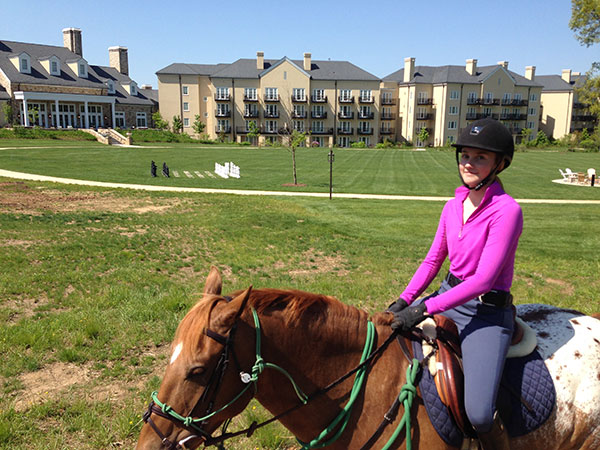 Alexis saddling up at Salamander Resort, where kids aged seven and up can take riding lessons and kids five years or older can be involved with Horses 101.
Having spent ten years riding and learning about horses myself, I was intrigued with this perspective of one's relationship with the horse explored in the Equi-Spective program. Instead of fighting with a stubborn horse through force, this program's focus is on learning to ask, then tell and only last, demand. I was quickly surprised at how the horse was willing to listen to me when I learned how to ask in a language that the horse understood.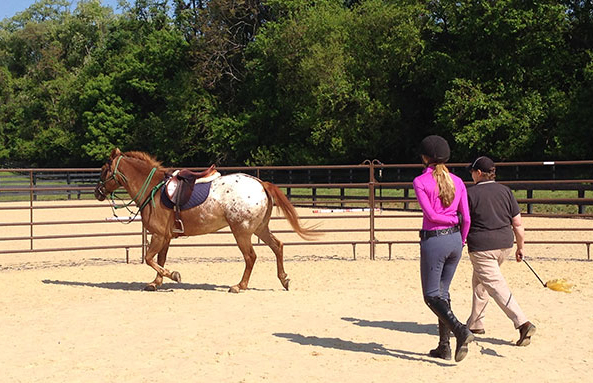 Alexis and Equestrian Director Sheryl Jordan in the round pen working with "Snowy" through Equi-Spective.
Through body language, confidence and my willingness to try something new in a different way, I soon learned that less is more. By just pausing to gain the horse's confidence and so that I was willing to lead, the horse wanted to follow my lead and carry out the commands I was asking. The art of horsemanship is truly a dance between horse and rider, even when the rider is on the ground. Understanding oneself and being clear about what you are asking of this amazing animal is the key to a successful relationship in riding and in life.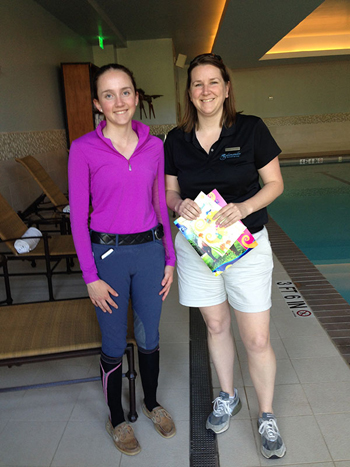 Alexis and Recreation Director Kari Bowman touring the fitness center and kids center while discussing Salamander's kid-friendly Programs.
Taking these newly learned skills and way of thinking is definitely something I am going to try to apply with my own horse and in my relationship with my family. Communicating effectively is a lifelong skill and what a better way to practice it that than working with the horse. Definitely try it with your family while at Salamander! The best part is that there is no riding skill required!

For more information on Salamander Resort and their family programs, visit Salamander's website.

About the Author: Alexis Mozeleski lives in Washington, D.C. and is a junior in high school. She has been riding since she was 7 years old and is currently competing in the hunter/jumper show circuit nationally. Alexis gets involved in the horse community every way she can! From being a camp counselor at a local lesson stable to joining the Junior Committee for the Washington International Horse Show, Alexis is busy and involved with all things horses. Alexis also loves to travel and her next adventure will take her to India for three weeks this summer. Be sure to check out Alexis on tumblr @Thevineyardsound.tumblr.com.