View Fall Colors on Horseback on Ranch and Riding Vacations
As summer winds down, we have another great thing to which we can look forward... fall colors! Check out these great ranches and horseback riding vacations where you can view the changing leaves from on horseback.

by Darley Newman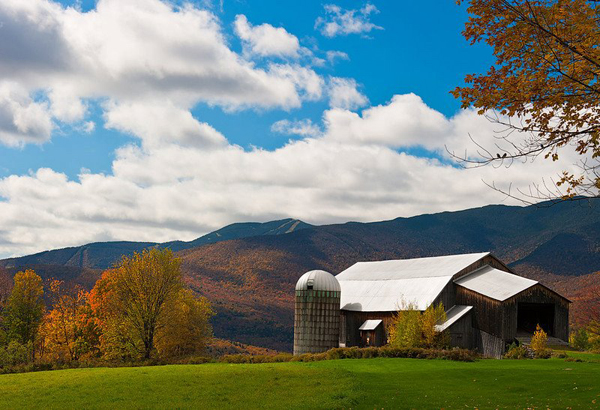 A beautiful rural scene from the Mad River Valley with the Vermont Icelandic Horse Farm.
Vista Verde Ranch, Colorado
This Colorado ranch in Steamboat Springs transitions from summer to winter with the Colorado Rockies cloaked in vibrant colors. After a day in the saddle or hiking the trails in the neighboring Mt. Zirkel Wilderness Area, guests can cozy up by the fire and enjoy luxury log cabins and gourmet cuisine. During the fall, the ranch welcomes adults only, hosting single travelers for fun and couples for romantic getaways. Those looking for adventure can join the Fall Cattle Round-up during much of the month of September.
Learn about Vista Verde's September 2-30, 2018 cattle work weeks and September 30-October 7, 2018 Autumn Stays and October 7-11, October 11-14, and October 14-18, 2018 Short Stays on Equitrekking's Travel Deals page or contact Vista Verde.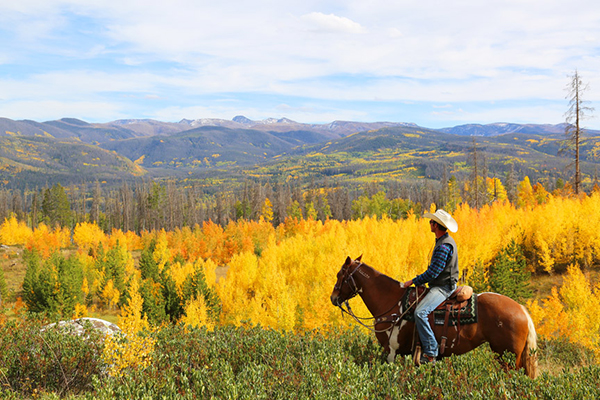 Views of the Colorado Rockies and the changing leaves from on horseback.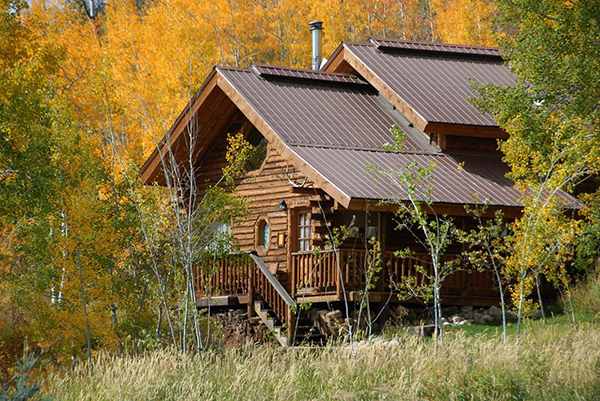 Fall colors even surround log cabins at Vista Verde Ranch.
Geronimo Trail Guest Ranch, New Mexico
This New Mexico guest ranch offers western adventure surrounding the 3.3 million acre Gila National Forest, Aldo Leopold and the Gila Wildernesses, where fall colors include a beautiful mix of wildflowers and changing leaves. Trail ride through pristine forests of tall Ponderosa pine, tall canyons where Geronimo and the Apaches may have roamed, colorful meadows and crystal streams.
Wranglers from Geronimo Trail Guest Ranch may take you on a trek to the "Top of the World" where views of the Gila National Forest extend as far as the eye can see. Guests stay in cozy cabins with covered porches and since you're on vacation, can enjoy a flexible ranch schedule.
This ranch also has lots of special events on tap this fall. September kicks off with the New Mexico State Fair at Expo New Mexico. Music and culture come together at the ¡Globalquerque! World Music Festival at the National Hispanic Cultural Center. October boasts the popular, annual Albuquerque International Balloon Fiesta. That same weekend you can also check out the Rio Grande Arts & Crafts Festival: Balloon Fiesta Show at the Sandia Resort & Casino or the New Mexico Chinese Lantern Festival at Expo New Mexico.
October also gives you the chance to get out and be active in Albuquerque. The 35th Annual Big 5 Duke City Marathon takes place on October 21 in Downtown Albuquerque. The 12th Annual Day Of The Tread follows on October 28.
The first weekend in November is the 26th Annual South Valley Dia De Los Muertos Marigold Parade And Celebration. Our season closes out in November and the Festival of the Cranes is a must-see event at the Bosque del Apache.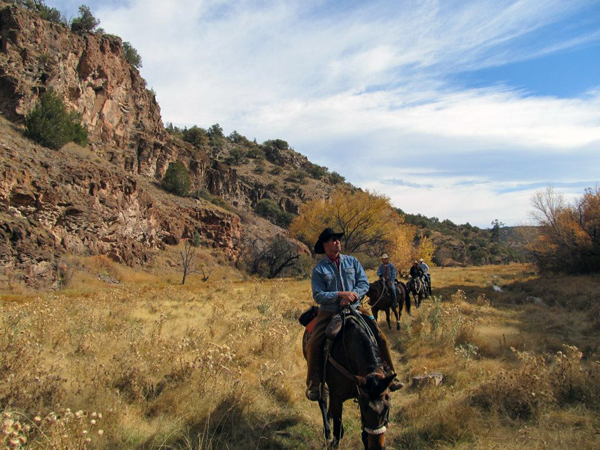 The changing colors in Beaver Canyon. Guests may trail ride through rugged mountains, deep canyons, flower filled meadows, and semi-desert country.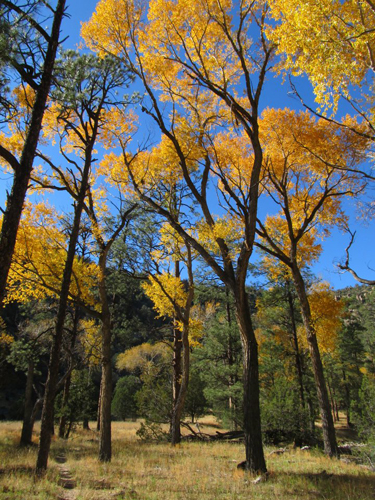 Narrowleaf Cottonwoods juxtaposed with bright blue skies. These trees are most often found by streams and creeks at some elevation.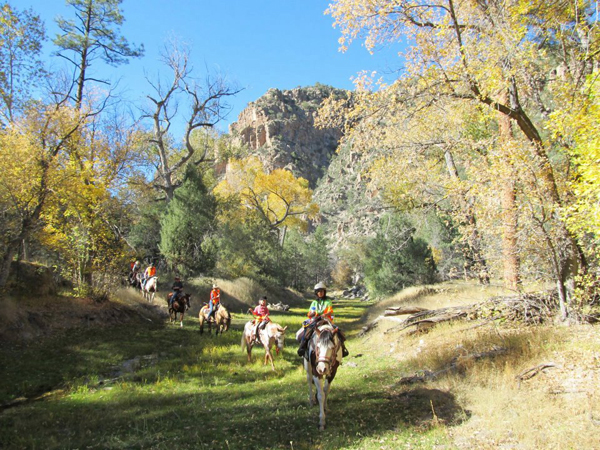 The area surrounding Geronimo Trail Guest Ranch has a rich Native American history, and you can ride to take it all in.
A point of view shot from on horseback of a meadow of wild chrysanthemums. These were on every hillside one fall around Geronimo Trail Guest Ranch.
Vermont Icelandic Horse Farm, Vermont
We were able to film during the summer with the Vermont Icelandic Horse Farm and had a great time riding the cute and smooth Icelandic Horses. As many folks know, Vermont is just beautiful in the autumn, and being able to tolt along Vermont country lanes while taking in the fall colors is a dreamy escape.
Located about an hour north of Rutland and an hour south of Burlington, the Vermont Icelandic Horse Farm is nestled in the heart of the Green Mountains. Riders pass through mountains, meadows, and forests on short or long treks. In fact, you can test this ride out on a one hour trail ride or day-long adventure or take a two to six day riding vacation. Pack layers and a sense of adventure. Keep in mind that you may leave the farm wanting an Icelandic horse for Christmas!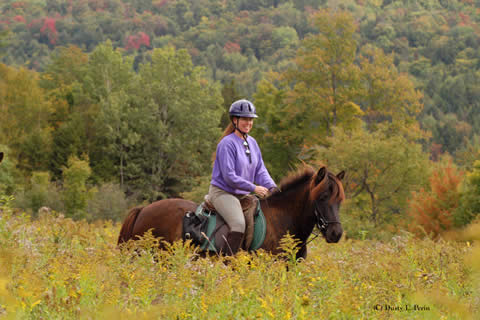 Riders have been trekking with the Vermont Icelandic Horse Farm since 1988.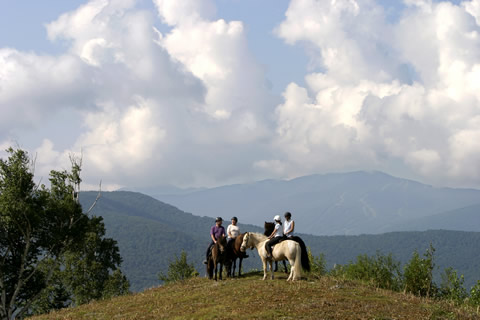 The Vermont Icelandic Horse Farm is near the historic village of Waitsfield, in the heart of the Sugarbush resort area, where rolling mountains and quiet forests abound.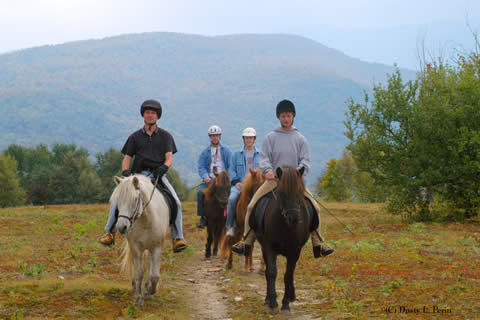 Icelandic horses have been bred over the centuries to conquer the elements and terrain in Iceland, so riding year-round in Vermont is not a problem for the horses.
Lone Mountain Rach, Montana
Beautiful fall colors, warm days and crisp nights... fall is a nice time to travel to historic Lone Mountain Ranch for a myriad of outdoor adventures, including horseback riding, hiking, canoeing, mountain biking, Yellowstone Tours, BBQ's and live music. This Montana summer, fall and winter guest ranch is located about 45 minutes from Bozeman and only 20 miles from the Northwest Corner of Yellowstone National Park. Listed on the National Register of Historic Places, the ranch dates back to 1915, when it was originally homesteaded as a cattle ranch.
An Orvis® Endorsed Fly-Fishing Lodge, this Montana guest ranch is a good choice for anglers or horse riders who have angling partners. It's also great for riders who want a luxury ranch vacation. Wranglers take riders out on the ranch, in the bordering Lee Metcalf Wilderness or Gallatin National Forest or in Yellowstone National Park.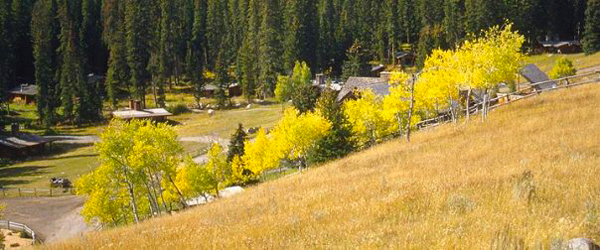 In the fall, the ranch erupts into a diverse variety of fall colors.
Riders can take short or long treks, depending on their skill level and vacation wishes.
A welcome sight at the ranch-- horses running in from the pastures in the early morning light.

Learn more about planning your horseback riding holdiays, cattle drives and dude ranch vacations at Top20Ranches.com and the Equitrekking Vacation Guide. Check out Equitrekking Travel Deals to find discounted rates at vacation destinations.