Exploring Washington's Riverside State Park on Horseback
Equitrekking contributor Shelah Wetter describes the trails in Riverside State Park near Spokane, Washington as park of Equitrekking's 50 State Trail Riding Project.
Riverside State Park lies nine miles outside of the heart of Spokane, Washington. The park boasts 12,000 acres, 55 miles of trail, and is the largest state park in Washington. They have an equine campground with nice corrals, an obstacle course, and even a 60-foot round pen! I prefer the north part of the park more than the trails directly around the equestrian campground, but be assured it gets better.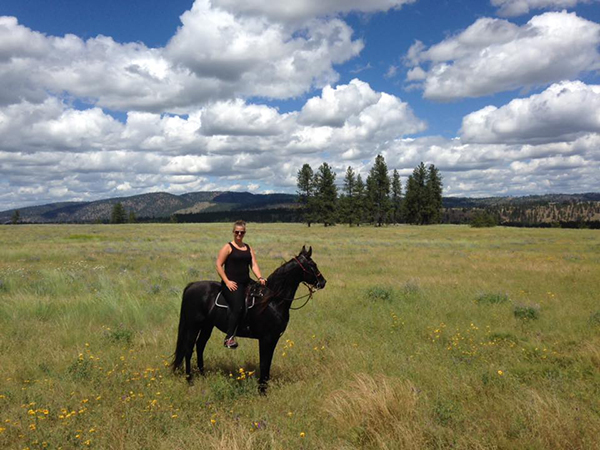 The author riding her Saddlebred horse in Riverside State Park. Photo by Shelah Wetter.
You'll find a variety of landscapes in the park. Tall rock walls, deep canyons (in what is called 'Deep Creek') with winding trails alongside beautiful hillsides. Narrow rocky trails, as well as wide flat two tracks, can be found all around the park. A lovely prairie looks over much of the park and is a good place for a gallop. There are a few trails right along the Spokane River that offer wonderful views and an opportunity or two to get right onto the river bank (which has beautiful big shade trees with dense undergrowth). Much of the park is thinned Ponderosa Pine trees.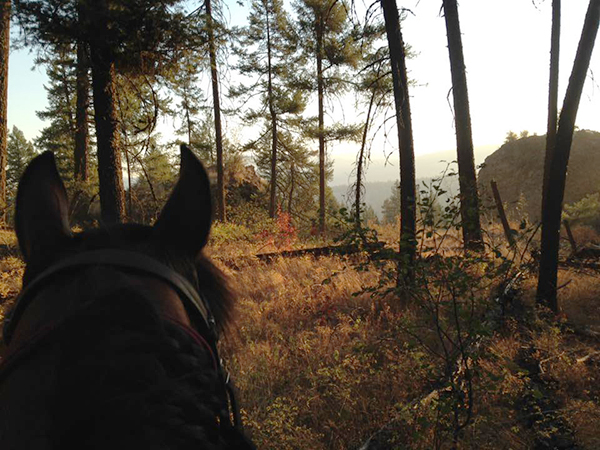 Horseback riding through the ponderosa pines in Riverside State Park. Photo by Shelah Wetter.
The park is spread out and has many nooks and crannies for riders to explore. The trail system is interweaving and many will cross paved and gravel roads that are shared with hikers, bikers, and even the occasional baby carriage. Hoof protection is a must as the park has mostly rocky trails. It's a fun place to look around especially during spring and fall because the footing doesn't get too muddy. In the autumn, there are spectacular fall colors to be enjoyed. Come enjoy the trails in this beautiful state park!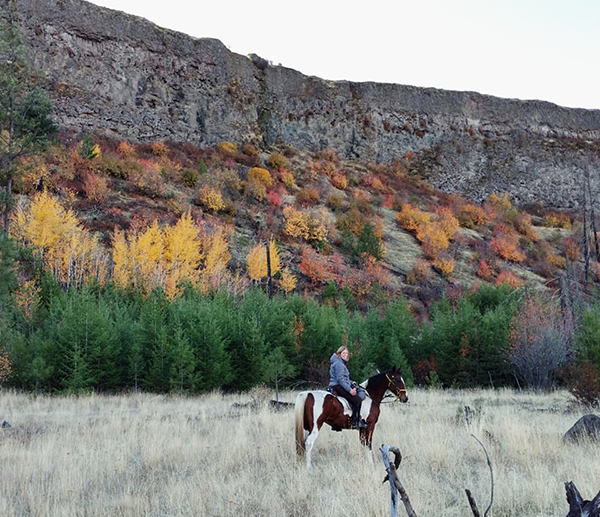 Beautiful fall color in the canyon at Riverside State Park. Photo by Shelah Wetter.
About the Author: Shelah Wetter is a horse trainer and enthusiast with Blue Haven Stable in Deer Park, Washington, She spends as much time as she can on the trail atop her American Saddlebred mares. In 2016, she rode 2800 miles on horseback almost all on Saddlebreds. She is always looking forward to the next trail ride in the Northwest!