Exploring Virginia's Grayson Highlands State Park
Equitrekking contributor and trail riding enthusiast Susan St. Amand shares her adventure horseback riding with the wild ponies of Grayson Highlands State Park.
Located near the Mount Rogers National Recreation area in the Jefferson National Forest region, is Virginia's Grayson Highlands State Park, which is comprised of 4,822 acres. Among the various recreational activities available to explore in this southwest Virginia area, a unique adventure is to experience it on horseback. As it is very mountainous, with rocky terrain and elevations reaching close to 5,000 feet, horses should be well-shod in order to traverse the highlands. However, it is a treat to take in the breathtaking views. In addition, wild ponies and free-roaming long-horned cattle graze in the highlands.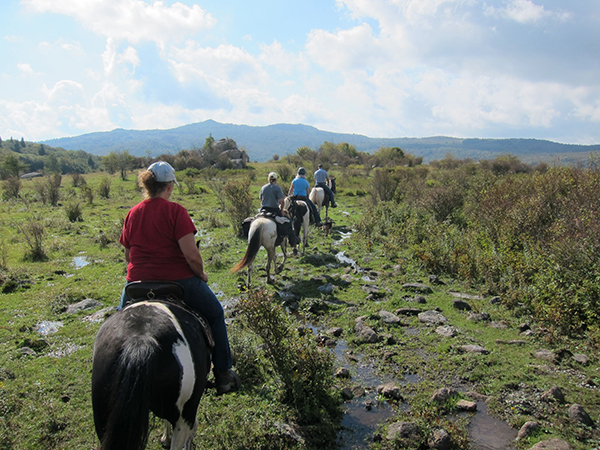 Trail riding at Grayson Highlands State Park. Photo courtesy Susan St. Amand.
The wild ponies have survived in this harsh environment for many decades since their release from duty from the coal mining era. At most, the herd has reached up to 120 wild ponies, but during harsh winters, it has dwindled to about 45 ponies. The Wilburn Ridge Pony Association holds an annual auction during Grayson Highlands Fall Festival to keep the wild pony herd in check. Proceeds go towards sustaining the herd as well as to assist local charities.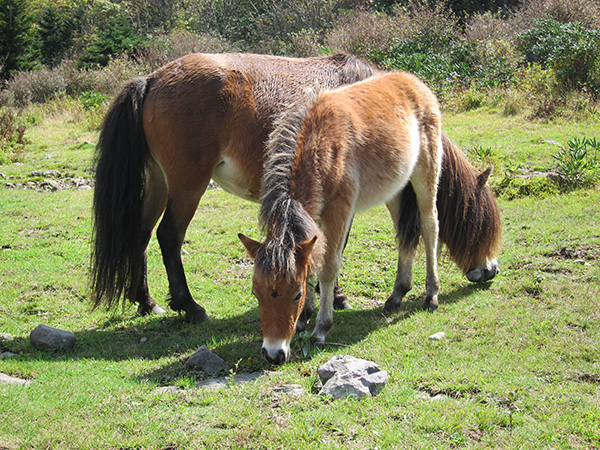 A wild pony and her yearling foal. Photo courtesy Susan St. Amand.
The most popular and shortest trail to obtain the greatest possibility of viewing the wild ponies is to take the Rhododendron Trail. When riding while the rhododendron flowers are in bloom, it adds to the experience. Because of the dramatic mountainous landscape, wild ponies, and free-ranging longhorn cattle, it feels like you have stepped back into a different time and place. It fosters an urge to take a horseback riding trip to the real West.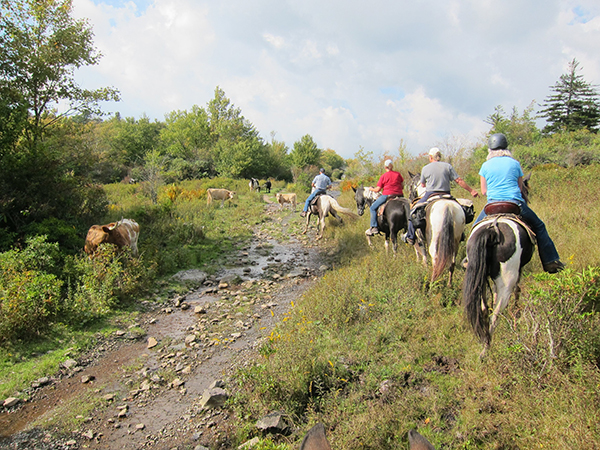 You might encounter the free range longhorn on the trail! Photo courtesy Susan St. Amand.
The wild ponies are usually curious and do not usually shy away from horse riders or hikers, as the Appalachian Trail crosses thru this area.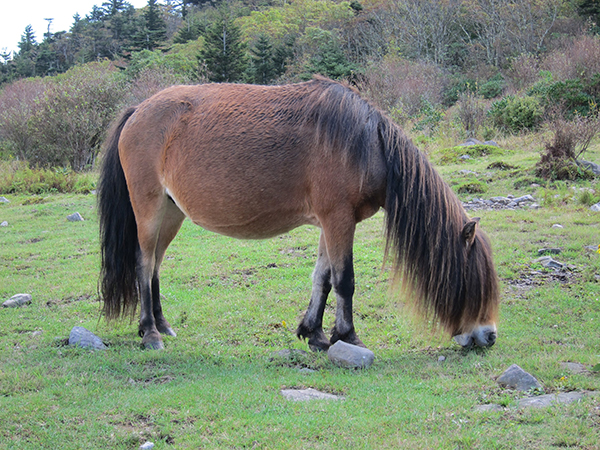 Wild pony grazing. Photo courtesy Susan St. Amand.
There are several horseback riding and horse camping facilities available in the area. We selected Rocky Hollow Horse Camp (which has a variety of horse camping accommodations, as well as a large barn with horse stalls, bathhouse, and gift shop. The owners are very welcoming and accommodating.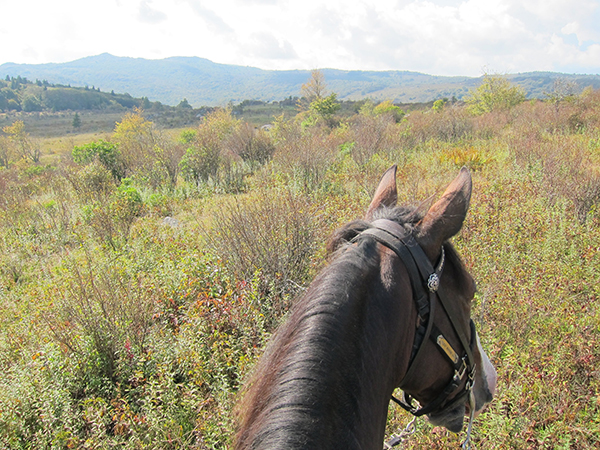 Beautiful views at Grayon Highlands State Park. Photo courtesy Susan St. Amand.
During times while not on horseback, you can drive to nearby local areas for country dining, artisan shops, or other festive activities to explore local culture and history (such as bluegrass music). On this occasion, we drove to the Wytheville, VA area for shopping therapy at Old Fort Western Store to browse through western wear and tack. Another stop was the Big Walker Lookout and Country Store. Besides the country store, this is a Civil War Trails stop for history buffs, as you can view where the Battle of Wytheville occurred on July 18, 1863, to interrupt the supply deliveries of the railroads, and telegraph stations to cut off communications.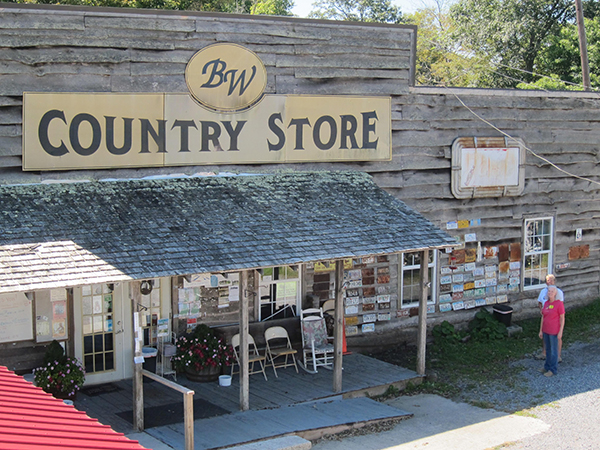 No trip is complete without a little retail therapy. Photo courtesy Susan St. Amand.
Another avenue to view this historic Civil War battle is to climb the Big Walker Lookout tower situated here as well. The tower was built in early 1953, stands 100 feet tall, and is built to withstand 100 miles per hour winds. The climb to the top of the tower is a good workout and not for faint-hearted. But once at the top, you have an awesome panoramic view of the rolling mountain vistas.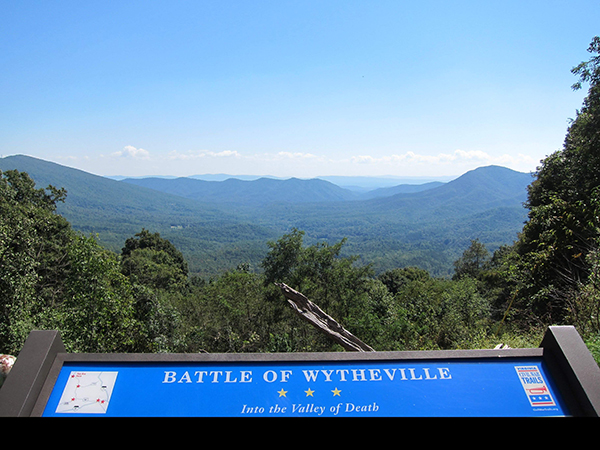 The view from the grounds of the Battle of Wytheville. Photo courtesy Susan St. Amand.
In summary, horseback riding and exploring the Virginia Grayson Highlands Park and Mount Rogers National Recreation area is definitely a unique treat – a small taste of the Wild West situated on the east coast.
About the Author: Susan St. Amand is a Board Member of the Shenandoah Trail Riding and Horseman's Association in Shenandoah County, Virginia. She grew up in Northern Maine with horses on a farm and has been a transplant to Virginia for the past 26 years. A retired Youth Education Technician, she enjoys planning horse vacations with friends and has currently completed many rides in Maine, Pennsylvania, New York, West Virginia, Tennessee, North Carolina, as well as Virginia, trailering her own horse.