Exploring Utah on Horseback with Almosta Ranch Horse Adventures
Equitrekking contributor Stacey Stearns shares her experience trail riding through scenic Utah with Almosta Ranch Horse Adventures.
There were 7,000 people at the Qualtrics Conference in Salt Lake City in March. That's a lot of people in one place for someone who is used to wide open spaces and modest-sized crowds. The group from my university took a late flight from the east coast, and I finally got to bed in our hotel at 1:30 a.m.
We had to be at the conference center at 6:45 a.m. the next morning. Days were packed tight. I also earned Research Core Expert Certification while at the conference, adding another layer of stress to the trip.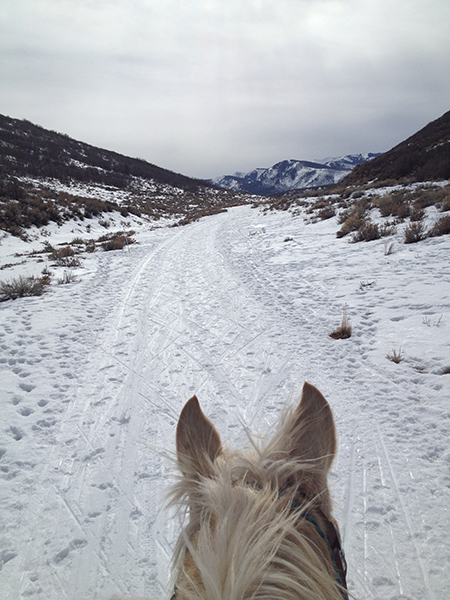 We cantered down a few stretches of trail, including this one. Photo courtesy Stacey Stearns.
Friday was ski day. All attendees were bused from Salt Lake City to Park Mountain in Park City to ski. Park City is an outdoor enthusiasts dream. There are over 400 miles of maintained trails for biking and hiking. Many miles of trails are open to equestrians.
Driving in from Salt Lake City, we passed McPolin Farm, a large white barn that is famous around Park City, and absolutely stunning. It's a former dairy farm and was purchased by Park City in 1990 and serves as a landmark for the city. There is a paved and dirt double-track trail that leads to the farm. Seasonal events are held at the location.
A couple of weeks before the conference, I knew that I wasn't going to want to ski, and started Googling horseback riding in Park City. The first place I found was already booked full (apparently, I wasn't the only one going to the Qualtrics conference who didn't want to ski). The next one didn't offer winter rides. I sent several emails off to others and hoped that something good would come of it.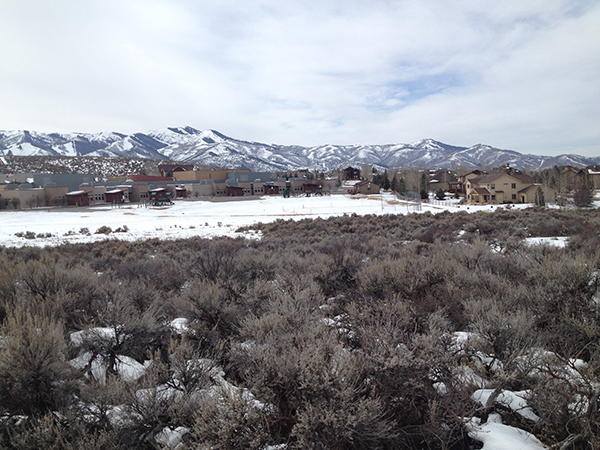 Many new houses have popped up in the area, but trail options still abound. Photo courtesy Stacey Stearns.
I received an email from Janet Smith at Almosta Ranch Horse Adventures saying that she had a horse for me, and would be happy to take me riding. On Friday morning, Janet picked me up at Park Mountain and we drove the short distance out to her ranch where I met her husband Glenn, as well. She had a palomino Kentucky Mountain horse named Scout for me to ride.
Almosta Ranch Horse Adventures is just five miles from Park City on Old Ranch Road, and the property looks out across Swaner Nature Preserve. When Janet and I arrived at the ranch, the resident herd of elk was taking its daily nap in the middle of the fields right across from the ranch.
Glenn showed me videos on his phone of the elk in the horse pastures, eating out of the round bale feeders. The back gate of Janet and Glenn's property leads to the Wasatch Mountains, Round Valley, and over 50 miles of bridle paths and trails throughout Park City and Summit County.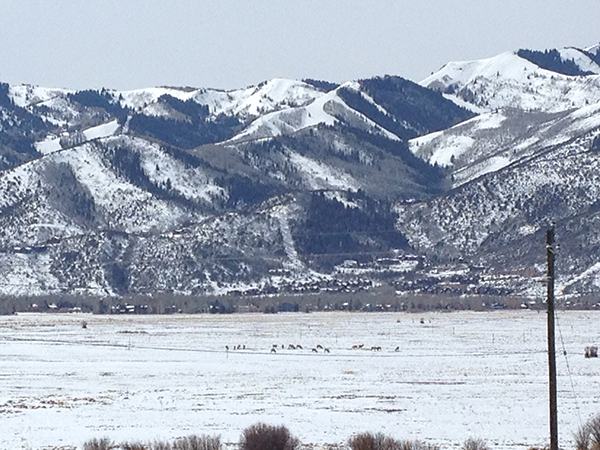 Elk out in the Swaner Nature Preserve across from Almosta Ranch. Photo courtesy Stacey Stearns.
We saddled up our horses and headed out the back gate for Round Valley, a 780-acre expanse. Elevation here is at 6470 feet and trails feature rolling hills and flat stretches. For me, the highlight of riding in Utah was the stunning views available the entire ride. There were always mountains to scan, and the vast open space brings a quiet peacefulness that I always seek when I'm out on the trail.
We crested a small hill and rode a trail that wove between two sets of houses. Janet told me that when she and Glenn purchased their ranch, none of the houses we were riding behind were there. A lone church came into view on my right, standing sentinel along the foothills and the surrounding community. We continued riding and came to the road, which we crossed and headed out onto the trails.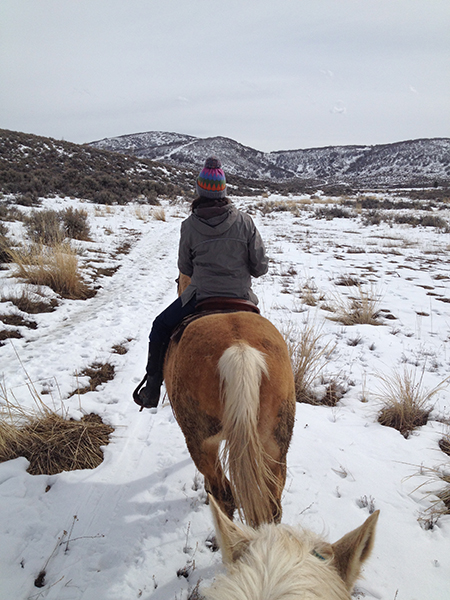 Following Janet Smith through the trails around Park City. Photo courtesy Stacey Stearns.
A large parking lot was recently built to give trail users easier access to the land and we rode through on our way to more trails. We picked our way through the trails, rode through ditches, and crossed openings that had been created in the barbed wire fence after the land was bought for open space. Sagebrush and scrub oak scattered the trails, and we crisscrossed through them as we tried to avoid wet spots.
There was still snow on the ground, and we saw cross-country skiers and a few other trail users, including some mountain bikes with fat tires for snow riding. We found a good stretch of trail where we could canter the horses. Scout was so excited to be out. We had been riding behind Janet since I didn't know where I was, but he quickly took the lead. I'm not used to riding gaited horses, and when he picked up the canter, I giggled at the smooth ride. I could get used to that!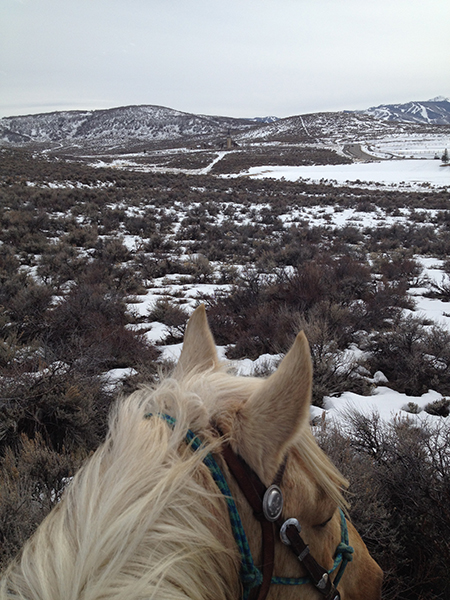 Ski slopes were visible in the distance as we were only minutes away from Park City. Photo courtesy Stacey Stearns.
Janet has a lifetime of experience with horses, and talking to her was fascinating. She started riding when she was three years old, and competed in the National High School Finals Rodeo three times, placing in the top five in each appearance. She received a rodeo scholarship to college, and earned a business degree and spent her career with Delta Airlines.
Janet led wagon trains on the Chief Joseph Trail, worked as wagon master at the Reno Rodeo, coordinated historic re-enactments, and even trains horses and riders. She currently competes with the Cowboy Mounted Shooting Association and participates in the Antelope Island Buffalo Round Up. Almosta Ranch offers a horse hotel, riding lessons, backcountry trail rides, and horse camping experiences. Horses are a common thread for all of us, and I appreciate the new people and experiences I have the opportunity to enjoy because I'm an equestrian.
After a while, we turned around and headed back to the ranch. This is definitely a place that I want to explore again, as the mountains and valleys of Utah offer many more trails and vistas.
About the Author: Stacey Stearns is a lifelong equestrian from Connecticut. She lives on Mountain Dairy in Mansfield, her family's dairy farm, and enjoys trail riding and endurance with her Morgan horses.