Explore 5 Great Horse Riding Trails & Stables in the DC Metropolitan Area
The leaves are changing vibrant oranges, yellows and reds and the air has adopted a new chilly tinge—what better time than now, as we approach the onset of winter, to catch a horseback trail ride! Read on for Equitrekking's 5 great options for parks and stables in D.C. and the surrounding metropolitan area.
for directions visit the Park's homepage

Kids on a horseback trail ride in Rock Creek Park
courtesy of the Rock Creek Park Horse Center
I can personally attest to the beauty and calm one finds on the Rock Creek Park trails. Sign up for horseback riding lessons on the Equitation field; or, enjoy a leisurely Saturday morning on one of the guided trail rides. Sign up for both at the Rock Creek Park Horse Center. Once you experience the tranquility of this park you may also consider signing up for a private lesson or sending your children to one of the many camps and regular lessons available. Some camps include the Winter Holiday Mini Camp for kids ages 7 to 14 or the all-inclusive Barn Day at which the kids spend the day learning the basics of horseback riding and horse care.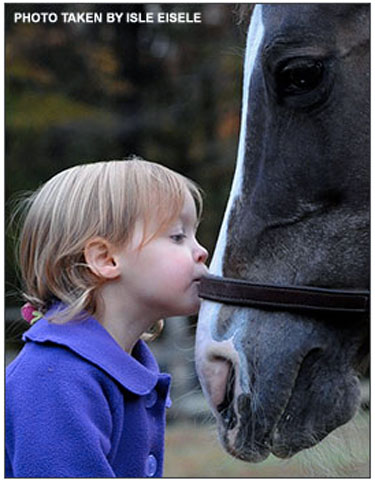 A young girl's kiss shows the infallible bond between her and one of the Rock Creek Horse Center horses
Alternatively, Rock Creek Park is also great for roller blading, bicycling or hiking on the trails. It includes playgrounds and picnic areas for family outings. Additionally, the Thompson Boat Center offers bikes, kayaks, canoes and small sailboats for rent. Come check it out between the hours of 10am and 6pm on weekdays or 9am to 5 pm on weekends.
For the proud horse owners amongst us, take your four-legged companion on a spin on one of five trails (a cumulative of 10 miles worth of track) at Great Falls Park. There is a minimal entrance fee ($3.00) in addition to a parking fee; if you decide to make yourself a regular an annual pass may be afforded for $20. Bring your horse any time between 7am and dusk for a leisurely ride on any number of the trails: Old Carriage Road, Difficult Run, Mine Run, Matildaville and/or the Ridge Trails. For day-trippers, there are other outdoorsman activities aplenty on the park grounds, including hiking and bicycling to falls and river look-out points; boating and fishing; climbing; bird watching; and picnicking.
16301 New Hampshire Avenue, Silver Spring, MD 20905
The Woodland Horse Center is more geared towards cultivating the life-long horseback rider. There are beginner lessons offered for children ages 5 to 7 and 8 to 15 as well as a Western Lesson available for those adult riders (age 16 or older) who are curious to become more familiar with the deep seated riding style that trains horses to be highly responsive to reining. In addition to year-round camps, the center also offers an after-school program called the Saddle Club. The Club begins on August 29th and includes bus pick-up from schools in local zip codes. In a span of a few hours, children receive riding lessons, horsemanship instructions and time to complete their homework. Pick up is at 6pm.
Riding solo on the grounds is permitted upon the completion of the Certified Rider program. After successful certification, you may bring your own horse or lease a horse through the center's Equi-Lease program and ride on property and in the rings whenever your heart desires.
1101 Glenallan Ave. in Wheaton, Maryland 20902
Wheaton Stables offer an all-encompassing equestrian experience. To hone your horseback riding skills choose between a variety of lessons: private, semi-private and group. The private lessons are 30 minutes long while the group lessons meet weekly for an hour. On Sunday and Tuesday the stables offer pony rides between noon and 1pm. Also on Sunday you can take part in escorted trail rides. These jaunts begin on the hour at 1pm, 2pm and 3pm and are extremely popular. In fact, the Wheaton Park Stables website requires that you reserve a spot on the trail rides at least one week in advance—for parties of 3-6 people its imperative to make reservations 4 weeks in advance!
1701 Ednor Road in Montgomery County, Maryland
Much like the Woodland Horse Center, Reddemeade is devoted to fostering long-term affinity for horses. In order to entice those novice horseback riders, Reddemeade offers a free introductory lesson on Saturdays at 1:30pm. Once you're hooked on the sport, consider registering for any number of the year-round camps or lessons offered at the Equestrian Center. The English riding lessons are comprised of instruction on the management and care of horses including training sessions on the maintenance of tack and equipment. These lessons are offered as group, semi-private or private and are categorized by riders of similar age and experience.
For those more experienced riders who are considering purchasing their own horse but want to test the waters first, join the Equi-Share network at Reddemeade. There are many perks to this program. As a member you can ride any of the horses currently housed at the center for a fixed monthly rate. Reddemeade takes care of external costs of training, lessons, care and feeding and vet bills. You are granted full access to the grounds, which include the Rocky Gorge Reservoir (for boating and fishing) and various trails. You may also enjoy one free riding lesson per month and reduced rates on clinics.

If you're seeking a welcoming environment in which you will flourish no matter what level rider you are, Reddemeade might be a good match for you!
Visit any of the above parks to enjoy a sunny afternoon on a horseback trail ride or an evening of personal lessons. You must hurry to the stables though--soon all the leaves will have fallen from the trees!


Author Bio: Claire Caldwell is a freelance journalist, pursuing a Bachelor's Degree in English Literature and French language at American University in Washington, DC. She is an avid world traveler, having lived in the United States as well as Europe she has also spent time in the Caribbean and Northern Africa. While living in Paris, France, Claire blogged about the differences between linguistic and cultural traditions between America and France as well as about hot-spots and tips for traveling to the City of Lights. She has also worked for the women's travel site, Pink Pangea, blogging about safe ways for women to travel the world independently. She is currently pursuing creative ventures while finishing her degrees.