Equitrekking's Guide to International Horse Museums
Interested in taking in a little horse culture on your next travel adventures? Check out Equitrekking's Guide to International Horse Museums, featuring great museums dedicated to horses, with equine related collections and even live demonstrations.
After the popularity of the Equitrekking Guide to U.S. Horse Museums, we decided to go abroad and find international museums dedicated to our four legged friends. We've already visited a few, including the carriage museum at the Royal Andalusian School of Equestrian Art in Jerez, the Horse Museum at the Irish National Stud and Dartfield in Ireland.
To find more, we emailed and reached out to folks around the world to locate information on museums in international locations in Japan, France, England and beyond.
Help us make this guide complete. Have a museum or international horse destination to recommend that we've missed? Let us know about it and we'll post it here!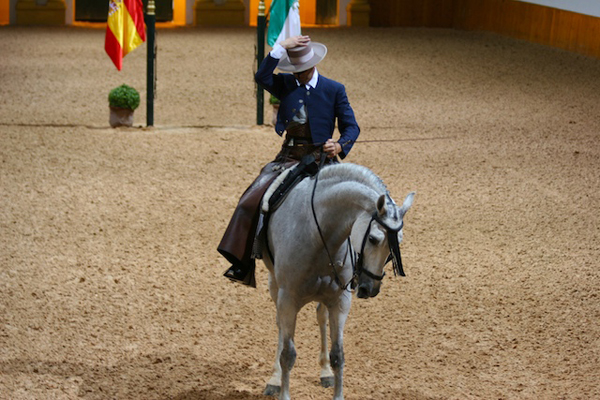 The Royal Andalusian School of Equestrian Art in Jerez, Spain has equestrian shows and competitions, in addition to a carriage museum.
Equitrekking Guide to International Horse Museums
Australia Horse Museums
Australian Racing Museum & Hall of Fame
Pays tribute to horses, jockeys, trainers, and horse racing legends in the Hall of Fame with exhibits dedicated to the Melbourne Cup and its accordant fashions as well as wider statements on the social and cultural vitality of racing in Australia.
400 Epsom Road
Flemington VIC 3031 Australia
Tel. 1300 139 407
Begium Horse Museums

Belgian Draft Horse Museum
Small museum with photographs, documents, mementoes and harnesses related to Belgian Draft Horses, their history and exportation.
Oudstrijdersplein
1570 Vollezele, Belgium
Email Belgian Draft Horse Museum
Canada Horse Museums
Canada Agriculture Museum
Canada's unique agricultural heritage is featured at the Canada Agriculture Museum, where you can explore the sights and sounds of typical farm life, including a tractor exhibition, live horses in the animal barns, and more. In the summer, take a horse-drawn wagon ride through the Central Experimental Farm. See renewable energy in action in the Museum's newest exhibition Energy Park: Nature at Work, try to spot the queen bee in the live observation hive in Taking Care of Beeness, and explore Tractors, where you can even climb inside a farmer's "office in the field."
(861) Prince of Wales Drive (between the traffic circle and Baseline Rd), Ottawa, Canada.
Tel: 613-991-3044 or 1-866-442-4416
China Horse Museums
The Museum of Qin Terra-cotta Warriors and Horses
16,300-square-meter excavation site with more than 7,000 life-size terracotta figures of warriors and horses arranged in battle formations. The small figures are all different; with their horses, chariots and weapons. The Terra Cotta Warriors and Horses are listed by UNESCO as a World Heritage Site.
Qinling North Road, Lintong District, Xi'an 710600, China
Tel. 02-93911961
France Horse Museums
Cadre Noir of Saumur and French National Riding School
Guided tours available of this unique French riding school whose instructors are the celebrated riders of the Cadre Noir, elite equestrians based in the city of Saumur in western France. The troop gets its name from the black uniforms. Visit the Grand Manège, the stables and the Prestige tack room to uncover the history of the Cadre Noir, which dates back to 1815. You may also see performances on your visit.
Ecole Nationale d'Equitation
BP 207 - Terrefort
49411 Saumur Cedex, France
Tel. : 02 41 53 50 50
The Live Horse Museum - The Great Stables
Housed in the Great Stables (Grandes Écuries) of the Château de Chantilly, this museum is famous for its horse demonstrations and shows and its expertise in the Haute-Ecole training and classic equestrian arts. Thirty-one rooms feature paintings, drawings, sculptures, and ceramics, on equestrian related subjects including horsemanship, horse-drawn transport, art, history, equine health, and riding equipment. The museum is designed to promote education by encouraging visitors to interact with the horses. Dressage demonstrations are given daily to demonstrate the basis of horsemanship. The grounds also host horse shows.
Location: Chantiily, France
Tel. + (33) 3 44 27 31 80
Video interview with the founder of the Live Horse Museum, Chantilly, France.
Germany Horse Museums
German Equine Museum
The Deutsches Pferdemuseum, or German Equine Museum displays all artifacts and exhibitions including art work, documents, photographs, tack and models related to horses in Germany.
Location: Holzmarkt 9, Verden 27283 - Germany
Tel. +49 (0) 42 31 80 71
Westphalian Horse Museum
Dedicated to the natural and cultural history of the horse in Westphalia along with an array of other subjects on the horse. Westphalia has more than 500 riding clubs and is considered to be a major center for equestrian sports. Temporary exhibitions focus on special topics. The Arena Hippomaxx hosts horse shows and other events regularly. A Children and Horse Park is linked to the museum, where children can experience different breeds of horses and giant Poitou donkeys.
Westfälisches Pferdemuseum Münster gGmbH
Sentruper Straße 311
48161 Münster
Tel. +49 (0)251 484 27-0
Ireland Horse Museums

Dartfield Horse Museum and Heritage Center
Horse museum highlights the history of horses in Ireland and Irish rural life and has exhibits on horse anatomy and culture. You'll get a feel for the hard work Irish horses did throughout history and their impact on Ireland as you gaze at historic farm machinery and carriages. Dartfield is on 350 acres of verdant parkland where cattle, sheep and Irish horses and Connemara ponies graze. You can visit the Connemara Ponies and walk the grounds on your tour.
Kilrickle, Loughrea, Co. Galway, Ireland.
Tel: 091 843968
Read about Equitrekking's visit to Dartfield and watch the interview with museum founder Willie Leahy.
This Equitrekking video, Best of Irish Countryside, includes an interview with Willie Leahy at Dartfield at minute 3:20.
Horse Museum at the Irish National Stud
With a focus on the history of Irish horses, this small, but interesting museum on the grounds of the Irish National Stud only 45 minutes from Dublin City, has on display the skeleton of Arkle, touted as the greatest steeplechaser of all times. Artifacts, illustrations and texts take visitors through the history of Irish horseracing and some of beloved Irish horses from the past.
Tully Kildare, Co. Kildare, Ireland
Tel. +353 45 521 617
Read about Equitrekking's visit to the Irish National Stud.
Video tour of the Irish National Stud.
Japan Horse Museums
Equine Museum of Japan
Adjacent to Negishi Nature Park (the former Negishi Race Course), this Japanese equine museum has a collection of horse-related artifacts focusing on horsey history and man's relationship with horses, and information on Japanese horse racing. Open since 1977, the museum also houses noteworthy horse skeletons. Negishi Race Course was opened in December 1866.
Location: Negishi Racing Memorial Park
1-3, Negishidai, Naka-ku, Yokohama, Kanagawa 231-0853 Japan
Tel. +81-45-662-7581
Front page of website (in Japanese) Access & Hours (in Japanese)

JRA Racing Museum
JRA Racing Museum is Japan Racing Association's corporate museum, aiming to attract the visiting racing fans at Tokyo Racecourse. It was started in 1991. There's a Memorial Hall to honor the Hall of Fame Horses and Horsemen and the Exhibition Room, which provides a comprehensive history of racing.
Location: Tokyo Racecourse 1-1, Hiyoshi-cho, Fuchu-shi, Tokyo 183-8550, Japan
Tel. +81-42-314-5800
JRA web-site (in English) Front page (in Japanese) Access & Hours (in Japanese) Access to Tokyo Racecourse on JRA web-site (in English)

Shotokukan
Shotokukan is located in Nambu district which has been a famous horse breeding area for a long time. The museum focuses on local horse culture in several buildings with lots of artifacts including samurai saddles.
Location: Komakko Land 1-1 Oaza Fukamochi Aza Umeyama, Towada-shi, Aomori, 034-0106 Japan
Tel. +81-176-26-2100
Portugal Horse Museums
National Coach Museum in Lisbon
Housed in the old Horse Riding Arena of the Belém Palace, formerly a Royal Palace which is now the official residence of the President of Portugal, this is one of the most visited museums in Portugal. It features an extensive collection of carriages, including 16th and 17th century travelling coaches, pompous Baroque 18th century carriages decorated with paintings, ceremonial coaches and more.
Location: Praça Afonso de Albuquerque
1300-044 Lisbon, Portugal
Tel. (351) 213 610 850
Spain Horse Museums
Royal Andalusian School of Equestrian Art Horse Carriage Museum & Museum of Equestrian Arts
At the Horse Carriage Museum at Real Escuela Andaluza del Arte Ecuestre, carriages and equine equipment used quite frequently in Andalusia are on display with interactive multimedia systems in four languages (Spanish, English, German and French) so visitors may actively learn about the carriage, its tack, types of harness, its history, its anecdotes and uses and even the very carriage itself in virtual reality. The Sociable, hunting Break, Milord and Phaeton are surrounded by glass display units filled with harness ribbons and bells. The Equestrian Art Museum is a living museum, multimedia and interactive, focusing on the origins and evolution of the equestrian art in Andalusia and the rest of the world. Visit to see "How the Andalusians Horses Dance," a show of the classical traditions of Spanish baroque horsemanship.
Avda. Duque de Abrantes, S/N.
Palacio Recreo de las Cadenas
11407 Jerez de la Frontera
Cádiz, Spain
Tel: +34 956 319 635
Equitrekking's Visit to the Royal School.

South Africa Horse Museums

Richmond Horse Museum
The Horse Museum of Richmond is dedicated to the saddle horse and focuses on trekboers (early Afrikaans farmers) who had spent a nomadic life on horseback in the arid Karoo in the Northern Cape section of South Africa. It has old carts and displays of horse stamps from around the world.
The Riding Horse Museum, Loop Street, Richmond, Northern Cape, South Africa
Tel: +27 (0)53 693-0176
United Kingdom Horse Museums
Household Cavalry Museum
A living museum in the heart of Horse Guards, Whitehall, London, this military museum offers a unique "behind- the-scenes" look at the work that goes into the ceremonial and operational role of the Household Cavalry Regiment. See troopers working with horses in the original 18th century stables. There is amounted regiment (on horseback) to guard Her Majesty The Queen on ceremonial occasions in London and across the UK. The Household Cavalry are also a key part of the Royal pageantry.
Horse Guards
Whitehall
London SW1A 2AX, England
Tel. + 020 7930 3070
The National Horseracing Museum
This UK horse museum chronicles the history of horse racing in Britain and features collections and records of people and horses involved in the sport of horse racing from its Royal origins to modern heroes.
99 High Street
Newmarket, Suffolk CB8 8JH
Tel. 01638 667333

Shire Horse Farm and Carriage Museum
See live horses including Shire Horses, Clydesdales, Suffolk Punches and Shetlands. The museum also boasts a large and diverse selection of vehicles which pre-date the mechanised transport of today.
Lower Gryllis Farm Treskillard, Redruth,
Cornwall TR16 6LA, England
Tel. 01209 713606
Tel. 01209 713606

Have a museum to recommend that we've missed? Let us know about it and we'll post it here!

* Please note that this guide was compiled in January 2013. While we do every effort to keep it up to date, please visit the musuem website or call them directly prior to your visit for the most up to date information. If you have an addition or notice something that we need to change, let us know about it!