Equitrekking Filming in Michigan- Mackinac Island, St. Ignace, Sault Ste. Marie
Equitrekking is traveling to Michigan this week to film for a brand new episode.
We are excited to film a new episode of Equitrekking this week in Michigan! We've picked the Upper Peninsula as our focus, and we'll be filming in and around Sault Ste. Marie, St. Ignace and Mackinac Island.

I've been doing lots of research. I spoken to tons of great locals in St. Ignace, Sault Ste. Marie and Mackinac Island. I've watched "Somewhere in Time" with Christopher Reeve and Jane Seymour (obligatory prior to staying at Grand Hotel) and read a ton about St. Ignace, Sault Ste. Marie and Mackinac Island's history. I've even been watching old films so that I'll be able to see how the Mackinac Island of today compares to how it was years ago. As many of you may know, in 1898 automobiles were banned on Mackinac Island, so the only way for travelers to get around the island is on foot, horseback, horse-drawn carriage or bicycle.
Short on video from TCM on Mackinac Island in 1944. I like how they say "where automobiles have not yet been introduced" in this film, as they never end up making it on Mackinac Island.
Here are some fun things that we have on our agenda:
Soo Locks in Sault Ste. Marie (Check out this Animation of how the Soo Locks work- Interesting!)
Lighthouse Boat Tour from St. Ignace
Trying to find the best Cornish Pasties in St. Ignace
Carriage Tour of Mackinac Island (Check out this fun blog on A Day in the Life of a Mackinac Island Taxi Driver from Bree's Mackinac Island Blog)
Two horse rides on Mackinac Island!
and much, much more!

Many of you may remember the contest that was run last year with Bayer Animal Health to win an Equitrekking adventure with me. Lori Odishoo, a rider from Connecticut, won and will be riding with us on Mackinac Island. Here's a photo of Lori getting fitted with a Charles Owen helmet, part of the prize package, in preparation for our trip to Michigan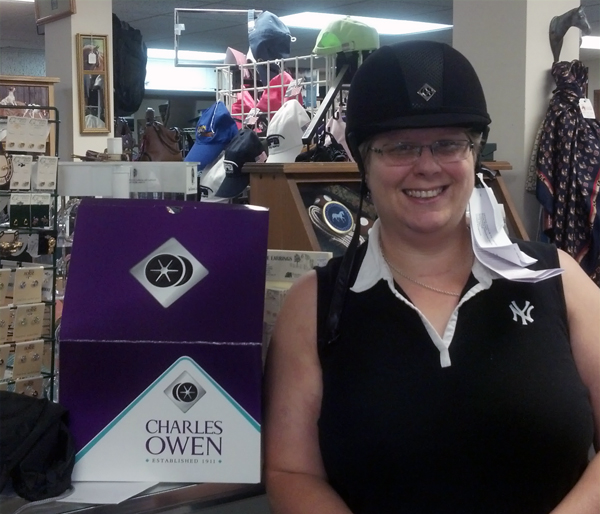 Lori Odishoo gets ready to ride with Equitrekking.
If anyone has last minute ideas for things that we should be sure not to miss, contact us or alert us through Equitrekking on Facebook or Twitter @equitrekking and @darleynewman. I'll be updating social media with live photos, videos and fun discoveries as we explore the UP! Stay tuned.