An Equine Internship at a Wild Horse Sanctuary
A New York College Gal and Cowgirl Lands the Equine Internship of Her Dreams
by Angela Calabro
Being an equine intern at Return to Freedom in Lompoc, California, or "the ranch", as it affectionately became known to me and fellow office/event planning intern, Jordan, made me realize early on that if an equine career was something that I wanted, I was going to have to put everything I had into making it a success. Everything from throwing hay off the back of the pick-up truck every morning to coordinating the annual fundraiser contributed to the amount of education I was gaining there, yet in order to fully uncover my potential, I would need to whole heartedly commit myself.
I had no idea what to expect going into this horse internship. Even before I got to California, I had a lot to do to organize every last detail of how to make this type of dream internship of working with mustangs a reality, but it was worth it. I knew there was no way it could be anything but a life changing experience, which it inevitably proved to be.

Getting the Equine Internship

Getting the internship itself was difficult. When I was presented with the option of an internship, I immediately knew that I wanted to learn about mustang behavior and traits. My second thought was that I have always wanted to be in California for a long period of time, so I combined these two ideas and google.com did the rest.
After applying to two animal sanctuaries in California, I was beyond thrilled when Neda DeMayo, founder of Return to Freedom called me on my cell phone one afternoon. She was excited to work with me and have me come out as a "work-study" student and offered me housing and a car to use while I was an intern. After talking with her and feeling immediately like this was where I was meant to go next in my life, I scheduled an appointment with my college advisor.

Over the next few weeks I filled out paperwork, got the approval of several equine staff members at my college, as well as from the staff at the ranch, wrote a paper and informed my parents of my decision. When everything was finally filled out and finished, I was ready for the next step, waiting for the day to arrive when I flew to California and stayed there for ten weeks.

Following My Dream of Working with Mustangs

There were countless times where friends and even people who knew very little about me, felt they were able to criticize my choice or remind me how difficult it would be or why I ever would have chosen that slightly odd and unheard of career -- working with wild mustangs. When confronted with these people, I would remind myself that I was doing exactly what I wanted and although they may have been able to stop themselves from dreaming big because of their own fears of the unknown, I would not let those fears stop me, and instead I would use it to propel me forward.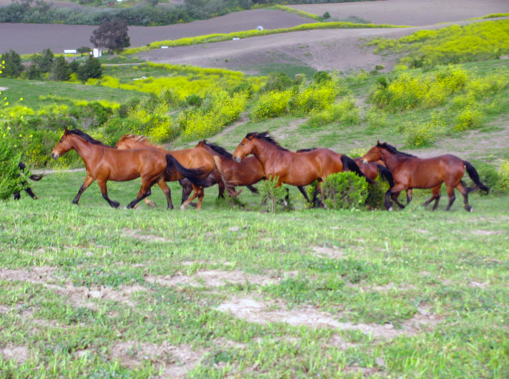 Whenever I was asked what I wanted to do after graduating college, the only thing that inspired me was mustang rescue. After speaking with the other equine business graduates, who were off to perfect and improve their dressage and hunt seat knowledge, my biggest desire was to develop my skills and hands-on experience with wild horses, which had been unrealistic for me to learn in college.

Interning with Mustangs at Return to Freedom

Mustang. The word conjures up different images for different people. Freedom, independence, and graceful confidence always seem to squeeze their way into any sentence with the word mustang. Wild horses are synonymous with the wild, untamed, unknown of the great American West. Unfortunately today, mustangs are being rounded up by the thousands and shipped to illegal slaughterhouses or shoved into "long term holding pens" where they can only look through the bars into the plains that were once their rightful home. There are very few organizations brave enough to face the bureaucracy that is plaguing the wild mustang, but for those who have dedicated their time and lives to this noble cause, there is nothing to which they would rather commit themselves.

Sitting on California's central coast, Return to Freedom, American Wild Horse Sanctuary, which has since founded the American Wild Horse Preservation Campaign, is a 300-acre ranch where 200 wild horses not only reside, but thrive in natural family bands that replicate lives torn away from them when they were rounded up. The ranch is dedicated to preserving the freedom, diversity and habitat of America's wild horses while also remaining focused on allowing the public to experience the natural behavior and world of these majestic animals.
Equine Internship Challenges

My biggest challenge and yet biggest accomplishment came after a week of living and working at the Return to Freedom ranch. I was invited to a meeting with Neda and the very savvy Equine Manager, Aaron, who doubled as my direct supervisor. The Fourth Annual Fundraiser called Spirit of the Horse would be held soon in Santa Barbara. Since Aaron's wife was due to have their baby on the same day, they needed an equine organizer.

At first this task seemed daunting. Having just graduated from college, this was going to be my first solo performance to prove to myself, my supervisors, and my peers, for whom I had so much respect, that I was not only able to handle this event, but that I would hopefully create a smooth, successful and well-organized fundraiser.

My first obstacle came when I began organizing the shipment of horses that were going to be at the site a few days prior. These horses were coming from ranches and equine centers all over the California Coast. They required stabling, food, water, and proper care and management, all at the correct times, in order to ensure the health and well being of all the horses involved.

The main stable, where several of the horses were being housed for the day of the event, was not going to be able to accommodate more than a very small pre-specified amount. Fortunately, we found a stable just down the street that could easily house and care for as many horses as we needed. All of this sounded great on the phone and was easily arranged, however, in actuality it was a little further down the road from the event than we would have liked. Eventually, I spoke with all the owners of the horses that were being shipped in and arranged for them to only come in from their respective locations the day before dress rehearsal, in order to minimize the cost and make sure care remained easily manageable and accessible for all involved.

We had also planned an equine program as a finale, where all the horses would perform in one way or another. Several were paraded around by Native American dancers dressed in full garb, while a passage was read on their historical importance. Later on, there was a demonstration of a rider on her bareback and bridle-less horse. The timing of each horse and handler had to be just perfectly coordinated so as not to crowd the already small waiting area that led into the arena. This, along with the horses that were walking down the road just to get near the event, left little room for lapses in time between performers.

The Big Event – Spirit of the Horse

I assembled several local, adolescent "equine" volunteers who claimed to have much experience with western tack, as well as some of our more alternative tack. During the dress rehearsal, I soon realized that, in fact, they had less experience than they had let on.

Since there was a limited amount of time to find new volunteers with solid equine backgrounds, I had to rely on the help of the amazingly supportive staff and volunteer base that make the Return to Freedom ranch run smoothly on a daily basis. From this group, I was able to find two volunteers who made the day run beautifully.

During my time interning, I began to look at situations like this one where I was dealing with volunteers by remembering how I was treated as a equestrian volunteer and how having a specific duty that you could be proud of, even as a "non-equine" person could give you a huge sense of accomplishment. I greatly appreciated the volunteers' passion for helping Return to Freedom in any form they could, so it was important to me that everyone felt useful and a part of the team.

Spirit of the Horse took place at a gorgeous location in the hills of Santa Barbara and was a success. The event allowed me in my first month working in California to feel a sense of accomplishment for a job well done. That feeling carried on the next two months that I spent interning and echoed into my future at Return to Freedom.

The Results

What may have started as a three-month internship, granting me my last 9.0 credits of college, finished as a career opportunity that altered the path I was on completely and permanently. After I completed the equine internship, I was offered a full time position on the ranch as Volunteer & Program Coordinator starting as soon as I was able to move my life and worldly possessions to the opposite side of the country.

There were few words I could use to describe my enthusiasm, but I considered it carefully. I knew it was going to be a difficult staff position, since it was centered on event planning and volunteer activities. I thought about how I would feel leaving my family and friends 3,000 miles away, but I knew this chance would most likely not be presented to me again and that if I didn't take this leap, I would regret it for years.

On my last night in the cabin where I had been living on the ranch for the three months, I wrote in my journal, "if I were to describe the past ten weeks in one word it would be the word; adventure". This was to be just the beginning of the adventure for me. I go on in later journal entries to discuss how every day was a mini journey, where I learned that I was not in fact a completed individual. Instead I realized I was only at the beginning of a great structure that needed a strong foundation in order to be better prepared for the independent world I was about to enter.

Getting my Bachelor of Science Degree in Equine Business Management at Johnson & Wales University gave me the proper foundation in formal horsemanship techniques, equine health and anatomy that would be my stepping block to my future in the equine industry. From my time interning, I have since learned that it is important to have a formal education, yet everything you do with that education is up to you and that is what will make all the difference. You have to be self-motivated and have the ability to decide what you ultimately want for yourself and then simply go for it without regret or reserve.
Learn more from the Return to Freedom website and read more about founder Neda de Mayo in an Equitrekking article on Return to Freedom - Wild Horse Sanctuary.

Apply to Intern with Equitrekking.