Equestrian Trail Riding in South Carolina
By Jim Edwards
When asked, "What is your favorite horse trail in South Carolina?", I am hard pressed for an answer. Consequently, I state that my favorite trail is the last one ridden. Knowing this does not shed light on the possible riding adventures for others, I will provide a brief descriptions of trails I have recently enjoyed.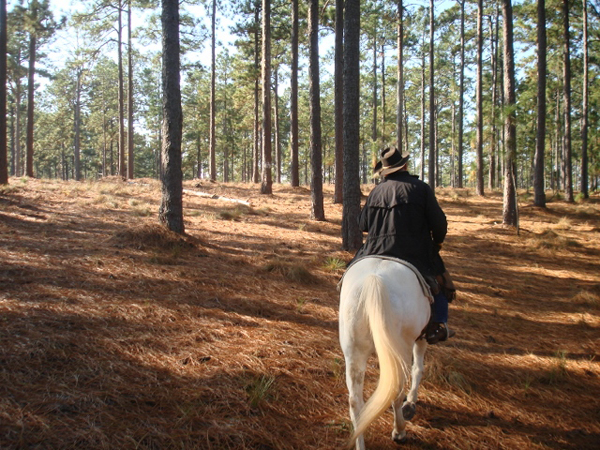 Horseback riding in South Carolina State Parks is a longtime favorite activity.
Sumter National Forest Horse Trails
Enoree Ranger District – Two Trails
Buncombe Horse Trail

This 32 mile trail winds through forested hill and valley terrain. Points of interest include old cemeteries, wagon roads, and plantation sites. Opportunities also exist to view various wildlife species and abundant plant life. With interconnecting loops, riders have an opportunity for various length rides. Primitive campers, hikers and mountain bikers are also welcome.

Brick House Campground is a year-round camping facility providing a base of operations for many recreational activities including horseback riding.

Buncombe Horse Trail is in Newberry County just off I-26 and is a fee area.

Woods Ferry Horse Trail
The rolling hills of Sumter National Forest near Chester are home to nine miles of easy-to-moderate loops known collectively as Woods Ferry Horse Trail. The trails run over a terrain that is primarily red clay and is a wonderful interruption from the area's typical pine trails. This area has a hardwood canopy of poplars, maples, and sweet gums. Look for deer, turkey, red tail hawks, quail, blue heron, and even the rare osprey. Bald eagles can be seen along the Broad River corridor.

Woods Ferry Recreation Area offers campers and day-users a variety of activities from picnicking, canoeing, or horseback riding. The campground is open April 1 through October 31 on a first-come, first-served basis. Reservations are not available at this time. Restrooms with hot showers and centrally-located water spigots are included for the 26 family campsites along with tables and grills. Seven sites have horse stalls. Site 10 (a group campsite) has horse corrals. The campground is a fee area.

Long Cane Ranger District – Long Cane Horse Trail
The Long Cane Horse Trail is located in the northern part of the Long Cane Ranger District in Abbeville County. This 26.7 mile loop trail winds through the pines and hardwoods of the Long Cane Scenic Area and passes the largest Shagbark Hickory tree in the United States. A historic cemetery and the original "Charleston Road" enhance the visitor's experience. Numerous access points and a convenient cut-through enable the rider to adjust the length and duration of the ride.

Fell Camp, located in the northern part of the Long Cane Ranger District, is used by equestrians accessing the Long Cane Horse Trail, as well as hunters in season. The camp also serves as a day-use parking area for the horse trail.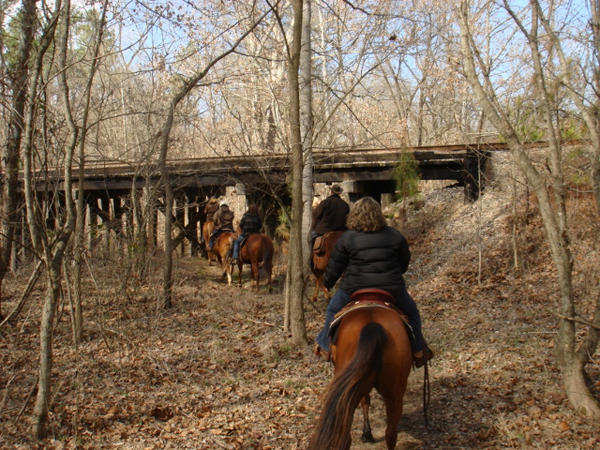 Riders on the Tressel Long Cane Trail in South Carolina.

Andrew Pickens Ranger District – Rocky Gap/Willis Knob Horse Trails
The Rocky Gap Trail in South Carolina and the Willis Knob Trail in Georgia combine to offer some of the most scenic horseback riding in the Southern Blue Ridge Mountains. Winding across deeply dissected ridges, the trails descend into the beautiful Chattooga Wild and Scenic River corridor. The Rocky Gap has several loops while the Willis Knob Trail is designed as one large continuous loop. Each trail crosses several gravel roads. Rocky Gap Trail has two waterfalls adjacent to the trail which provide pretty views.
The Whetstone Horse Camp in South Carolina serves as a base camp for many users of both trails. There is a fee for the Whetstone Horse Camp.

South Carolina Horsemen's Council members work to keep public horse trails accessible to all horse people, develop new trails, coordinate any Horsemen's Council trail rides and more.
South Carolina State Parks Horse Trails
McCalla State Natural Area
Ten miles of horse trails are located in Abbeville County, SC, at the McCalla State Natural Area near Lowndesville. Access is gained by calling Calhoun Falls State Park at 864-447-8267 for the gate combination and registration. This is a "bare bones" trail with a graveled parking area. No restrooms, camping areas or water facilities are available at this time.

Croft State Park
The park includes four loop trails and one connector trail which make for interesting riding. Once a part of a World War II Army training camp, Croft includes evidence of former military structures, an old gristmill, and cemeteries from earlier settlers. A recently added spur trail, the Whitestone Springs Spur Trail, leads you to the former site of an old turn of the century luxury hotel. An old artesian well is still visible.

In addition to trails, the park has other excellent equestrian facilities, including 54 horse stalls and a show ring. Two campgrounds are available.

Kings Mountain State Park
In York County, Kings Mountain State Park provides a moderately difficult 20-mile loop which begins in Kings Mountain State Park and circles into Kings Mountain National Park, the site af a famous Revolutionary War battle. Both parks offer attractive riding through rolling hills and granite outcroppings not far from Charlotte, NC. Small mountains called monadnocks jut above the surrounding flatland and offer spectacular views.
H. Cooper Black Memorial Field Trial Area
The Cooper Black Park is totally a horse and dog park. There are over 20 miles of horse trails that are very well marked and maintained. They are wide enough to put wagons on them. All of the trails are marked with a white blaze on a pine tree. There are more than 100 miles of horse trails between H. Cooper Black and the Sand Hills State Forest. Two endurance rides a year are hosted on the combined parks. Cooper Black Park has 27 electric/water campsites with two comfort stations.

Sixty-eight corrals measure 16'x16' and 24 stalls measure 12'x12'. The trails are mostly sand as the park is located in the middle of the 7000-acre Sand Hills State Forest. Retriever events and bird dog events are also held.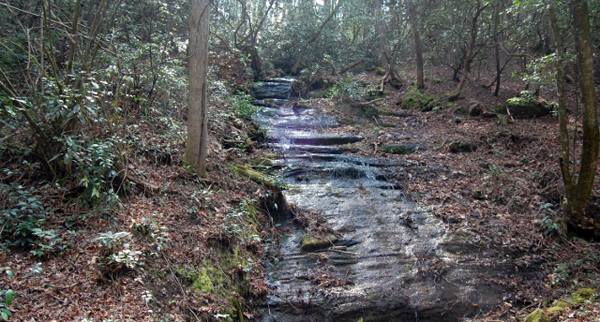 Many South Carolina Parks offer short horse trail routes. Riders seeking longer distances can find more than 20 miles of horse trails at H. Cooper Black, Jr. Memorial Field Trail and Recreation Area and Kings Mountain State Park.

Manchester State Forest
Manchester State Forest is among the most popular outdoor getaways in the Midlands of South Carolina. It boasts three easy-to-moderate loop trails which provide 20 miles of riding pleasure. The area is a pine-oak forest managed for commercial timber use and outdoor recreation, which includes hiking, mountain biking, and equestrian use. A South Carolina State Forest permit is required for use of these trails.
NOTE: South Carolina Horsemen's Council is currently finalizing updated topographic maps of public horse trails. These maps may be accessed from: www.schorsecouncil.org/trails Click on the green box for your trail selection. The information contained on the link includes locations/directions to the trails, fee information, and camping availability.

About the author: Jim Edwards is a member of the Trails Committee of the South Carolina Horsemen's Council. He and Butch Kennedy coordinated the trail mapping project.