Equestrian Dream Job: Life at the Haig Point Equestrian Center
A childhood fantasy of working with horses became a reality for Haig Point Equestrian Center Director Rachel Allen.
By Rachel Allen.
I used to daydream a lot as a young girl- and those daydreams were always about one thing: horses. Even today, if you ever catch me staring into space, I'm still probably thinking about horses. I don't know where this lifelong affinity towards these majestic animals comes from, but it's been a passion of mine for as long as I can remember. I grew up in Atlanta- eventually moving to the suburbs- and not one person in my life rode or knew anything about horses. I was literally born with this unexplained obsession: I drew them, I wrote poems about them, I read books about them, and as soon as I could- I was asking for riding lessons. I went from riding in Atlanta as a child to riding in Italy with a trainer, eventually earning a spot at University of Georgia's inaugural varsity women's equestrian team.
With a B.S. in Psychology, I decided to continue my education and earned an M.Ed in Linguistics. After earning both degrees- one thing was still quite clear. My love for riding and working with horses was as strong as ever. Despite trying to "go out in the real world," everything kept pulling me back towards my passion. Ultimately, I realized I could make my passion a profession.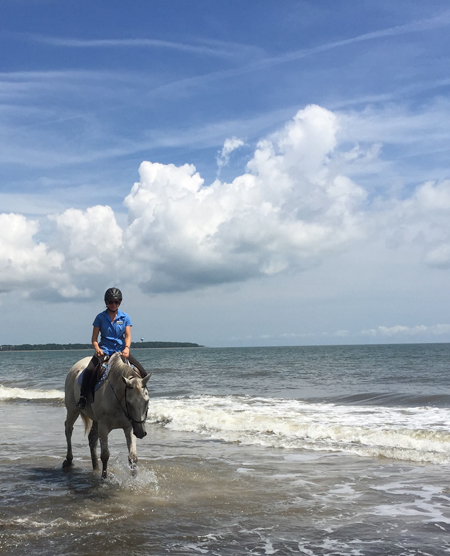 Who doesn't dream of doing this? Photo courtesy Rachel Allen.
Today I find myself living a real-life dream. I live on an island with three miles of sparsely populated white, sandy beaches, running a 20 horse equestrian center.
Daufuskie Island is a treasure that many Southerners, let alone East Coasters, probably don't know about. There are no cars on the island and the only way to get here is by boat. It's largely untouched by man- there are no big-box retailers; only a handful of local artisan shops and restaurants. The wildlife runs free; our horses truly live a magnificent life. We are home to the endangered Carolina Marsh Tacky- a unique breed of horses native to South Carolina that date back to the 16th century. Just this year, two Marsh Tacky horses were born on Daufuskie Island- the first in more than four decades.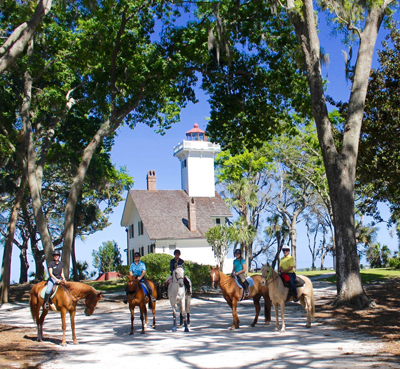 The equestrian center welcomes a wide variety of equestrians every year. Photo courtesy Rachel Allen.
We see a little bit of everything at the Haig Point Equestrian Center- young riders who are serious about pursuing an equestrian career, novice trail riders who just want to enjoy a leisurely ride on the beach, and a few individuals in their later years who are finally pursuing a lifelong dream of learning how to ride. This spring we are introducing Daufuskie Island Trail Rides, which will allow more of the island visitors a chance to experience our culture in a beginner and intermediate level format.
I go to work every day thinking, "Do I actually get paid for this?"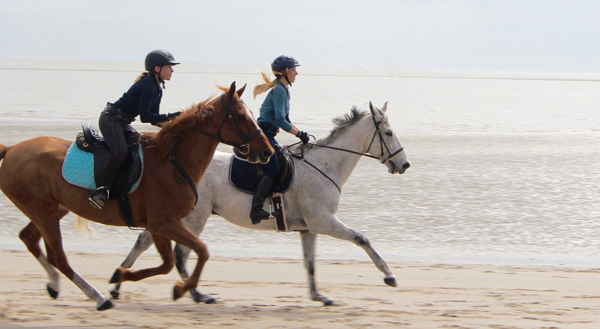 Experienced riders are welcome to an invigorating canter on the beach. Photo courtesy Rachel Allen.
As anyone in the equine industry knows, there are challenges and difficulties when you are a steward of the life and well being of any animal. As we are on an island and get to enjoy the rider-friendly weather year round, we do have to consider a tumultuous hurricane season. We have to barge over all of our supplies--hay, shavings, feed, etc. and of course, horses. We are surrounded on all sides by water, which presents a unique set of challenges given the circumstances that can arise during in climate weather. After riding out a Category Three hurricane (Matthew in 2016) in the barn, locked up as trees fell all around us, we decided we would go through the evacuation process just over a year later as Category Four Hurricane Irma approached. With eighteen horses and less than two hours before all transportation on and off the island closed, it took nothing less than a miracle--but all of the horses were loaded onto a trailer without a hitch and made their way safely inland for the duration of the week.
Every year, we brace ourselves from September through November, hoping that nothing stronger than a tropical storm comes our way. And even when we are preparing for the worse, we still consider ourselves fortunate. Fortunate to live and ride on such a beautiful island, fortunate that we can give a few horses--some fancy, some rescued--a wonderful home.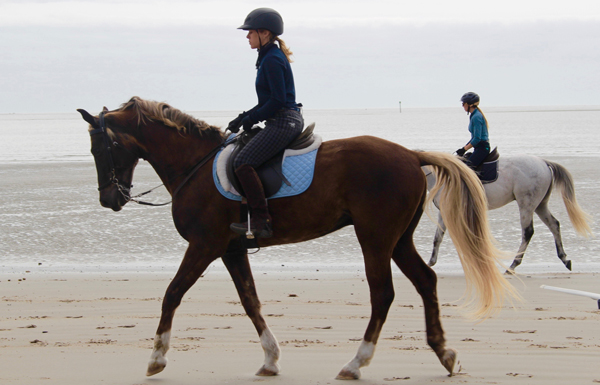 Haig Point Equestrian Center is home to a number of beautiful and well cared for horses. Photo courtesy Rachel Allen.
As an avid lover of horses, each day spent with them feels like living out the fantasy of that little girl whose mind was constantly occupied with them. With the geographic location we inhabit, we are visited by many people whose bucket list is to ride a horse on the beach. We get to see young riders bloom and become addicted to the sport of riding. We also get a number of riders with various backgrounds who simply want a slower pace with their horse. In short, we are all living this dream. My daydreams of constantly being around horses have become a reality. And the best part is, I get to wake up every day and do it all over again.
About the Author: Rachel Allen is the Equestrian Director of Haig Point Equestrian Center. Learn more about Haig Point on their website.