Enchantment Equitreks Horse Vacations for Solo Women Travelers
This boutique ranch 45 minutes east of Albuquerque 
caters to small groups and never has more than four riders. With around 90% of clients being single women travelers, ladies have a special affinity for this New Mexico ranch.
by Darley Newman
In addition to trail riding vacations, Enchantment Equitreks offers special themed weeks including yoga retreats, the Balloon Fiesta Ride surrounding the Albuquerque Balloon Fiesta and more.
Owned by Mel and Justyn Vogel, a mother-daughter business team that have travelled all over the world on riding holidays, this savvy duo of equestrians knows first-hand what it's like to travel as women and equestrians.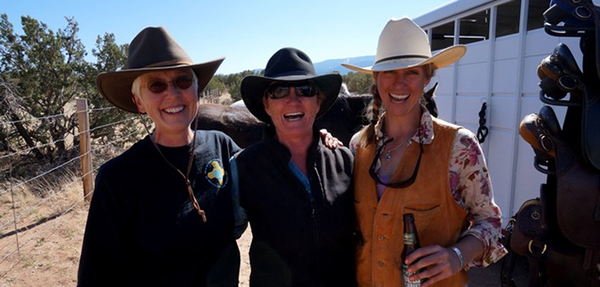 Justyn Vogel in the straw hat, her mom Mel and another part time guide, Cheri.
"I'll never forget the time when we were entering Australia and our entire bag full of horse riding gear was rejected and sent back to the U.S.," writes Justyn. "We ended up riding in Wellies and one pair of blue jeans. However, it was the group of women we met there that made the whole experience amazing."
Justyn and her mom work to create an environment of relaxation and rejuvenation and offer yoga retreat weeks and yoga classes with an instructor trained in Equi-Yoga. There are a variety of other activities, such as hiking, mountain biking, shopping, and nearby art galleries.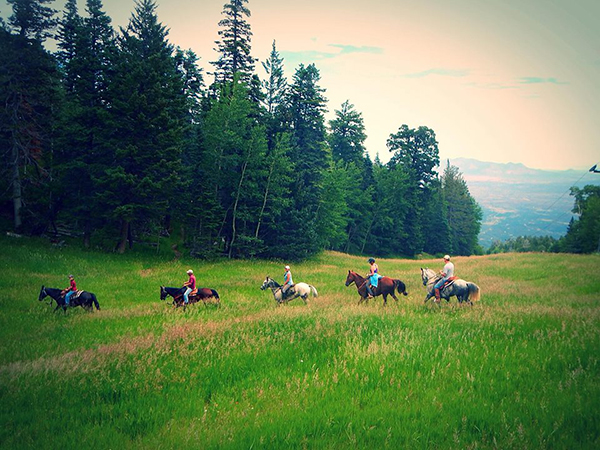 Riding New Mexico with Enchantment Equitreks.
"I believe that our small and family style ranch is a perfect getaway for the solo traveler and all women groups," said Justyn. "I find that women often find comfort riding in a group of other women. We can let our hair down. Our unique mother and daughter team will be your trail guides. Here at Enchantment Equitreks we want to you feel like you are riding with friends."
Single Supplement Lowdown:
There is no single supplement for any of Enchantment Equitreks all-inclusive riding packages.

When to go:
The best time to ride in this part of New Mexico is May to October, but be sure to check the Enchantment Equitreks website and their Vacation Guide page on Equitrekking for special riding tours, which are scheduled throughout the year.

Learn about Enchantment Equitreks on their website and on their page in the Equitrekking Vacation Guide.