Eight Reasons to Go to Your Local Horse Festival
How to get the most out of the equine expos and equestrian fairs near you.

by Karen Braschayko

If you're anything like me, the process of attending a horse fair or expo goes like this: I spot event information online or receive the flyer in my mailbox. I get really excited, highlighting the exhibits I want to see and planning to spend the entire day there. I write it boldly on my schedule and alert my equestrian friends. But as the calendar inches toward the date, work and family responsibilities make me wonder if I'll have enough patience for the traffic and crowds. When that Saturday morning arrives, unwatched episodes on my DVR and a monster pile of laundry can evaporate my resolve. Then I go for a few hours anyway, and I'm so glad I did.
From regional equine expos to tight-knit community gatherings, festivals are a great way to get your horse fix and find out what is happening on the equestrian scene. Large expos showcase flashy displays and big-name trainers, but smaller fairs can reveal opportunities right near you, provide convenient parking, and involve shorter lines while also offering a quality horse experience.

Here are eight reminders of why it's worth making the effort to go enjoy your local horse festival.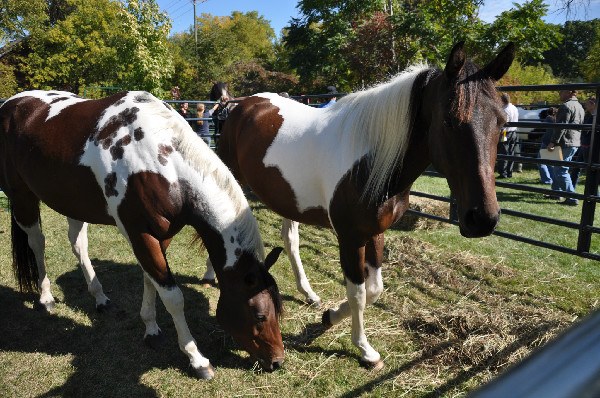 Horse festivals are great places to learn about breeds, such as this living illustration of the difference between a Paint and a pinto at COTH in Metamora, Michigan.
See a new horse breed in person. Horse fairs can be like your favorite equestrian magazine or website come to life. Horses are up close and touchable, and owners bring out their most interesting specimens and breeds. I recently attended the Celebration of the Horse (COTH) in Metamora, Michigan, where I saw a rare Fell Pony, a Norwegian Fjord, a blue-eyed spotted Racking Horse, and hardy American Mustangs. Gypsy Vanners and mighty drafts are frequent guests at equestrian festivals. You may learn about a unique breed or notice one you haven't seen in a while.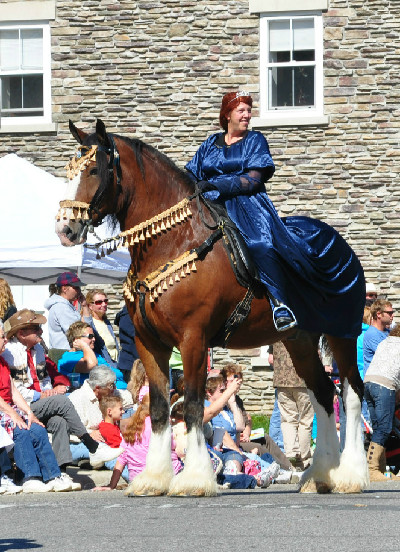 A crowd favorite was this friendly Clydesdale named King, who also greeted visitors at the breeds display.
Find a great local cause to support. Be inspired by a therapeutic riding center or an equine rescue that's doing noble work. Many fairs and expos donate a portion of the proceeds to aid equine causes, and such groups often staff booths and are happy to talk about their programs. Associations for conserving equestrian lands and trail organizations may also be sharing their needs and goals.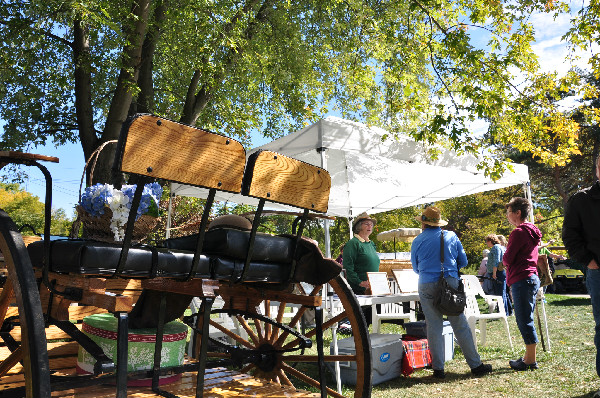 Equine festivals are helpful for learning about horse organizations, equine rescues and equestrian opportunities near you.
Learn about new equestrian opportunities nearby. Are polo lessons, rodeo experts, mounted archery classes, driving courses or gymkhana games available near you? By attending a local festival, you might hear about fun activities to try with your horse. Find out what the people in your equestrian community have been up to, discover tack shops and equine businesses that have opened, and learn about new trail systems in your area.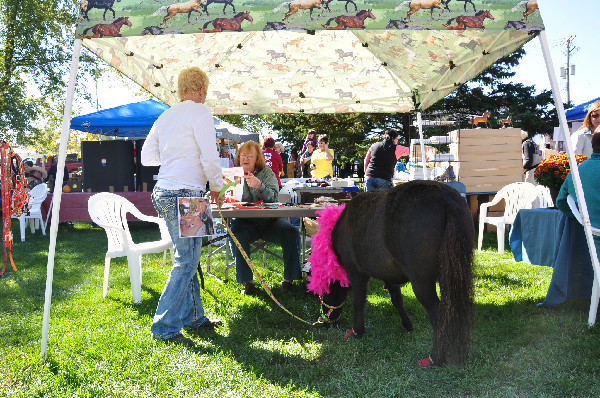 Horse festival shopping may even allow miniature horse companions.
Enjoy the shopping! All experienced equine festival attendees know about the tremendous shopping temptation awaiting them at expos. From posh trailers to sparkly headstalls to utilitarian fencing, horse fairs present the opportunity to learn about new products, see equestrian décor ideas, or check off your Christmas list for horsey friends. Not only do vendors have elaborate displays of items you can buy on the spot, you may also see products in real life that you've been tracking online, such as those boots you covet on another visitor's feet.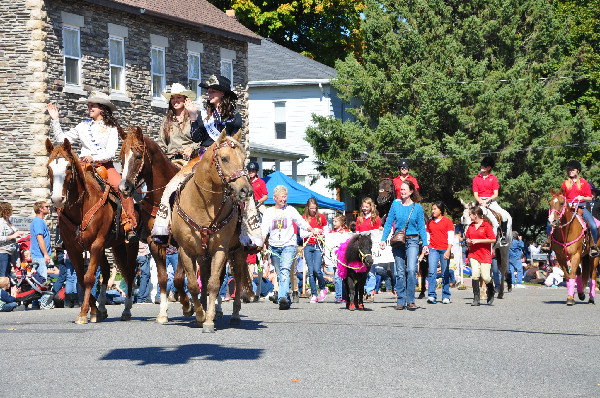 High school rodeo competitors and the Metamora Hunt II Pony Club marched in the Celebration of the Horse parade.
Gather your horse buddies together. Horse festivals are a great time to rally your equestrian friends away from the barn. They offer a fun time to chat and learn together while perusing the aisles and meeting new horses. Introduce a young horse fan, new rider or curious someone in your life to your beloved hobby. And you may just make a new horse-loving friend or run into an old riding companion.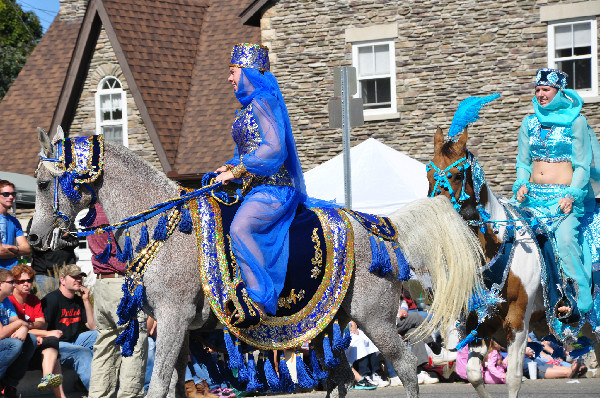 Crowds appreciated the bright costumes and equine pageantry at COTH's parade in Metamora, Michigan.
Tempt fate with giveaways and raffles. Some horse festivals include drawings for feed supplements, books, medical services, saddles, paintings and even horses. The raffle fees often go wholly or in part to a good cause. There's always a chance you could win if you enter, right? If the prize is something you couldn't use, you probably have a friend or therapeutic riding center nearby that could.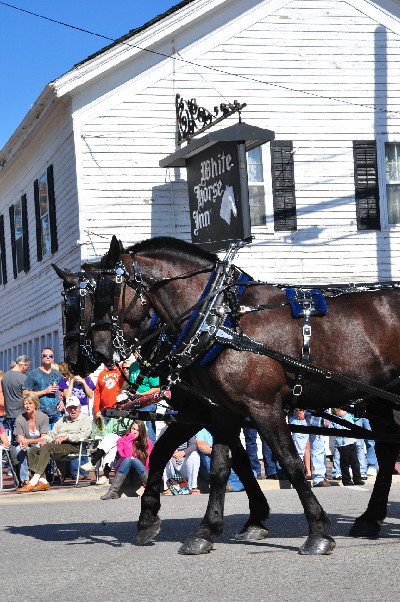 There were carriages and driving horses of all kinds in COTH's parade, from enormous Percherons to ponies and miniature horses.
Stumble upon a new training or horse care technique. Large expos collect many experts for you, but even small festivals may offer opportunities to uncover fresh information. Equine dentists, specialized farriers and professional trainers may present seminars that are free or included with your admission. Riding displays may demonstrate a method you've only read about. It's a valuable chance to ask questions and absorb something new. You may find a different training system to consider or hear about helpful ailment research just by walking around.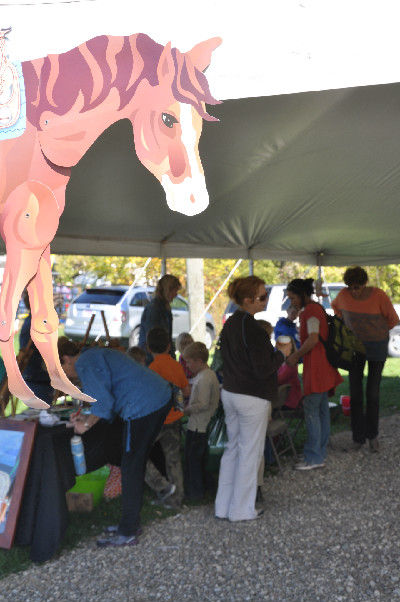 Equine enthusiasts of all ages find activities to enjoy, since many fairs offer children's crafts and games.
Remember that you're part of a horse community. Whatever your level of involvement, whether you own 30 horses and a large boarding facility or simply appreciate equines in books and on your computer screen, at a horse fair you can feel like part of the equestrian family. Everyone has gathered on common ground – because they love horses – and equine appreciation is the only criteria for attending. Festivals congregate horse lovers of all ages, from excited children to equestrians with many decades of experience. Concentrating together all the things equine enthusiasts seek, from veterinary information to horse show jewelry, equestrian festivals remind us that we have a common passion for horses.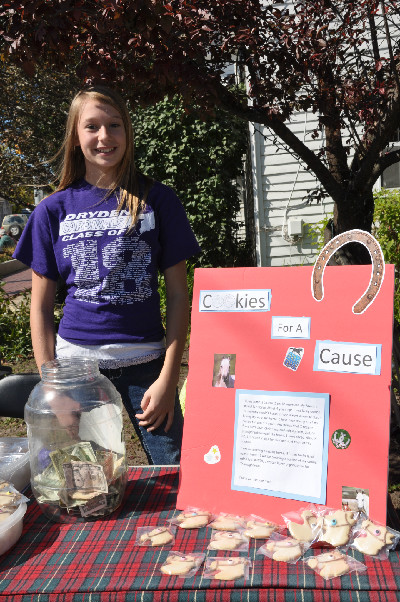 At COTH, 12-year-old Lauren Trieloff was exchanging horse cookies for donations, raising money to buy her first horse. She was also giving part of the proceeds to CANTER, the Communication Alliance to Network Thoroughbred Ex-Racehorses.
How you can go: To find equine festivals near you, ask at tack shops, check the bulletin board at your feed store, watch the websites of area stables, keep an eye on your town's newspaper, and try online searches. Many horse fairs send updates via mail or email lists, so sign yourself up. Follow these events on Facebook and Twitter, since many organizations such as state horse councils post other local equine events, equestrian opportunities, and important regional information. Be sure to ask your equestrian friends to keep you informed.

Karen Braschayko is a freelance writer and horse lover who lives in Michigan.