Eco-Friendly Horse Adventures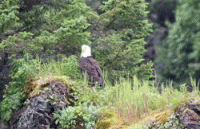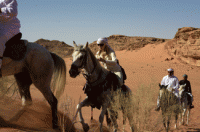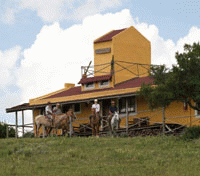 Environmentally friendly horse riding adventures around the world.
by Equitrekking host Darley Newman
As we rounded a corner out of the shaded woods, I felt relieved to be riding into a larger clearing. On the wooded trails outside of Seward on the Kenai Peninsula in Alaska, my guide Bree told me that it's not uncommon to run into bears. In fact, she had encountered one just a few days ago along the same stretch. She was lucky that her horse Max defended her, and they escaped unharmed. It was a little unnerving that even if you don't see them, the bears are still watching you.
"There're bears all over the place. They're stalking you, but you don't know it and usually the horses don't know it. They keep their distance," said Bree.
I was all for spotting wildlife, but I was there for the more tame variety, like the two stately bald eagles circling their nest in the spruce trees above. As I listened to their squeaky calls, I felt truly special for being able to reach them so unobtrusively on horseback.
This Alaska experience, though unique, was not so different from my other experiences reaching stunning wildlife-filled landscapes in out of the way places on horseback, like the high altitudes of the Canadian Rockies in Alberta. In these dramatic, remote landscapes, I was more likely to see wild horses than people. Traveling on horseback, I covered a lot of ground in one day, even amid the frequent summer hailstorms common in high altitudes.
Traveling into the crater of Haleakala Volcano on Maui was challenging not only because of the drastic change in altitude from the rim to the crater floor, but because of the intense sun and changing temperatures. On a fit horse, I was still able to enjoy Haleakala's wonders—the varying colors of the day as the sun moves across the crater and the soft crunch of cinders beneath my horse's hooves—while knowing that I was helping to preserve the delicate eco-system by keeping on the trails cut by the park rangers.
In many natural places, like the ones mentioned above, the only way to navigate the rugged terrain is on horseback or by foot. There are many advantages to traveling with horses that are well conditioned to the climate, altitudes and surroundings. The horses are natives of the areas, having been acclimated to the environment throughout their lives and through the adaptations of countless previous generations. They are the perfect guides! Sure, you can walk, but horses can take you much farther, much faster and the ride can certainly be exciting.
Many people only associate horseback riding vacations and with ranches, but there are many and varied types of riding destinations around the world that offer the ability to explore vast lands on horseback, while feeling good about making the journey in an eco-friendly way. Some of these top eco-friendly options include lodges, family-run farms and B&B's, pack trips, camping expeditions, inn-to-inn rides, resorts with riding and more.
In the small South American country of Uruguay, you can help out the gauchos on sustainable family-run estancias, like La Salamora, a hidden gem I discovered on a recent adventure. This country lodge is run entirely by wind power and the owners contribute to the environment by participating in two programs sponsored by GEF and World Bank for the protection of local biodiversity. Over the rolling grasslands, I rode sturdy Criollo horses, a South American breed that have carried gauchos and travelers for generations, a rewarding environmental and a rich cultural experience.
In Jordan, you can explore the Wadi Rum Desert with Bedouins, who gather plants to make soap, medicine and other necessities, and practice Leave No Trace travel by setting up mobile camps in the desert. I enjoyed learning about their ancient culture by traveling with them through sandy dunes. Sleeping in the desert reminded me of the many comforts of home, many of which are not necessarily eco-friendly, and how I may not really need many of them.
Still on my list is an African Safari on horseback, where horses give you a greater chance of seeing wildlife, and a trek to Machu Picchu in Peru. There are so many amazing destinations that you can explore by horse instead of a mechanized vehicle, and while it sometimes may feel like you're stepping back in time, that can be good. You can leave technology, electricity and all of the worries that can come with connectivity behind at many of these destinations, because it's simply not available.
Horses may whinny or make noise as their hooves crunch over leaves or splash through rivers, but that's nothing compared to the sound of an ATV or jeep. This means that you're moving more subtly through a destination and less likely to scare the wildlife you may be eager to spot. You're also more apt to strike up a conversation with a local guide, who will shed light on their history, culture and favorite area hidden gems, those places that aren't in your travel guide or even online. Whether you ride at home or have never spent time in the saddle, there are many opportunities to get green on horseback.
Darley Newman is the host and producer of the Emmy Award-winning Equitrekking series, broadcast on PBS stations and international networks around the world.