Eco-Friendly Riding Vacations-Part 2
Horseback riding tours are a great way to see the countryside with minimal ecological impact. Check out some top picks for "green" riding vacations.
by Jocelyn Pierce
In Part I of Eco-Friendly Riding Vacations, the importance of sustainability practices and eco-tourism were highlighted. Both Stone Horse Expeditions & Travel in Mongolia and Zapata Ranch in Colorado champion these values. Here are two more eco-friendly outfitters that have shown their dedication to enjoying the natural world in a responsible way.
Riders at the Ranch at Siwash Lake, an intimate British Columbia guest ranch where horses, nature, and luxury entwine.

Islandshestar- Riding Tours in Iceland

Established in 1982 by three families, Islandshestar emphasizes sustainable tourism in Iceland's natural environment. About 10 minutes from the capital city of Reykjavík, Íslandshestar offers three kinds of tours; day horseback tours well suited for beginners, countryside horse riding tours best for experienced riders, and highland horseback tours–– longer treks throughout the country.
Today, the owners of Islandshestar are comprised of one of the founders, Einar Bollason and his wife, Sigrún Ingólfsdóttir, and several other individuals and organizations. They believe in quality, personal service and safety. During the first years of operation, Íslandshestar only offered horse riding tours of one to two hours. Soon after, longer rides and additional routes were added to the program as more partnerships with local farmers were developed. The variety of horse tours offered by ÍÍslandshestar reflects Iceland's beautiful and surreal geology.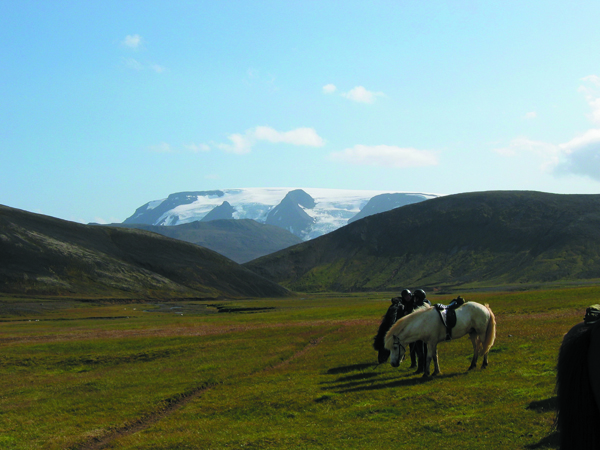 In Iceland, riders will encounter very few trees or other obstructions to their riding. Much of the landscape is tundra, a biome where the tree growth is hindered by low temperatures and short growing seasons.

Riding the Icelandic Horse
Highly regarded in Norse mythology, used for transportation, and championed as Iceland's most important working animal, the Icelandic horse has been an important part of Iceland's culture since the country's settlement in the 9th century. Today, many people in Iceland own horses for the joy of riding in the countryside with their four legged companions. Icelandic horsemen are known to respect their surrounding environment and nature as they do their horses.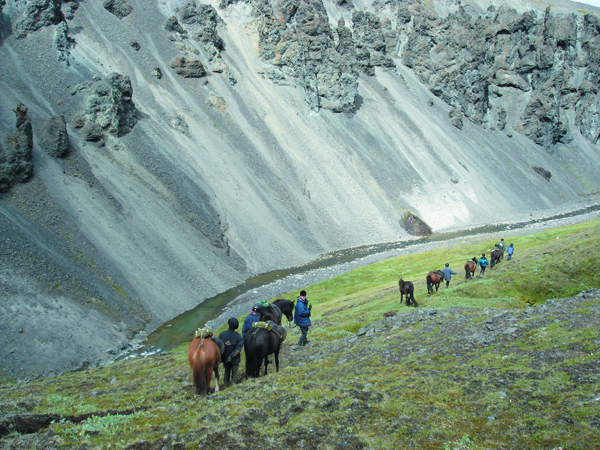 Iceland is located on the Mid-Atlantic Ridge and is highly geologically active with many volcanoes.
Icelandic Horses are raised in herds that roam free; leading many to believe their lifestyle is what shapes their plucky personalities and sure-footedness. The Icelandic horse has five gaits and is known most famously for the distinctive tölt. The tölt is a smooth, four beat gait in which the hind legs move under the body allowing the front of the horse to rise with a freeness. It is similar to a running walk or rack seen in other gaited horses, but many agree nothing compares to the naturalness of the Icelandic Horse's tölt. The gait is incredibly smooth and comfortable for riders, especially on long journeys, and can be ridden at any speed.
Choosing a Horseback Riding Tour

Individual horse riding tours are organized by local farmers and collectively cover most parts of Iceland. There are many routes and journeys available. Tours take riders along the coast, past lava formations, glaciers, mountains, and grasslands, featuring the incredible geology throughout the countryside. There are opportunities to explore The Snæfellsjökull National Park, the famous Golden Waterfall-Gullfoss, or to move back in time and ride along the historic Kjölur trail as Icelanders have throughout the centuries.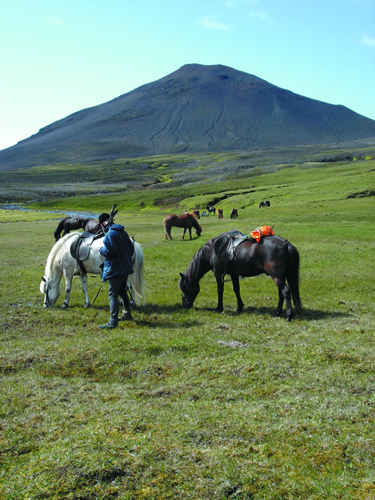 Traveling to Iceland in the summer, means lot of daylight for riding-- in August almost 24 hours. Travel in December and you'll find almost 20 hours of darkness.
Riders usually change horses once or twice a day on longer treks. In traditional Icelandic fashion, spare horses are usually herded along with the tour group.
Sustainability Practices

Íslandshestar has a Green Globe 21 certificate, which is an assessment of their sustainability performance. Íslandshestar gives guests the opportunity to connect to the natural world with horses, with as minimal of an impact as possible. They choose riding trails that are in full agreement with local stakeholders, disturb nature as little as possible, use renewable resources in their activities, and minimize the production of waste while encouraging recycling and reusing.
Riders normally change horses once or twice a day on Iceland riding tours. On longer riding vacations, riders travel with additional horses running in a free herd, the traditional way of riding in Iceland.
They also employ staff members from local communities and give training on important environmental issues and responsibilities. Íslandshestar believes that a "key element in tourism development is to maintain balance between environmental, economic, and sociocultural aspects of the industry." This balance is essential to conserve Iceland's natural environment, while ensuring sustainability.

Siwash Lake Ranch- British Columbia Guest Ranch
Siwash Lake Ranch is located in south central British Columbia between the Rocky Mountains and the Pacific Coast. In the semi-remote cowboy country of the Cariboo region, Siwash Lake Ranch sits on a private lake and 80,000 acres.
The word Siwash is derived from Chinook Jargon that means "wild" or "to camp without a tent." However, accommodations are by no means primitive. As an all-inclusive ranch vacation, this British Columbia guest ranch features luxurious amenities, fine dining, and personalized service, making it a great choice for the discerning eco-tourist. Founded by Allyson Rogers in 1997, Siwash Lake Ranch is a family run operation that has been a leader in conservation efforts in Canada.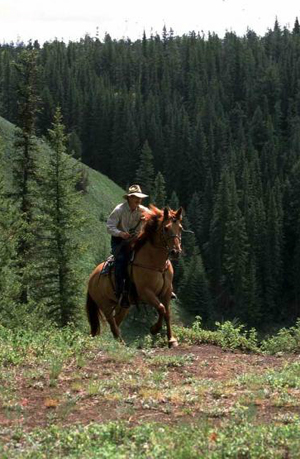 A rider at Siwash Lake Ranch, which located at 3,500 feet (1200 meters) above sea level, on the Bonaparte Plateau at the foot of the Cariboo Mountains.
Siwash Synergy with Horses™
Siwash Lake Ranch's Siwash Synergy with Horses™ offers a unique, personalized horseback riding vacation. Guests of any riding level are welcome, and can ride as much or little as they like across the rolling cowboy country. Guests are individually assigned to a horse suitable for their abilities for the duration of their stay and are able to enhance their bond with the animal by being responsible for the grooming and saddling before rides.
The ranch's natural horsemanship program teaches guests to "be assertive and work on intuitive skills for building confidence and establishing trust with their mounts." They offer freedom for experienced riders to explore the over 100km of riding trails on their own or with their companions without a guide. This unguided riding is a rare guest ranch activity.
Guests are also encouraged to enjoy nature with other outdoor activities such as fly-fishing safaris, canoeing, swimming, hiking, mountain biking, interpretive nature walks, wilderness survival and skeet shooting.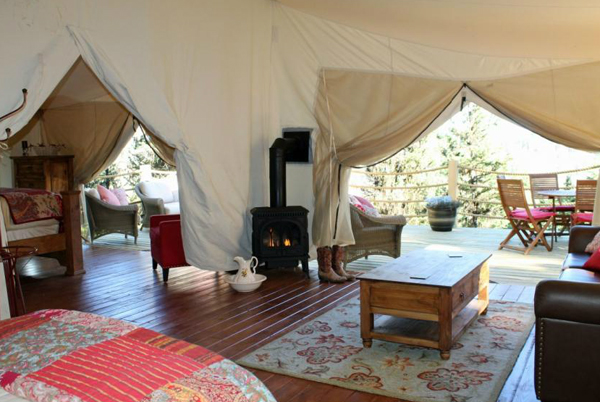 Guests rave about the main log house at Siwash Lake Ranch, but also enjoy "glamping", glamorous camping in the wild.
Leading the Way in Conservation

Centered on a mantra of harmony with nature, Siwash Lake Ranch is always tackling new conservation projects and looking for ways to reduce their ecological footprint while maintaining biodiversity. They work closely and consult with the community and local government to lessen environmental impacts or land use conflicts.

Siwash Lake Ranch's "best daily practices," is an outline of every aspect of daily activities performed to lessen their footprint. Small things such as doing laundry with cold water, using biodegradable and natural products, minimizing waste by recycling, buying from sustainable suppliers, and using their own produce, meat, and eggs for guests when possible, can make a huge impact on the community and the planet as a whole.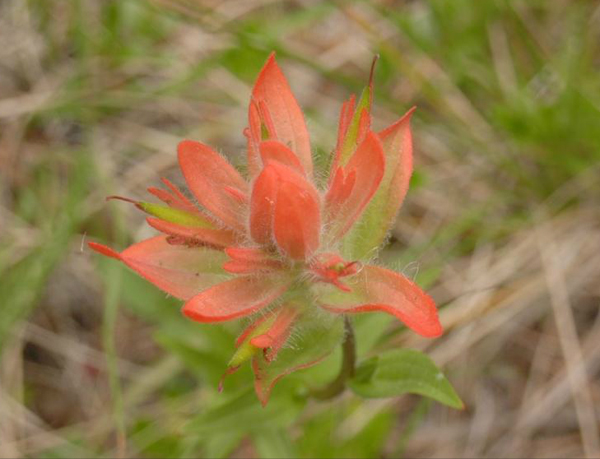 Hay meadows fill in spring with wildflowers at Siwash Lake Ranch.
Their "Siwash Green Plan" initiatives describe plans for future conservation efforts. The Green Plan includes goals such as constructing a cistern to catch rainfall off the roof to repurpose as water for the horses and converting gas-powered garden and pasture irrigation systems to solar powered drip/ flood irrigation systems.

One of their largest projects improved the guest ranch's off-grid power system in December of 2009 by installing a solar power plant to create clean renewable energy, lessening their green house gas emissions by an incredible 95 percent. The solar panel system produces the majority of electricity for the entire ranch operation. Siwash Lake Ranch has also completed a project with Ducks Unlimited Canada, a world leader in wetlands and waterfowl conservation, to enhance the delicate wetlands and protect the inhabitants surrounding Siwash Lake.

Siwash Lake Ranch also has an extensive list of land stewardship initiatives such as protecting and maintaining riparian vegetation with solar powered electric fencing to provide an area for breeding, feeding, and nesting for birds and wildlife. They also maintain nesting boxes around Siwash Lake, monitor species counts and water levels, and perhaps most importantly, involve guests in their program by educating and encouraging them to participate in land stewardship projects. Allyson Rogers and her team share this closeness to nature with their guests in hopes they adopt Siwash Lake Ranch's eco-friendly practices upon their return home.
This BC guest ranch is home to an abundance of wildlife in the grasslands, forests, lakes, and rivers.
Allyson recognizes "being close to nature allows us to keep a finger on the pulse of the planet–– we see first-hand, the effects of climate change and industry's foreboding footprint upon the environment."

As an industry leader, always striving to do more for the environment, Siwash Lake Ranch's hard work and dedication has not gone unnoticed. It is certified with the Hotel Association of Canada's Green Key Program, a rating system that recognizes hotels, motels, and resorts dedicated to improving their environment. Siwash was honored with a rating of five keys, the highest rating possible. Siwash Lake Ranch was also assessed and given the highest certification by Green Tourism Canada for their sustainability practices.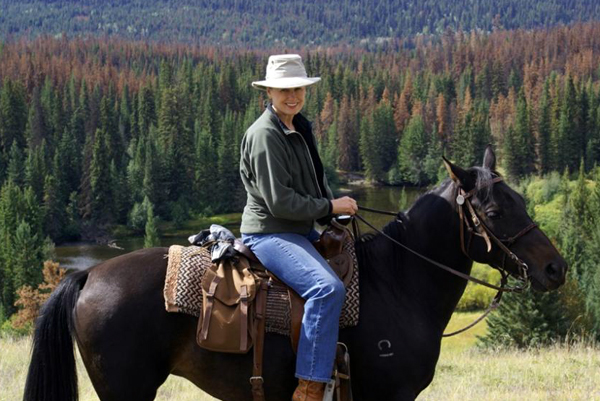 The landscapes include gentle and rolling hills with woods of Aspen, Douglas fir and Ponderosa pine.
These four horseback riding tour operators, although very different, all help bring people closer to the natural world. With the help of horses, people can become more in tune with nature and contemplate humanity's role in the world of which we are an integral part. The individual can return home with the values they have learned. Even as wilderness areas become fewer and more overrun, the interconnectedness and reciprocity of all beings will continue and it is our responsibility to see to it.

Read Part 1 of Eco-Friendly Riding Vacations.
Learn more about great horseback riding vacations in the Equitrekking Vacation Guide and Top20Ranches.com.

About the Author: Jocelyn Pierce is an avid equestrian and lover of travel and photography. Her passion for adventure has led her on numerous excursions throughout North America and Europe. When she's not riding and competing her homebred mare, she enjoys hiking, camping, and snapping photographs.