Dude Ranch Vacation Adult Only Weeks
Taking a dude ranch vacation can be a great stress reliever no matter when you go, but to really unwind, many families are deciding to leave the kids behind on Adult Only Dude Ranch Vacations. In addition to a week without the kids around, Adult Only Weeks often include added perks for adults, like wine tastings, cocktail receptions, dancing, spa activities, cooking classes, yoga, nature walks and gourmet food.
These special weeks can be great to rekindle romance, enjoy a girlfriend getaway and enjoy more personalized ranch experience.
Many ranches offer Adult Only Weeks in the spring and fall and run travel specials surrounding them. Below is a sampling of dude ranches offering 2013 Adult Weeks. For a more comprehesive listing of ranches with adult only weeks, visit the Equitrekking Vacation Guide.

Sundance Trail Ranch in Red Feather Lakes, Colorado- 2013 Adults Only Weeks run September 2nd and September 9th at 20% Off.

This Colorado ranch offers Western horseback riding in the Rocky Mountains on a horse matched to your skill level. You also ride your horse for the week and some folks have been riding the same horse for years.
Added Adult Week Ranch Perk! Discounted rates and pet friendly policy allows guests to bring their dogs on vacation, too!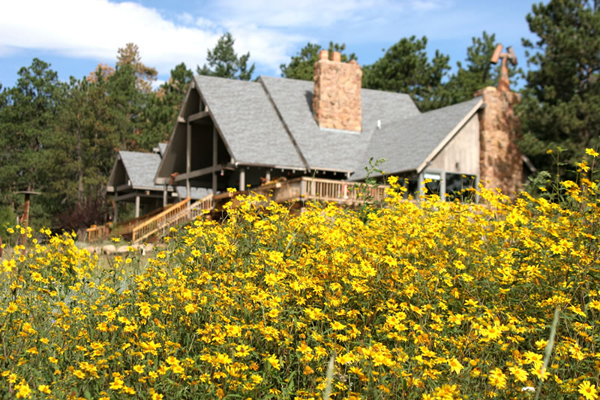 Flowers bloom in front of the mountain lodge at Sundance Trail Ranch.

Red Rock Ranch in Jackson Hole, Wyoming- Adult Only Weeks August 25-31 and September 8-13 in 2013.
The Red Rock Ranch is a longtime dude ranch just outside of Jackson Hole, Grand Teton National Park and Yellowstone National Park. This Wyoming Dude Ranch offers family ranch vacations for relaxation and experiencing the old west.
Added Adult Week Ranch Perk! All the space with less of the "crowd" and complimentary house beer and wine during nightly cocktail hours and through dinner service.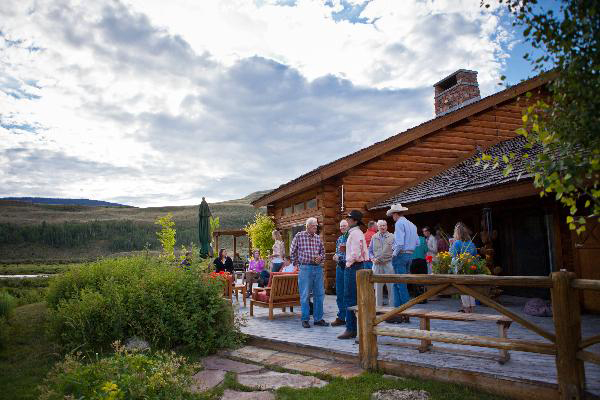 Guests enjoying an evening cocktail. Red Rock Ranch offers dude ranch cuisine with a gourmet flare.
Paradise Guest Ranch in Buffalo, Wyoming- Adult Weeks August 25 to September 22, 2013

Wyoming guest ranch with horseback riding across sage meadows, fishing for native cutthroat trout, and hiking among wildflowers.
Added Adult Week Ranch Perk! More flexibility in the riding program than normal ranch stays. Blue skies, cool temperatures, beautiful autumn colors, and no children make these weeks very popular with adults.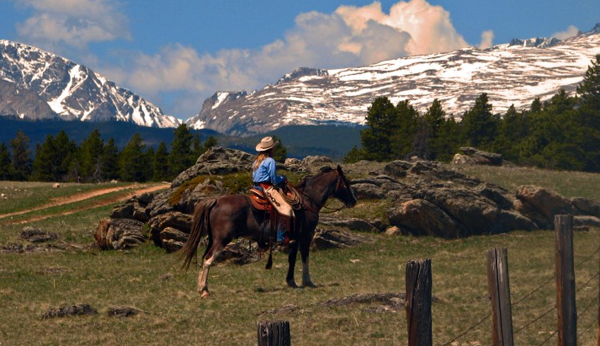 Guests ride in the surrounding Bighorn National Forest. Some day rides include lunches packed on mules and cooked along the trail.
Black Mountain Ranch in McCoy, Colorado- Adult Weeks May 26th- June 2nd 2013 only premium and standard cabins left available. September 1st- 8th 2013 only 2 Premium Cabins Available. September 8th- 15th 2013 Only 1 Premium Cabin Left.

This Colorado dude ranch ofers unlimited horse back riding, trap and skeet shooting, fly fishing, guided hikes, roping, an overnight pack trip, whitewater rafting, cattle drives, and a trip to the rodeo.
Added Adult Week Ranch Perk! The schedule is completely flexible to cater to each guest's requests.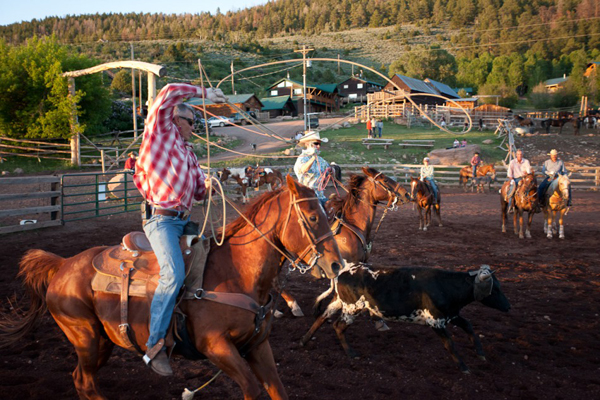 Calf roping practice in the arena at Black Mountain Ranch. This ranch has a Saloon, where guests meet up with other guests and wranglers for drinks after days in the outdoors.

Bar W Guest Ranch in Whitefish, Montana- Adult Ranch Weeks May 12-18 and September 29-October 5, 2013

Located on Spencer Lake and just 3.5 miles down the road from the resort town of Whitefish, this Montana guest ranch offers 3,000 acres for horseback riding and all kinds of outdoor activities.
Added Adult Week Ranch Perk! Private wine presentation and themed evening cocktail receptions.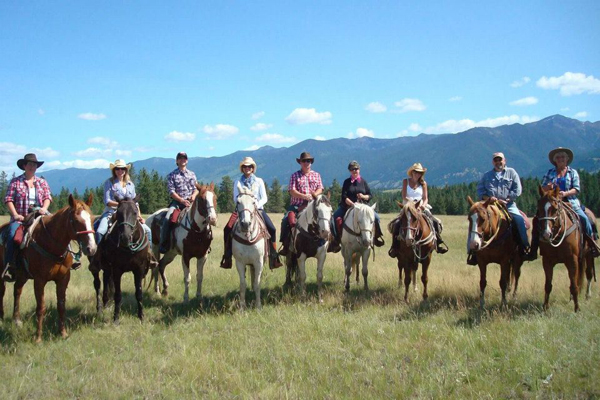 The Bar W Ranch is nestled at the base of Spencer Mountain, between two pine-covered ridges.
Check out a more comprehesive listing of ranches with adult only weeks in the Equitrekking Vacation Guide. Check out more great Adult Only Week Travel Deals.