Dude Ranch Resorts- Western Hospitality with Resort Amenities
Wish you could combine Western hospitality with modern resort amenities? Check out these five great dude ranch resorts in Montana, California, Colorado and Arizona.
A dude ranch resort offers the traditional dude ranch activities with additional amenities like a spa, fitness center, golf, tennis courts, an ice cream bar and more! Saddle up by day and relax in a hot tub or with fine dining at night.
Ranch resorts are located across the United States and Canada and many times accommodate larger groups, weddings and even corporate events. If your idea of a great riding vacation includes horse riding with other sports and attractions OR you have a group or riders and non-riding companions, dude ranch resorts are worth considering. Here are five great dude ranch resorts for your next vacation.
1. Tanque Verde Ranch in Tucson, Arizona
This sunny Tucson ranch resort offers horse riding in the Sonoran Desert along with a ranch spa, fitness center, hiking, basketball and tennis courts, mountain biking, and a pool. Plus, their chuckwagon breakfast ride is invigorating and yummy. We were able to test it ourselves, waking up in the cool desert air and riding to hot cowboy coffee and sweet blueberry pancakes.
Southwestern style architecture blends in with the beauty of the desert surroundings at this historic Arizona dude ranch. Tanque Verde lodging is comfortable and inviting, combining the spirit of the Old West with today's modern amenities. For those looking for a winter ranch resort, this Arizona ranch vacation is a good pick. Learn more at Tanque Verde Ranch's website.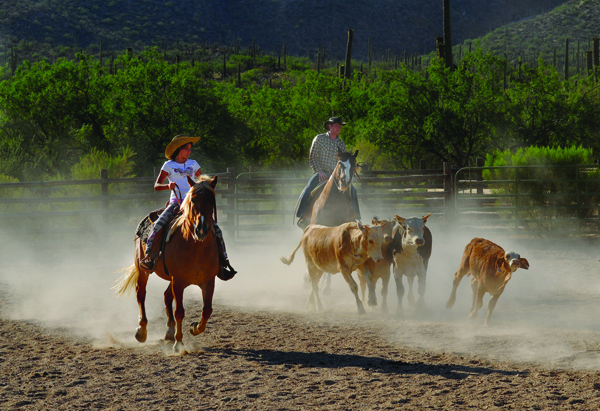 2. Alisal Guest Ranch & Resort in Solvang, California
This California dude ranch resort in Santa Barbara County wine country offers a variety of traditional ranch activities with horses and other resort attractions like 36 holes of championship golf, a fitness center and spa and fine dining.
Located on a 10,000-acre working cattle ranch, Alisal has attracted guests since 1946, including Clark Gable, who got married in Alisal's old library, and Doris Day. Take a cattle drive or go fly fishing by day and dance and sip cocktails to live music at night. Learn more at Alisal Ranch's website.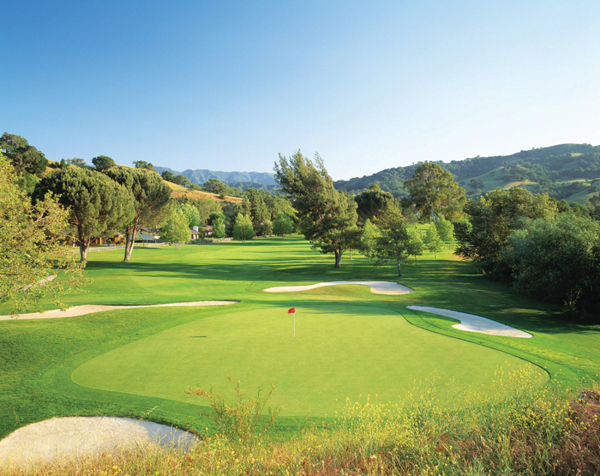 3. The Resort at Paws Up in Greenough, Montana
This Montana ranch resort welcomes guests to ride through lands where Lewis & Clark once trod or to experience the diverse terrain by ATV, kayak, raft, boat or mountain bike. This Montana ranch draws families, groups, honeymooners and singles for summer vacations, as well as to play in the snow.
Guests stay in upscale cabins or try glamping, super upscale camping. If you're seeking an ultra-luxurious ranch resort, The Resort at Paws Up may be a good pick for you. Learn more at The Resort at Paws Up website.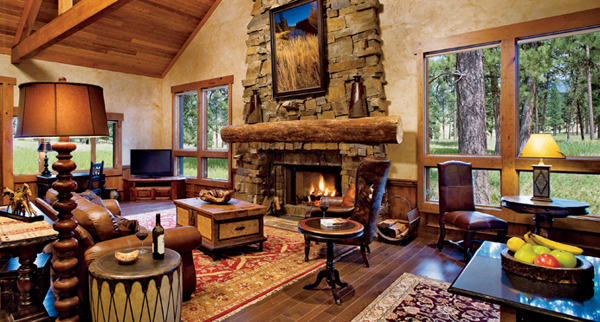 4. C Lazy U Ranch in Granby, Colorado
With a full service spa overlooking Willow Creek, zip lining, Orvis endorsed fly fishing, mountain biking, a 24 hour fitness center, ice cream bar, and more, it's no wonder why this Colorado guest ranch is popular for ranch weddings, family reunions and corporate retreats.
C Lazy U also has resort amenities for horse lovers. A working cattle ranch, there are over 175 horses for summer cattle drives, horsemanship clinics, and year round riding in a 12,000 square foot, heated indoor riding arena. That's a ranch resort amenity many horse lovers can get behind! Learn more at C Lazy U's website.
5. Lone Mountain Ranch in Big Sky, Montana
A summer family guest ranch and winter ski resort, Lone Mountain Ranch is high on dining. This "foodies" lodge serves up fresh, regional cuisine with a Western flair, earning it praise in Taste, Bon Appetit, Travel & Leisure and New York Times.
During winter, enjoy a sleigh ride dinner or Lone Mountain Ranch's world class Nordic Ski Center with groomed cross-country trails. In the summer, try trail rides, guided hikes, canoeing, Yellowstone tours, fly-fishing, mountain biking and nearby ziplining and whitewater rafting. Learn more at Lone Mountain Ranch's website.

Learn more about great dude ranch vacations, guest ranches, cattle drives and horseback riding resorts in the Equitrekking Vacation Guide and use our search functionality to find the best fit. Check out great dude ranches at Top20Ranches.com.