Dude Ranch Children's Program- Will my kid be bored?
Want more quality time as a family? Wish your city slicker kids could intereact with animals and spend time outdoors? Wonder if you child can go cold turkey and live for a week without online games, Facebook and other high-tech entertainment? Many parents find dude ranch vacations a good choice for their family vacations, but others wonder if their child will be bored.
Many dude ranches offer a variety of Children's Programs to keep kids entertained, albeit in a more nautral way. Activites may include horseback riding, zip lining, tennis, air hockey, arts and crafts, archery, scavenger hunts, capture-the-Flag, volleyball, boating, canoeing, panning for gold, fishing, cookouts, hay rides and more. There are even things to do during winter ranch vacations, like ice skating, cross-country skiing, snowshoeing, tubing and sledding. Kids interact with other kids, making new friends, learning new skills and gaining confidence.
Do you ranch research and ask questions before booking to ensure that the children's program you choose has the amout of supervision you are seeking and is a good fit for your vacation goals. Many ranches are certified by the Dude Ranchers' Association, an organization which dates back to 1926 and is an association of more than 100 accredited dude and guest ranches across the U.S. and Canada. The Dude Ranchers' Association provides Wrangler Certification Courses to teach the skills and knowledge ranch wranglers need.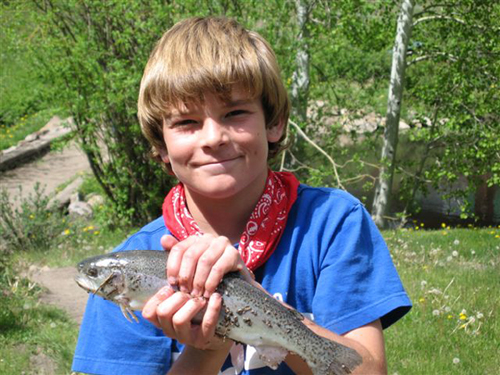 Kids go fishing at Elk Mountain Ranch in Colorado.
Here are three great Colorado dude ranches and members of the Dude Ranchers' Association, where your child is sure to stay entertained.
C Lazy U Guest Ranch
This Colorado family ranch vacation destination located in Granby has programs for kids and teens. Ranch counselors take all ages horseback riding, including pony rides for children ages 3 to 5. Older kids head out onto area trails, gaining confidence by learning new skills on guided trail rides and with lessons in horsemanship. Teens even take special excursions hiking and overnight camping, whitewater rafting and to a local rodeo.
Special Kids Activities we like at C Lazy U: Kids Carnival, dinosaur egg hunts, team building games and the ropes course. The Shodeo, a family rodeo at the end of the week featuring competitive equestrian events
Learn more at C Lazy U's website, Top20Ranches.com and with C Lazy U in the Equitrekking Vacation Guide.
Sundance Trail Guest Ranch
With a comprehensive dude ranch Children's Program for kids 5 years old and older, this Colorado ranch gets high marks from happy parents. During your week's stay, parents may have a night to themselves while kids enjoy a ranch campfire and teepee camp-out. Wranglers work under the direction and supervision of the owner and Head Wrangler, who is a Wrangler Safety Certification Instructor for the Dude Ranchers Association. All wranglers receive safety instruction, and have either achieved or are working towards Dude Ranchers' Association Wrangler Safety certification.
At only 2 hours from Denver in Red Feather Lakes, this ranch is a convenient Colorado escape.
Special Kids Activities we like at Sundance Trial Ranch: "Kids only" horseback riding in the arena or on small group trail rides, disc golf, special tee-pee campout, campfire sing-alongs, rock climbing.

Learn more at Sundance Trail's website or on Sundance Trail on Equitrekking.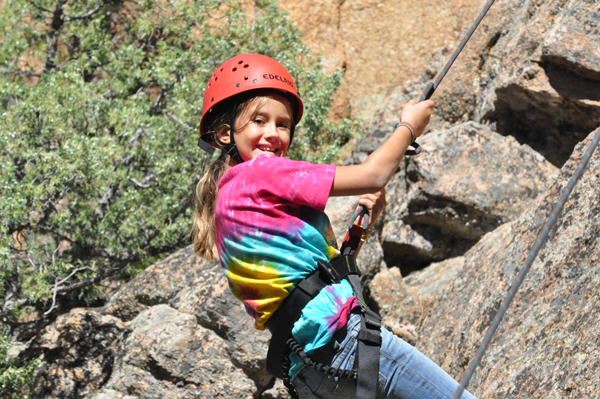 Elk Mountain Ranch
Located in Buena Vista, this Colorado dude ranch has a full kids' program for children ages 3-7. With a capacity of only 30, this high mountain ranch makes for an intimate family vacation. Counselors supervise a variety of kids activities at Elk Mountain Ranch like horseback riding in the arena, a visit to the petting zoo, fishing, hiking to hunt for arrowheads, relay races and more. Parents can take off on more challenging hikes and trail rides while kids play.
Special Kids Activities we like at Elk Mountain Ranch: Paning for gold, learning to rope, rodeo crafts, visit to hot springs pool and kid's rodeo.
Learn more at Elk Mountain Ranch website and on Elk Mountain's page on Equitrekking and Top20Ranches.com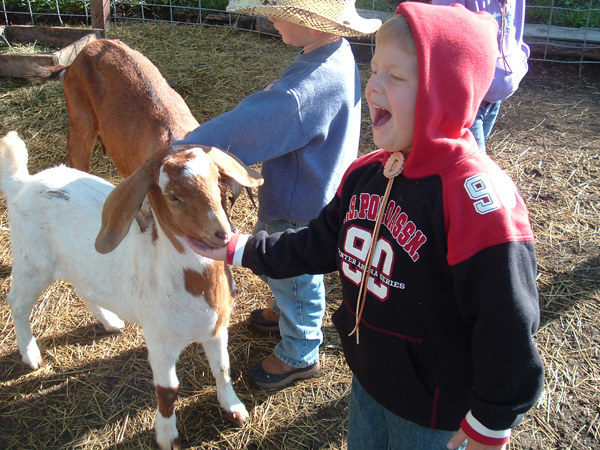 Learn more about great ranch vacations in the Equitrekking Vacation Guide, including kid-friendly ranch vacations, and at Top20Ranches.com.