Dude Ranch Vacations Are Trending for Multi-Generational Families
With more active seniors and increasingly adaptable kids, families are hitting the road together and a favorite spot is the American dude ranch.
More and more these days, multiple generations of families are getting together to take a vacation. According to travel marketing firm MMGY Global, 37% of grandparents with a household income of more than $50,000 who took a vacation in the last year did so with grandchildren, which has increased from 28% in 2007.
Colleen Hodson of the Dude Ranchers Association, which has been working with dude ranches since 1926, has noticed the trend, too. "We have seen an increase in the multi-generational families visiting dude ranches–– grandparents taking the grandkids. Dude Ranches really give the grandparents a chance to spend quality time with the grandchildren without all the outside distractions that Disney Land or a cruise have. As you know, at a ranch the kids can be as busy as they want to be but at the end of the day they spend quality time actually talking about their adventures over a family style meal. The grandparents are not competing for their time with all the electrical gadgets that consume many kids lives these days."
There are other reasons, too, why dude ranches can be the perfect place for multi-generational vacations.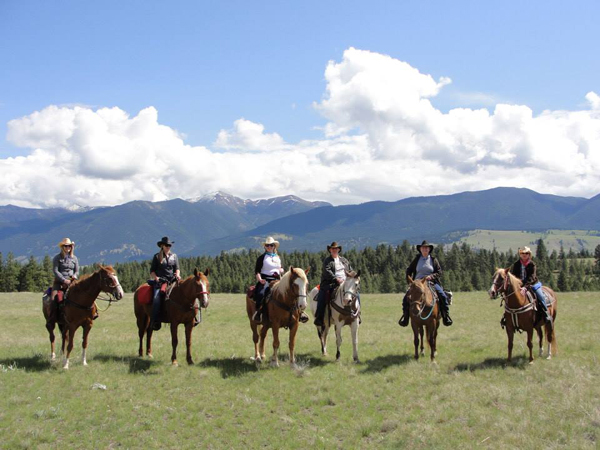 A group trail ride with Bar W Guest Ranch in Whitefish, Montana.
Activities for All Ages
When generations of families travel together, there must be a variety of activities that will appeal to all ages, from children to grandparents. Many dude ranches offer something for everyone, from supervised kids programs to adult happy hours and all kinds of activities in between. Horseback riding, zip lining, spa, fishing, kayaking, hikes, lounging by the pool, BBQ meals and more are on the docket at modern dude ranches, meaning there are activities for a variety of tastes and skill sets.
Time Together and Time Apart
Dude ranch activities allow for travelers to do some activities with each other with multiple age groups participating and some apart, mixing independent time with family bonding. Let the kids burn off energy with their peers during a game of tag or gather together for a trail ride or a lesson in horseback riding and later meet up for a campfire cookout as a family group.
Family-Style Meals
When traveling with a group, dude ranch menu offerings often can accommodate all the family members. Many ranches offer big meeting spaces and are open to groups, so you can all dine together, often at the same table. Fun outdoor settings for meals can make for great camaraderie building. Another big advantage at all-inclusive ranches, no one is fighting to split (or not split) the bill at the end of the meal.
Homey Accommodations
Don't want to spread out into multiple hotels rooms without shared gathering space? Many dude ranches have lodges and family-sized cabins that are great for family bonding and allow for a more intimate family vacation.
Time for Relaxation and Bonding, Especially for the Group Leader
Whether it's a ranch that is technology free or the fact that you're immersed in nature with loads of things to do that you don't have to plan for your group, dude ranches can actually be relaxing and promote multigenerational bonding through a mix of relaxation and activities. If one group member wants to nap or to read on the porch, it's easy enough to break away for a bit.
If you haul the group on a trip to Europe, coordinating flights, hotels and transportation, you as the group leader may have fun, but relaxation may not come into play. You may also spend a lot of time in leading and planning mode, which is not quite relaxing. Dude ranches can allow all family members to kick back, stop planning and actually enjoy the trip.
Accessibility
Have someone in the family who is less mobile or doesn't like climbing stairs? Many ranches have created wheelchair accessible cabins and other accessible lodging, so everyone can enjoy the great outdoors.
All-Inclusive
Knowing all of your costs up front makes budgeting for your vacation easy. Many families find that dude ranches offer value. Being all-inclusive means less of a daily headache, as no one needs to tally up the dinner bill or the cost of excursions and activities, because it's already included. This can make for less stress during the trip.
Planning made Easy
Don't want the hassle of planning daily activities and excursions yourself, cooking for the group or attempting to follow directions and drive a large group on your vacation? Dude ranches offer many activities right at the dude ranch, so you don't have to figure out the logistics or often go any further than steps away from your cabin.
Once at the ranch, you will likely not be lost (unless you decide to lead a hike) and you normally won't have to stand in lines for a special attraction or tour. You can walk to the pond to fish, the stables to horse ride or the front porch of your cabin to read a book. Having everything all in one place can take the stress out of dude ranch planning and the family vacation experience.
Nature Adventures
With multiple generations increasingly encased away from our natural world or living in cities, a dude ranch can be a great way to get back to nature. Unwind and enjoy breathing fresh air, time around horses and the simpler pleasures of life. You may even have a intimate conversation, wonder about life while looking at a star-filled sky and discover things about your family you didn't know existed.
Learning and Growth
Trying new things can promote self-confidence, new skills and overall growth. The ability to take a risk and try a variety of activities can be great for young and old. Heading out with a group on a trail ride may be something your son wouldn't do without a few sibling taunts, but can make for special memories and new discoveries.
All in all, there are lots of advantages for families and groups at the all-American dude ranch and certainly many choices for the trip.

Learn more about planning your dude ranch vacation and check out resources from the Dude Ranchers Association. Check out some of our favorite ranch vacation picks at Top20Ranches.com and the Equitrekking Vacation Guide.