Dude Ranch Vacations for the Christmas & New Year's Holidays
The top ranches to ring in the holidays this Christmas and New Year's.
by Darley Newman
Christmas and New Year's are a special time of the year to celebrate at a dude ranch. Whether you want a white Christmas at a Colorado or Montana ranch or to head to warmer temperatures in Mexico, we've got you covered. With families increasingly living in different locations around the globe, a guest ranch can be a great place to meet up and enjoy the Christmas and New Year's festivities. With ranch staff doing the cooking, decorating and work for you, ranches can offer a stress-free solution to the modern family and create a unique venue for special memories. Families can horseback ride together, enjoy multi-course meals paired with excellent wines and special activities.
Check out the below ranches, which offer special activities for this year's Christmas and New Year's holidays.
Riding in a horse drawn sleigh at The Home Ranch in Colorado, an Equitrekking Top 20 Ranch pick.
The Home Ranch, Coloardo- Christmas and New Year's Vacations 2014
Since its opening in 1980, this famed Relais & Chateaux Colorado dude ranch known as The Home Ranch has been distinguished by the beauty of its setting and its impressive food. Christmas and New Year's in the winter wonderland of the Elk River Valley is a special experience. Many extended families, couples and groups return year after year to celebrate the spirit of this holiday season in this picture perfect holiday setting.
The staff at the Home Ranch create an atmosphere of homecoming and celebration, helping guests to kick back and relax, spending time with your friends and family without having to coordinate meals and activities. In addition to daily winter activities like horseback riding in the snow, cross country skiing, sleigh rides, sledding and downhill skiing, Home Ranch's Chef Nelson prepares gourmet holiday dinners and plans festive entertainment to fit the season.

Christmas Week: December 20 - 27, 2014
New Year's Week: December 27, 2014 - January 3, 2015
Learn more by visiting The Home Ranch's website or by calling 970-879-1780 or info@equitrekking.com?subject=Equitrekking%20Article-%20Home%20Ranch%20Christmas%20New%20Years">emailing Home Ranch.

C Lazy U Ranch, Colorado- Christmas and New Year's Celebrations
This upscale Colorado ranch has lots of special festivities to ring in the holidays. Sleigh rides, sledding, and Christmas tree decorating with family and friends are just a few. Each of the ranch's suites comes complete with a Christmas tree and decorations, giving a homey, individualized setting for guests. The ranch's chef prepares a complete Christmas dinner where each family is served a turkey to carve with all of the traditional fixings. Guests gather around the grand piano to sing Christmas carols and Santa pays a visit on a horse-drawn sleigh.
For New Year's, the ranch hosts a traditional western-swing dance, torch-lit ice skating and a unique moonlight cross-country ski tour. There's the traditional countdown to midnight and a live band.

Learn more by calling 970-887-3344 or info@equitrekking.com?subject=Equitrekking%20Thanksgiving%20Vacations-%20C%20Lazy%20U">emailing C Lazy U or visiting the C Lazy U Ranch website.

Rancho Las Cascadas, Mexico- Christmas and New Year's Special Events
Add a Mexican twist to your Christmas at this Mexican ranch. Many of the local traditions are influenced by the Spanish who came to Mexico centuries ago, as well as a deep religious faith. Mexico has a proud cultural and spiritual heritage that figures prominently into their holiday rituals.
You can expect to see the following festivities related to Christmas: Las Posadas, which means "The Inns," in English and honors the story of Joseph and Mary going up to Bethlehem. Pastorelas, where people are chosen to portray the Holy Family, shepherds and angels and there is usually singing involved. In Mexico, just as in the U.S, many churches have plays based on the Christmas story. Noche Buena is always a popular event for guests to join. The majority of Mexican citizens are Catholic, which means that they attend a special Christmas Eve Mass with their families, typically in the time period between after 9 p.m. After returning from Mass, families gather for dinner, that may include such dishes as tamales, roast chicken, pozole, mole and other traditional foods.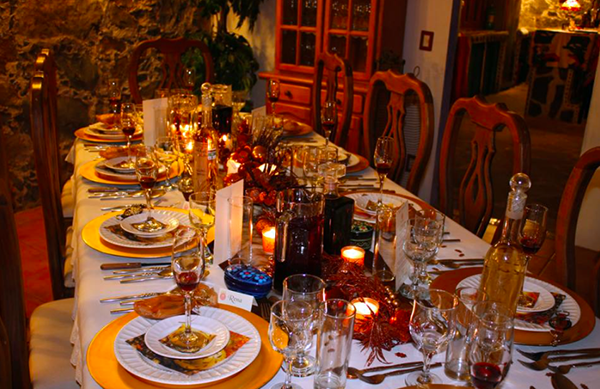 The elegant holiday table setting at Rancho Las Cascadas.
On Christmas Day, enjoy a feast with Rancho Las Cascadas' luxurious 10 course dinner. For New Year's, travelers experience fireworks, ringing bells, 12 grapes, a family dinner, sparkling wine, hugs and music. As in the rest of the world, in Mexico people gather together with their loved ones, relatives or friends to celebrate. At the ranch everyone gathers together as families or friends for a fantastic night of dinner, music and dancing.
Learn more by calling + 52 155 1070 2080 or info@equitrekking.com?subject=Equitrekking-%20Rancho%20Las%20Cascadas">emailing Rancho Las Cascadas. Visit Rancho Las Cascadas website.

Lone Mountain Ranch, Montana- Christmas Package
During the holidays, this Montana guest ranch has special festivities, including tree trimming. Guests who request it may have their own Christmas tree and also enjoy caroling, sleigh rides, cookie decorating, the gingerbread house making contest, holiday feasts, live music, and a visit from Santa.
The Ranch Christmas Package includes:
-Lodging in one of Lone Mountain Ranch's cozy cabins or a room in the Ridgetop Lodge
-All meals and snacks
-Access to over 85km of Nordic trails and 30km of snowshoe trails
-An old fashioned sleigh ride dinner
-All skis and snowshoe rentals
-Yoga
-Ranch transfers to Big Sky Resort for downhill skiing
-Entertainment in the Ranch Saloon & Evening programs
-Children's program
-All special events and Holiday socials
-Transfers to and from the Bozeman, Montana airport on Saturdays

Learn more by calling 800-514-4644 or 406-995-4644 or info@equitrekking.com?subject=Equitrekking%20Christmas%20Blog-%20Lone%20Mountain%20Ranch">emailing Lone Mountain. Visit Lone Mountain Ranch's website.

Arizona's Elkhorn Ranch Christmas Celebrations
Fifty miles southwest of Tucson, Arizona, Elkhorn Ranch welcomes guests to enjoy Christmas at the ranch in sunny Arizona. Surrounded by the picturesque Baboquivari Mountains and the open Sonoran desert country of the Altar Valley, this ranch takes around thirty-two guests each week to experience horseback riding around the ranch and on miles of mountain and desert trails. Solo travelers, couples, families and friends are welcomed by generations of the Miller family during the holiday season.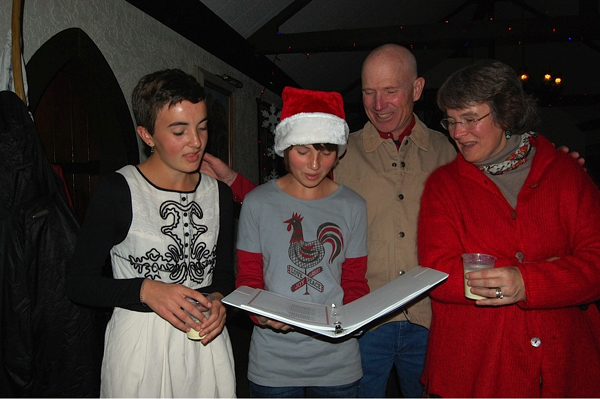 The Miller Family, the owners of Elkhorn Ranch, caroling on Christmas Eve–– the girls, Clara and Alicia are the 4th generation of Millers and helping to continue the dude ranching tradition.
For Christmas, guests are invited to enjoy a decorating party, Christmas Eve caroling and a midday feast on Christmas Day. At this winter season ranch, which has been operated by the Miller family since 1945, the Millers are still involved with the day-to-day happenings at the ranch and interact with guests to bring added cheer during the holiday season.
For more details visit Elkhorn Ranch's website or info@equitrekking.com?subject=Equitrekking%20Christmas%20Holidays%20at%20Elkhorn%20Ranch">email owner Mary Miller.

Learn more about great dude ranches in the Equitrekking Vacation Guide and at Top20Ranches.com.