Dude Ranch Recipe- Tillie's Pancakes from Sylvan Dale Guest Ranch
A standout dish that guests at Sylvan Dale Guest Ranch love is Tillie's Pancakes. Get the recipe for this Colorado ranch breakfast.

guest post from Susan Jessup (Sylvan Dale's owner)
My mom, Mayme, nicknamed "Tillie" by my Dad (both pictured right), was a great cook and an exceptional baker. She founded the ranch back in 1946. We continue to use her recipes at Sylvan Dale Guest Ranch and are blessed to have Bruce, our baker, carry on her tradition. The welcome sound of the breakfast bell brings guests a-runnin'. Tillie's Pancakes are amazing. Here's her recipe from the kitchen wall.
Tillie's Pancake Batter (makes 80, #16 scoop)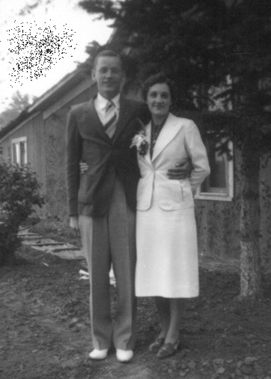 Flour 15 cups
Baking powder 12 TB
Salt 2 TB
Eggs 12
Milk 12 cups
Salad Oil ½ cup
Sugar 12 TB
Vanilla 2 TB
Mix well.
For "firsts," serve 2 cakes with 2 pieces of bacon. Serve with blueberry compote and maple syrup. Expect to serve "seconds."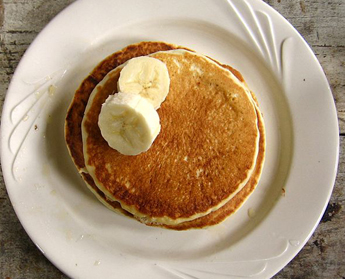 Pancake photo credit Brandon Martin-Anderson
Learn more about Sylvan Dale Guest Ranch, which has been serving up Legendary Western Hospitality since 1946 on Sylvan Dale's page in the Equitrekking Vacation Guide and on Sylvan Dale Ranch's website.