Dude Ranch Girlfriend Getaways- Saddle Up for Women Only Vacations
Saddle up with your female friends for these special Western packages at dude ranches and riding vacations across the USA.
Hey ladies! Ever had dreams of riding off into the sunset, leading a cattle drive or trekking cross-country on horseback? Female-friendly riding vacations are on the rise and sister-hood never felt so good. Programs that focus on Western riding and cowgirl skills allow women to challenge themselves and gain new confidence for up to a week at a time.
Check out these dude ranches and riding vacations that offer special themed weeks for women-only bonding and adventure.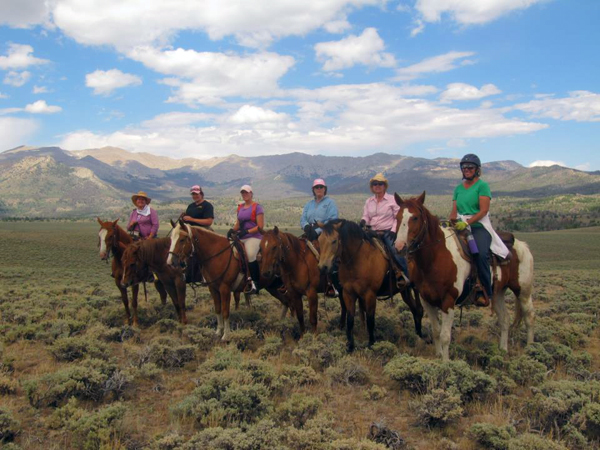 Girls Ride Out in Wyoming with Blue Sky Sage Horseback Adventures.
Rancho de los Caballeros, Arizona–– Giddy-Up Gals Western Vacation Package
This historic Sonoran Desert ranch offers the Giddy-Up Gals package for up to 25 women at various times throughout the year. Bond with your sister friends during horse and tack education sessions, personalized riding lessons and unlimited scheduled trail rides. Other ranch activities include golf, tennis, the spa, nightly entertainment and relaxation in a luxurious casita.
Upcoming Dates: Jan 17-19, Feb 7-9, March 7-9, May 2-4, May 9-11. Rates start at $598 per night based on double occupancy. Extra person, extra night and single rates are available as well. Package pricing does not include 7.3% tax and 15% gratuity in lieu of tipping. Learn more at Rancho de los Caballeros website or by info@equitrekking.com?subject=Equitrekking-%20Rancho%20Caballeros%20Giddy%20Up%20package">emailing Rancho de Los Caballeros.
Bar W Guest Ranch, Montana- Cowgirl Up Weeks
The Bar W is a year round guest ranch located on Spencer Lake in Whitefish, Montana. Guests can get a true western experience- horseback riding, working cattle, square dancing, wagon rides, hiking, mountain biking, and telling stories at the campfire. For 2014, the Bar W is offering an all inclusive package for women to "Cowgirl Up" with their best friends, sisters, daughters, or come alone as the "girls" take over the ranch. Experience a woman's retreat to refuel your spirit and delight your body. Each day you can ride to your hearts delight with one of our expert wranglers or just kick back relax and let Montana surround you. After a full day of riding, fishing, or hiking relax with our informal cocktail hour in the lodge followed by a down home Montana style dinner. Just when you think life doesn't get any better, you'll kick off your shoes for a honey and hot cream rock foot massage followed by a couple hours of real pampering. Then head down to the Blue Moon for some "two stepping" or out to the hot tub to relax under the stars.
Upcoming 2014 dates include: May 18 - 24, May 25-May 31, Sept 7 - 13, Sept 21-27. Learn more at Bar W's website or by info@equitrekking.com?subject=Equitrekking-%20Bar%20W%20Cowgirl%20Up">emailing Bar W.
Mountain Sky Guest Ranch, Montana- Wild West Women Getaway
Since Mountain Sky Guest Ranch opened as a dude ranch in 1929, it has topped the list of the nation's upscale guest ranch resorts. During this special week, women can expect to participate in a variety of unique horsemanship opportunities and interactive demonstrations on Mountain Sky's working cattle ranch, learn to groom and tack horses, explore 8,000 acres of unspoiled ranch property, fly fish on the ranch's private trout pond, explore Yellowstone National Park on a guided tour and learn to two step to the tunes of our local musicians. All of this in addition to optional daily horseback rides, hiking and yoga. This package includes all meals, all ranch facilities and activities, ground transportation, a Yellowstone National Park tour and gratuities.
Upcoming 2014 dates: May 20-25, 2014. info@equitrekking.com?subject=Equitrekking%20website-%20Mountain%20Sky%20Ranch">Email Mountain Sky Guest Ranch. Visit Mountain Sky Ranch's website.
Blue Sky Sage Horseback Adventures, Wyoming- Girls Ride Out! All Women Only
The jagged Wind River mountains are the backdrop for horseback riding vacations in this spectacular part of Wyoming. Framing the view for these horseback adventure vacations are glacier-covered Temple Peak and Roaring Fork mountain, both at over 13,000 feet in elevation. The Continental Divide, nicknamed the "backbone of the Rockies" traverses within a quarter mile of the tent camp, and the Little Sandy river flows right by your tent. At the camp elevation of 7900', summer time temperatures seldom exceed 80 degrees and the nights are cool and pleasant. There are no snakes and few insects to bother you or the Horses during the days' riding or around the campfire.

The schedule varies from day to day, but you can plan on breakfast between 7:30 and 8:00 a.m. each morning, hitting the saddle by 9:00 and riding, with short breaks, until lunchtime. Around noon, you'll let the horses graze and rest for about an hour and then mount up and go again for a few more hours, with short breaks throughout the afternoon. Arrival back at the home base along the river is between 3:30 and 4:00 p.m. just in time for cocktails and hors de' oeuvres! Depending on the days' riding and how many miles the group wants to cover, you can expect to be horseback an average about 5-6 hours and cover from 8-15 miles each day.
Upcoming 2014 dates: June 23-29, Aug 3-9, Aug 23-29, Sept 14-20 (only 2 openings, call direct to be considered for this week). Blue Sky Sage is offering a special deal if you book in January. Make reservations in January with Blue Sky Sage Horseback Adventures and get 10% off when your group of 4-8 riders books a 7 Day / 6 Night trip for 2014. (Limited to two groups, excludes Mustang Horse Adventures). info@equitrekking.com?subject=Equitrekking-%20Blue%20Sky%20Sage%20Girls%20Ride%20Out">Email Bobbi Wade. Visit the Blue Sky Sage website.

Learn more about great places for ranch and horseback riding vacations in the Equitrekking Vacation Guide and Top20Ranches.com. Check out discounted trips on Equitrekking Travel Deals.