Dude Ranch Amenities & Activities That Might Surprise You
Zip lines, climbing walls, fitness centers and more. Learn about new dude ranch amenities & activities that might surprise you!
A few things that we love about dude ranches are their rich history and the generations of families that have been the stewards of this history and the land. Many modern ranches are diversifying with added amenities and activities, many of which you may not believe. While they are changing, they are still managing to keep their history and historic buildings well-preserved and in use, so visitors get the best of both worlds.
"One of the great things about traveling to a dude ranch is that there is something for everyone, and there is a ranch out there to match your specific wants and needs," said Colleen Hodson of the Dude Ranchers' Association, whose job is to promote, protect and preserve not only the western way of life a dude ranch offers, but also to protect and preserve the places and the land where these ranches operate.
If you or your travel companions enjoy diverse dude ranch adventures, read on to learn about of the new additions and adventures at great American dude ranches.

Zip lining at C Lazy U Ranch in Colorado.
1. Climbing Wall- Challenge courses and climbing walls are not what you may expect to find at a Western dude ranch. Idaho's Red Horse Mountain Ranch has a complete course of high challenges, ranging from the 63 foot climbing wall to a trapeze to a 300 foot zip line. Wind River Ranch in Estes Park, Colorado has an impressive climbing wall with three separate climbing surfaces and a 600-foot dual zip line. Many modern dude ranches welcome corporate groups and family reunions for a variety of skill building activities-- like climbing walls.
2. Archery- With the popularity of the film "The Hunger Games", many people are looking to break out of their comfort zone and learn new skills, like Jennifer Lawrence's character like Katniss Everdeen, an adept archer. At the Hideout Lodge & Guest Ranch in Shell, Wyoming, archery is a popular pastime. Along with compound bows, you can also practice your skills shooting the more traditional long bows. Your teacher may be someone who actually hunts with a bow and arrow.
3. Fitness Center- While many of us consider horseback riding, hiking, swimming and other outdoor adventures to be great exercise, we know many people also like to hit the elliptical while on vacation. Vista Verde Ranch in Steamboat Springs, Colorado has a complete fitness center, featuring an elliptical and treadmill as well as a multi-gym for strength training. Tanque Verde Ranch in Tucson has an indoor fitness center located near the swimming pool and spa with treadmills, an elliptical machine, weights, and more.
4. Babysitting- In addition to ranch kids programs-- a great chance for your kids to hang out with their peers and for you to do the same-- some dude ranches also offer babysitting. Tumbling River Ranch in Grant, Colorado offers nanny services and babysitting for guests under 3 years old. JJJ Wilderness Ranch in Augusta, Montana also offers babysitting rates and special nanny rates.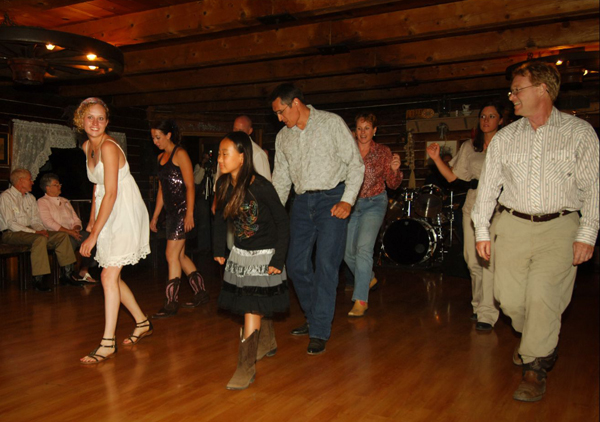 Line dancing at Wilderness Trails Ranch in Durango, Colorado.
5. Western Dancing- Kick up your heels, because Western Dancing is available at many modern dude ranches. Colorado Trails Guest Ranch outside of Durango has a variety of evening entertainment, including Western dancing in their Opera House. Kids and adults can learn the steps for square and line dancing.

6. Yoga- A great compliment to horseback riding, many guest ranches offer regular yoga and special yoga retreat weeks. At Home Ranch just north of Steamboat Springs, all-inclusive, weeklong Women's Horse Yoga Retreats are held four times a year. C Lazy U Ranch in Colorado offers Hatha yoga classes and specialized stretching sessions for riders.
7. Zip Line- Zip lines are a becoming an increasingly popular attraction at dude ranches, and a few notable ranches have devised some extreme zip lines. Horseshoe Canyon Ranch in Arkansas boasts the "highest, fastest, and longest zip-line in Arkansas." Almost a half mile long and with a vertical drop of 277 feet, you're sure to take in cool views at fast speeds at this Arkansas dude ranch. Colorado's North Fork Ranch takes guests zooming over pretty valleys and mountain meadows at a whopping 8,000 feet and is touted to be one of Colorado's longest and fastest lines.
8. Cooking Classes- Always wanted to learn how to make homemade pasta or brush up on your French cooking skills? Red Reflet Guest Ranch in Ten Sleep, Wyoming offers cooking classes with their chef with a variety of themes including learning how to make sushi and creating French and Asian themed entrees, South of the Border themed meals and more.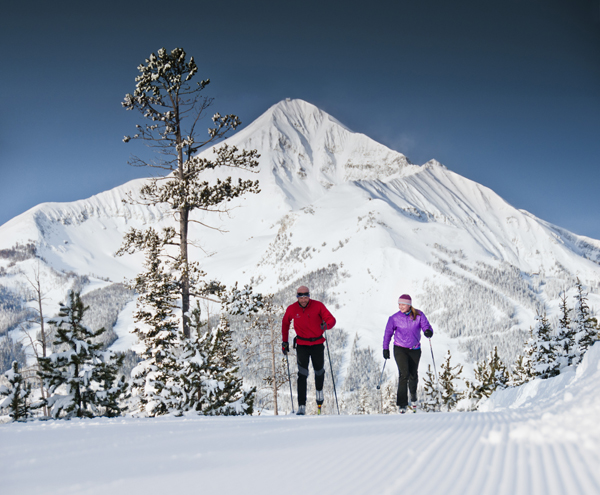 Cross country skiing at Montana's historic Lone Mountain Ranch.
9. Wheelchair Accessible- Many ranches are wheelchair accessible and disability friendly, meaning everyone on your group may be able to enjoy the great outdoors. Sundance Trail Guest Ranch in Red Feather Lakes has two wheelchair friendly guest suites. Many other ranches do as well, including Tanque Verde Ranch in Tucson and Colorado Trails Guest Ranch in Durango. This Colorado ranch recently completed construction on the fully wheelchair accessible Bird House cabin with two bedrooms and a central living room with porches that provide beautiful views.
10. Cross-Country Skiing- Looking to combine skiing with horseback riding in the snow. While many ranches are located near downhill ski resorts, some also offer cross-country skiing on site. Lone Mountain Ranch in Montana is home to a world class Nordic Ski Center. Guests can ski out of their cabins onto groomed cross-country trails, ranging in difficultly. Instructors can help novices or experts ski lower elevations or ski the 2,200 vertical feet from the top of the system to the bottom.
Search for other unique activities and amenities in the Equitrekking Vacation Guide, a global online guide to great dude ranches, guest ranches and horseback riding vacations and at Top20Ranches.com.