Dream Jobs: Mounted Police Officer Erik Eide
Sergeant Erik Eide patrols the City of Detroit with the help of horses.

by Karen Braschayko

Imagine if at your job your horse was your partner, carrying you across streets and through crowds, working with you to spot trouble and protect citizens. For Sergeant Erik Eide, a horse lover since childhood, riding on patrol became part of his dream job with horses. Eide trains the horses for the Detroit Mounted Police in Detroit, Michigan, as part of his law enforcement career.


Sergeant Erik Eide, left, and his mounted police unit patrol events in Detroit, Michigan.
Established in 1893, the City of Detroit's mounted police unit is one of the oldest in the country. In the late 1970s, this division hit peak numbers with about 60 horses, five barns and 80 trained officers. They patrolled the vast downtown, surrounding neighborhoods and multiple parks daily. Every presidential visit and major sporting event had mounted officers on patrol, as well as many parades and festivals. From 1909 to 2003, the unit performed the famous mounted police drill annually at the Michigan State Fair and around the country. In 2005, budget cuts forced the division to close down, but in 2009 the Detroit Mounted Police opened once again with support from Mayor Dave Bing and the Detroit Police Foundation.
Today, this mounted police unit is much smaller but still serving the Detroit area. Now with a home in Palmer Park, the mounted police officers and their horses patrol Detroit's famous Eastern Market, the riverfront, the casino districts, downtown concerts and sporting events. Five horses, six officers and two sergeants comprise the division. Eide works to increase public appreciation and awareness for the unit, and he also has the critical job of helping raise funds for the care of the police horses. The Adopt a Horse program enables patrons to sponsor a horse's care for a day, month or year.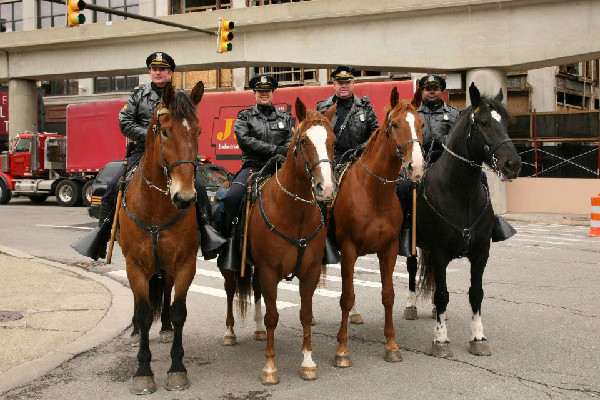 The Detroit Mounted Police worked in the January cold at the North American International Auto Show.
Here Eide tells us about how he trains the horses to deal with many challenges a police horse may encounter, the value of a mounted police unit, and what it's like to ride on the job.
Karen Braschayko for Equitrekking: What is your background with horses?

Erik Eide: I grew up on a horse farm in the Thumb of Michigan. I began working on my aunt's farm and boarding stable in elementary school. At age 10, I was mucking, cleaning, grooming and feeding. I think I learned more from watching horses than I ever have riding them.

The boarding stable was near Detroit, and it was called Borrowed Acres. We had many horses living at the farm, including my aunt's "lawn ornaments," as she liked to call them. These horses were rescued, and their condition was too poor for riding. We would ship the boarding horses to Borrowed Acres when someone leased them. We would also run hay, straw and supplies down to Detroit every weekend.


Sergeant Eide enjoys helping the public learn about police horses, such as at the Novi Equestrian Expo.
My riding really started when I had to bring horses in for the night. They were grazing at the far end of 40 acres. It was much easier to catch the lead mare and ride her back, since everyone else would follow, than it was to herd them back to the barn on foot. I also gave tours of our trails when people would camp out for the weekend. I gained riding experience by exercising the boarding horses when they weren't being leased. Much of what I learned back then was by trial and error. I had no real lessons, but I knew it hurt to fall off. I did a lot of bareback riding, which I still really enjoy.
Equitrekking: How did you become a mounted police officer? What inspired you to pursue this career?

Erik Eide: My aunt, Judy Dowling, became the first female officer of the Detroit Mounted Police in 1975. She was my original inspiration.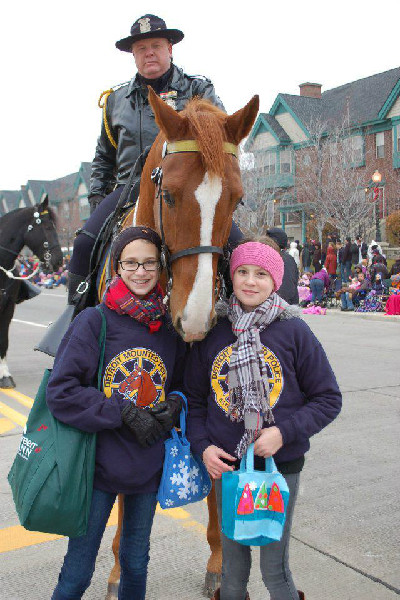 Sergeant Eide has found that the public loves horses and responds well to mounted officers.
When I became a police officer in 1993, mounted work was a highly sought-after position by those with seniority, so I didn't think I would have a chance until later in my career. But in 1995, spots opened up for officers to be trained and to ride on a temporary, on-call basis. I loved riding and working in the barn. It's all I had really done, so it was a natural fit.
Equitrekking: Tell us about the role of horses on the police force. How do they help officers serve the community?

Erik Eide: Our horses are the most versatile tools the Detroit Police Department has. We can control large crowds with a smaller number of officers, and we prevent crime with a high-visibility, low-cost form of transportation.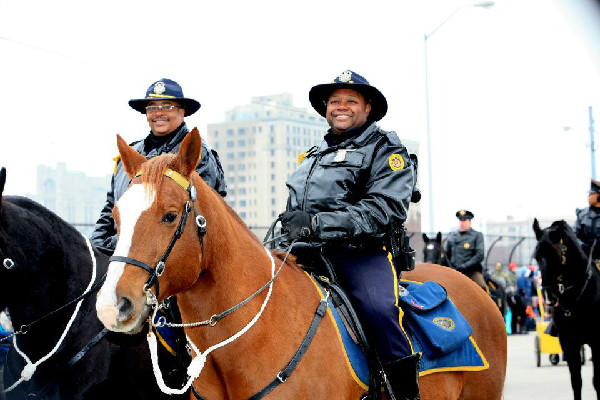 The Detroit Mounted Police ride in America's Thanksgiving Parade each year.
The horse is a bridge between the police officer and the community. Everyone likes horses, so people want to pet them and talk to the officer. You don't see that happening to officers in cars, on bikes, on motorcycles, or even with K-9 units as much. We can do almost everything that all other officers can do except for going into buildings. We are probably some of few officers who get thanked in every neighborhood we patrol.
Equitrekking: What level of horsemanship is involved? How do you train horses to become police horses, and how do officers maintain their riding skills?

Erik Eide: Our equitation skills do not need be on par with high-level dressage, but we are good horsemen. Mounted police officers do need to sit correctly so that they don't hurt themselves or the horse's back, since they will be riding for five or six hours at a time.

Mounted officers definitely have to be riders and not just passengers. We need to be able to see the signs that something may spook our horses. We have to know if our horses can handle a situation or not. We also need to spot the signs of illness and know how to render equine first aid.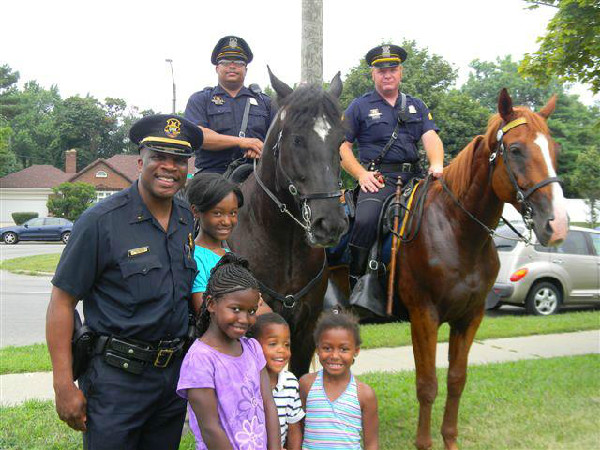 The mounted police officers' families enjoy visiting their equine partners.
Choosing the right horse is the first place to start. Certain breeds are better suited to this work, such as draft crosses and warmbloods. These days, because of the economy, there are lots of horses to pick from. I try to select mounts with prior training, such as being ridden already, since it makes my job easier.
Each horse has its own temperament, and that is key. I will take a horse on a 30-day trial period to see if I think he will work. If he looks like he can handle things, it usually take six to eight months, depending on the horse, before I am confident that he will be able to handle everything on the busy city streets. Then I can assign him to an officer.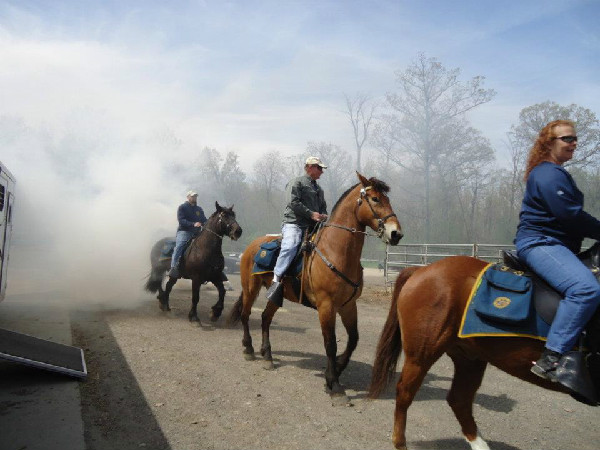 Eide spends several months training each police horse, and the unit refreshes that training monthly, such as with sensory training.
We ride all year unless it's below 15 degrees, there is lightning, or when the heat is excessive. Officers should take time on a regular basis to let their horses enjoy an open field. We want them to canter, gallop and have a good time. We also do monthly unit training with all of the horses together.
There are horse shows such as the North American Police Equestrian Championships that test a mounted officer's skills. I have gone to national mounted police competitions in Kentucky, Ohio, and here in Michigan as well. I have also had others compete with horses I've trained, but showing is not high on our list of things to do, especially in this political and economic era.

Equitrekking: What is a typical workday like for you?

Erik Eide: My day as the boss is a little different than the typical mounted officers. They come to work, receive a horse assignment and beat location, groom their horse, get into uniform, and then either trailer to or ride to their beat. Then they patrol for a few hours, write a few tickets, answer a few 911 calls, take a lunch, ride for a few more hours, go back to the barn, do a post-ride grooming, turn their horse out, and then go home. They need to be aware of what the weather is going to be for the day and dress accordingly, and they have to understand their assignments so they can take all needed equipment.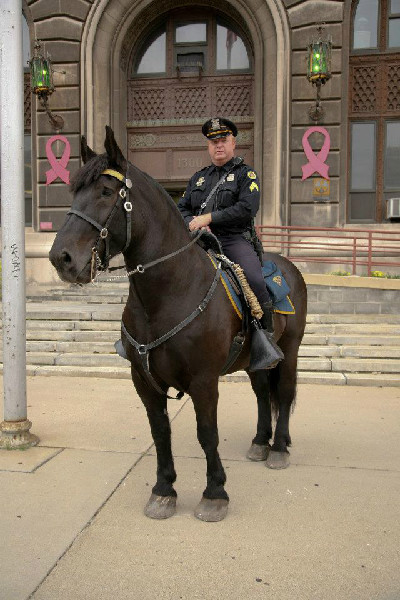 Sergeant Eide rides in front of the Detroit Police Department headquarters.
As sergeant, my day consists of making those beat assignments based on request and crime data, making horse assignments based on who is working, and doing all of the department-related paperwork, which is endless. I am usually in some stage of training a new horse. This means I would either be working with that horse in the corral, riding in the training arena or the park, or maybe taking that horse downtown. I get the horses used to working around the big buildings, trucks and buses. I also check our supply levels of hay, feed and vitamins so we don't run out. I have meetings with my bosses as well as donors and security people.
Equitrekking: What are the most rewarding moments you've experienced as a mounted police officer?

Erik Eide: Sharing this experience with my kids has been one of the best things. Also, I've been able to escort players during the National Hockey League (NHL) Stanley Cups and National Basketball Association (NBA) championships, which was a rewarding opportunity.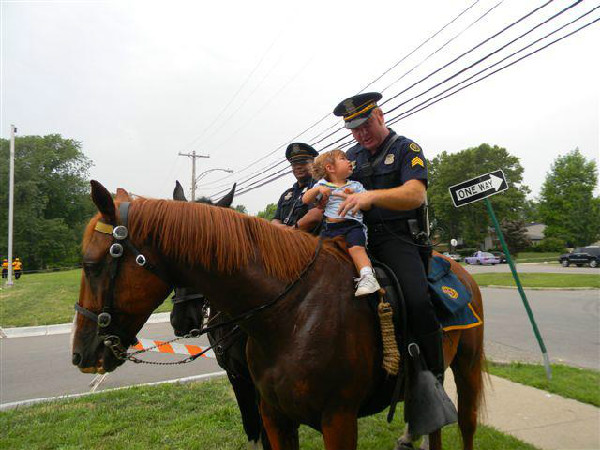 Sergeant Eide's son enjoys riding already. Eide prefers to train draft crosses and warmbloods such as this Selle Francais, a retired show jumper.
The most fun activity I've done as a mounted police officer was riding on the Detroit Mounted Police Drill Team. We featured 19 horses performing U.S. Calvary movements to music.
Equitrekking: Do you have any stories to share from mounted police work?

Erik Eide: I have more stories than I can remember. I did make a significant arrest once while working a neighborhood beat. The houses backed up to a river, which had lots of trees, vegetation and undergrowth. I was riding a Quarter Horse named Christian (though he was more like the devil) when a 911 call came in that two men were breaking into one of the houses. I cantered down the front lawns, and as I trotted up the driveway, the men fled out the rear window and into the woods. We jumped the four-foot hedge in the backyard and chased them both down through the woods. I handcuffed them both together and made them walk back to the house. I rode Christian right behind them – so close he was blowing steam on their necks – and they were so afraid that they were crying.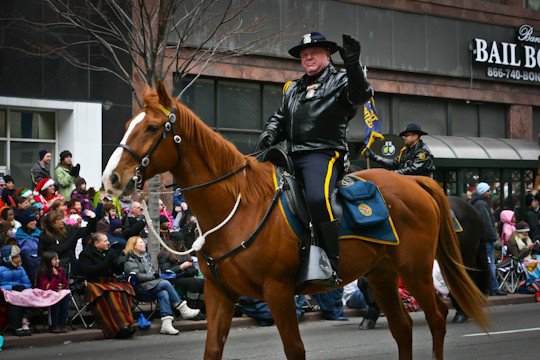 The Detroit Mounted Police unit has been a fixture in the city for over a century, riding in parades and at presidential visits.
One of my favorite horses of all time was Starsky, and he never should have been a police horse. He was a grade horse; I would guess a little bit Tennessee Walker, Arabian and Thoroughbred. He was the smoothest ride I have ever had and so responsive that you could think about what you wanted to do and he would do it. He was a very gentle soul.
But he was prone to rearing and whirling when he was afraid, which was most of the time when he was on the street. I rode him in our drill team, and he would rear – I mean really rear – when we entered the arena and on both the lance and pistol charge. I think the public thought it was part of the show, but I can assure you it was not.

He was so smooth that I never thought I was going to fall off, and I could have ridden him with no saddle or bridle, which I did once. I was downtown at the main bus stop and at the point in the City of Detroit were most all of the main roads meet. We were riding around the buses when something spooked him, so he reared and whirled at the same time. While I pulled on my left rein to stop him from turning into traffic, the side of my S shank bit broke, so I immediately pulled on the other side in order to spin him in a circle. Then the other side of the bit broke too, and I had two useless reins in my hands and a spooked horse. I reached up, grabbed the throatlatch and steered him over to a grassy area. I let him run around in a circle until I could get a hold of the noseband and turn his head to stop. We carry a long hemp rope to tie our horses up when we get off for breaks and lunch, so I tied this rope to the bridle and rode him back to the barn.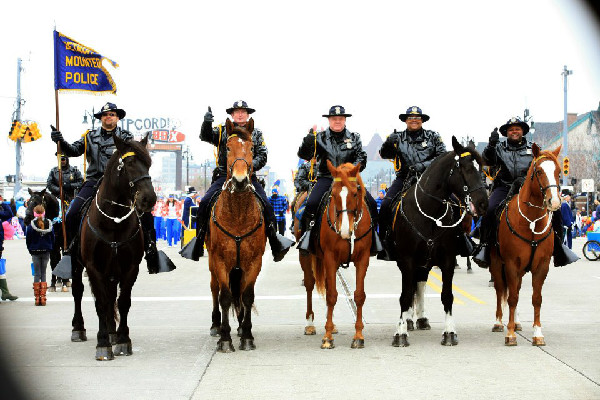 Detroit's mounted officers enjoy their work and value their horse partners.
Equitrekking: What are the biggest challenges you face in this career?
Erik Eide: The biggest challenge today is funding. We are financed privately by two organizations, the Detroit Public Safety Foundation and Restore the Horse Foundation. Donations are tax deductible, and the funds do not go to the City of Detroit. These contributions are used for feed, bedding, veterinarian costs, medications, farrier bills and care of the horses. The Detroit Police Department does not pay for any of these expenses.

Equitrekking: What advice would you give someone who wants to become a mounted police officer?

Erik Eide: For the Detroit Police Department, this is a seniority job, so you may have to put in several years of regular duty first. Once you get the post, you had better love it because you are going to do it in all types of weather at all hours of the day! You will be tired, you will be sore and you will get hurt, but the good days outweigh all of that.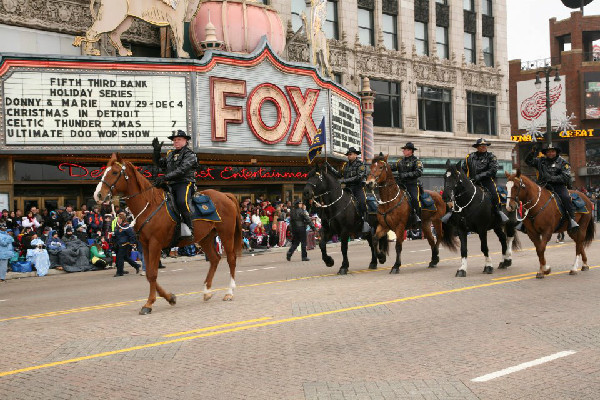 Police horses must be able to cope with crowds, lights, noises and tall buildings.
For other people, most sheriff departments have volunteer units, which have certain requirements. Again, make sure this is something you really want to do before you get involved. Know your skills and the ability of your horse. If you or your horse need help or more training, go find some. Don't put yourself and others in danger because you took your horse into a place that was too much for him and too much for you. Most importantly, put in the time to ride your horse! They do not get better (nor do you!) if you don't spend time with them.
Find Erik Eide at the Detroit Mounted Police Facebook page.

Karen Braschayko is a freelance writer and horse lover who lives in Michigan.