Dream Jobs: Best Friends Working Together with Horses
By Karen Braschayko
Learn about how two best friends landed their dream jobs working together with horses. Samantha Penley and Megan Cavan are lifelong riders who network with fellow horse lovers, attend horse shows and visit barns as part of their workday for Royal Champion Supplements.

Karen Braschayko for Equitrekking: What is it like being best friends and working together? What makes you a good team?
Samantha Penley and Megan Cavan: It's a blast! We both know how blessed we are to get to work together and for such a great company like Royal Champion. It's not every day you get to be around horses with your best friend while getting paid to use your skills towards something you're passionate about. What makes us a great team is that we both put 150 percent into our jobs because we believe so much in the company and the nutritional formulas we're selling. We want to be a part of Royal Champion's growing success and are willing to go that extra step together to make it happen. We both also always put professionalism and work first, which is a must in both of our positions. But don't let us fool you — we definitely know how to have fun and enjoy the perks of our job.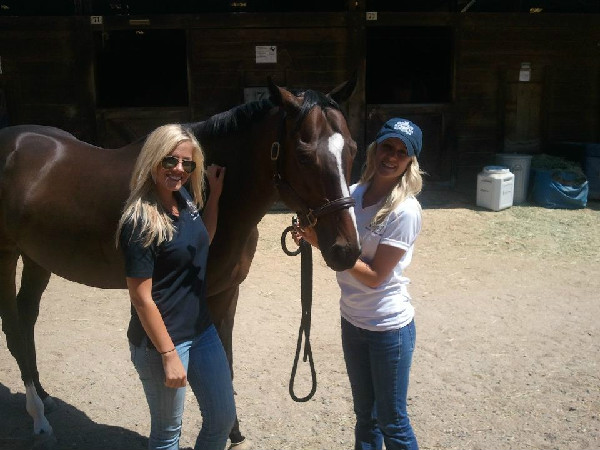 Samantha Penley and Megan Cavan working for Royal Champion.
Equitrekking: How long have you each been riding, and when did you realize you wanted a career in the horse industry? Tell us about your background with horses and how it led to your jobs.
Samantha Penley: I've been riding since I was six years old and have been infatuated with horses since I got my first palomino Breyer horse at age four. Growing up I attended summer horse camps and took riding lessons. Although I've never owned my own horse, I've been lucky enough to lease some amazing ones and volunteer my time to many talented endurance and dressage trainers.
I always knew I wanted to work with events and marketing, but I wasn't confident it was possible prior to working for Royal Champion. While growing up I always worked at local stables mucking stalls and assisting with training horses. It wasn't until after college and I got a job with the Del Mar Fairgrounds and the Del Mar Thoroughbred Club (Trakus, Inc.) that I realized a professional career in horses was an option. It was there that I got my first taste of what it was like to work with events and horses together.
Megan Cavan: I've been riding since the age of six also! I started leasing ponies, taking lessons at my local barn and went to pony camp every summer. By age 13 I had my first horse, a young Thoroughbred I called Mr. Bojangles who took me through the hunter circuit on the East Coast. I knew that when it was time to go to college that I may have to sell my horse, since it was time to focus on my studies and a job, but I quickly found out that I could turn my love of horses into my full-time job. At West Virginia University, I studied sport management with a minor in equine management and joined our Intercollegiate Horse Show Association (IHSA) equestrian team. By my senior year I was the president of the team, learning about fundraising, horse show planning and management, and I gained valuable leadership skills which I carry through to my job today. At that point I knew that it may be possible to continue on this career path.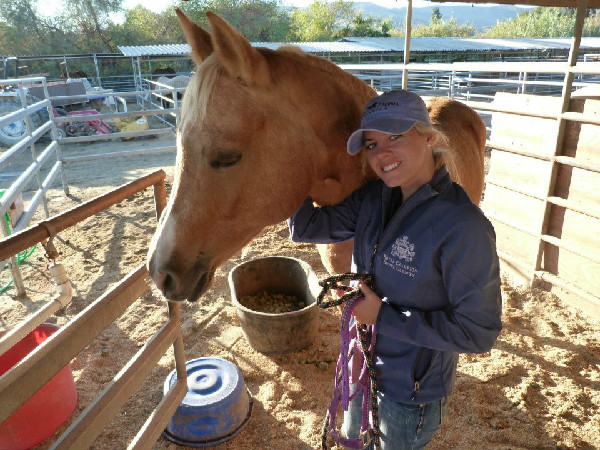 Samantha Penley spending time with the horse she loves.
Equitrekking: Please tell us about one of your favorite riding adventures.
Samantha Penley: Oh gosh! There are so many! I'm a little bit of a thrillseeker when it comes to riding horses. I live for those long high-intensity trail rides where my horse and I have to work as a team to get through it. There's something rewarding about being out on the open trail with my horse trekking through obstacles, rough terrain and weather changes that makes me really appreciate my horse and all of our arena training. One of my favorite adventures this year was riding through Montaña de Oro State Park with one of my good friends. We went on a four-hour trail ride through hills, valleys, sand dunes and beaches. We raced each other at full speed on the beach, which was so much fun! We were all exhausted by the end of that day.
Megan Cavan: I have to agree with Samantha! Some of my favorite memories led me outside the show ring and on adventurous trail rides with our ponies when I was younger. I went to summer camp every year growing up and was fortunate enough to become a horse counselor at the same camp. My most fond memories were taking my competitive young students out of the ring and on overnight horseback trips. We galloped up hills lined with peach orchards, took our ponies swimming in the horse pond and cooked s'mores by the campfire while our horses grazed in the corral next to us, same as I did when I was younger. Those trail rides always allowed us to bond with our horses and enjoy the great outdoors from the best place on earth — the back of a horse!
Equitrekking: What is Royal Champion, and what role do you each play within the company?
Samantha Penley: Royal Champion produces complete nutritional supplements for horses. These supplements are designed to aid all horses in optimal health, appearance and performance in one daily dose.
Both Megan and I have very rewarding positions that require all the skills we've learned though college, internships and past careers. As sales director, Megan is in charge of planning sales strategies for the entire company while managing over 60 sales representatives covering the U.S. I have the role of marketing director to plan events and promotions and to help coordinate the overall image of the company.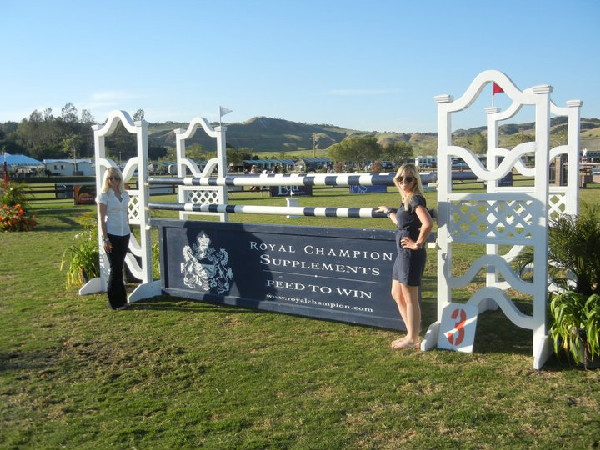 The best friends working at a horse show.
Equitrekking: Samantha mentioned that being heavily involved with social media helped land her job with Royal Champion. How do you use social media to stay connected in the horse world, and what are some tips for other horse lovers?
Samantha Penley: Prior to being the marketing director at Royal Champion, I worked for the Del Mar Fairgrounds and the Del Mar Thoroughbred Club. I knew I wanted to work with horses from then on, but I also realized I needed to get more involved because horse jobs were hard to find and even harder to get. I decided to create a horse-related blog, TheHorsePedia.com, to educate myself and network with people in the industry. I used my blog and various social media outlets to study new online marketing trends and understand how the industry functioned. Within a year I was making contacts all over the U.S. and learning a great deal. I landed my interview with Royal Champion because they were able to look me up online and see that I was involved and obviously passionate about horses. My social media skills definitely got my foot in the door to at least introduce myself.
I would recommend that anyone wanting a job in the horse industry get online and start networking. If utilized correctly, having a presence online can definitely help you connect with the right people. Twitter is my favorite! You can connect with us on Twitter: @SamanthaPenley and @Royal_Champion_.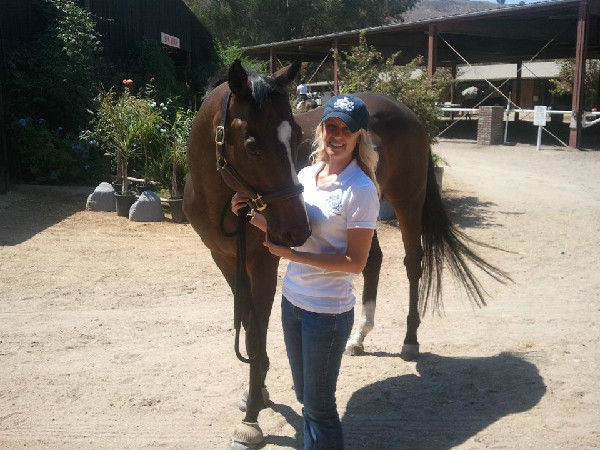 Megan Cavan and an equine friend.
Equitrekking: We love Twitter too, so readers can connect with us @equitrekking and @darleynewman. What is your favorite aspect of your job? What are some highlights of having a job that places you around horses?
Samantha Penley: There are so many benefits. With this job there are numerous social obligations and sponsorship events to attend. We work very closely with Blenheim EquiSports, a show park facility that produces top-notch equestrian events throughout the year. We also are involved with the San Juan Capistrano Equestrian Coalition, the San Juan Capistrano Equestrian Council and many local barns in the area. Our job is all about networking and successfully representing our products. We take full advantage of attending fun events, local mixers and equine fundraisers.
The other, more obvious, benefit to working for a supplement company is you get to spend a lot of time at the barn or at horse shows since that's where our customers are. If we're not in the office planning marketing and sales strategies for the company, you can be sure to find us working at a vendor booth or checking in with our local sales reps at their barn.
Two best friends at the barn.
Equitrekking: What are some challenges of working in the horse industry?
Samantha Penley: The only challenge we find is sometimes coming up with creative ways to connect with the horse world. For being such a small industry, it's so spread out! Every state, every barn and every discipline goes about things differently than the others. Riders tend to stick with the groups they know, making the horse industry somewhat segregated.
Equitrekking: What tips would you give someone seeking a career in the horse industry? How can someone find a dream job in the horse world?
Samantha Penley: Definitely get online and network, network, network! You'll be amazed at how easy it is to connect with people and find companies. This is a growing industry that is looking for educated and professional young individuals who can bring their talents to the table.

Megan Cavan: My tip is to focus on a college degree to gain valuable business knowledge with an emphasis in equine management or similar program. Many colleges are now adding equine courses and degrees, and this will give you the opportunity to intern in an equine-related field. Also, look into joining your collegiate equestrian team — you do not need to be a competitive rider to join!
Karen Braschayko is a freelance writer and horse lover who lives in Michigan.