Dream Jobs: Professional Polo Player Sunny Hale
Sunny Hale has conquered her goals and inspired many fans with her equestrian career.

by Karen Braschayko

From winning titles to developing tournaments, Sunny Hale has become a passionate ambassador for the players and horses of polo. Her life of adventure and travel began young, and she has not stopped smashing barriers ever since. In 2000, she made history and achieved her life's top ambition by becoming the first woman in history to win the U.S. Open Polo Championship, the premier polo tournament in the United States. She has earned the highest rating ever for a female player and has received the honor Woman Polo Player of the Year seven times. Hale was inducted into the National Cowgirl Museum and Hall of Fame in 2012, which recognizes not only her achievements as an individual but also her fervent work for others in her sport and beyond.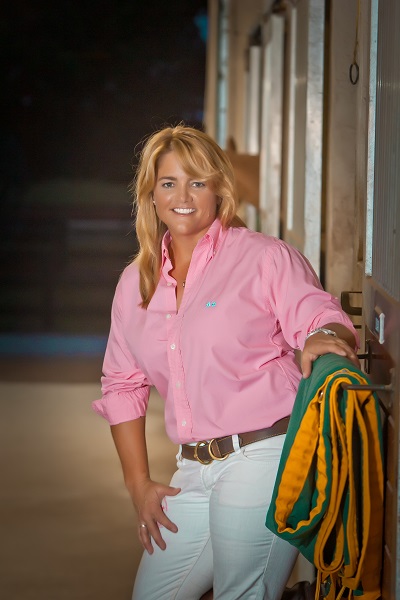 Sunny Hale is the first woman in history to win the U.S. Open Polo Championship, the premier polo tournament in the United States. Photo by Bill Barbosa.
Hale's family life was built around their polo business near Carmel, California. Born to polo legend Sue Sally Hale, who disguised her gender to play on polo teams when female players were not permitted, Sunset "Sunny" Hale grew up as the third of five children. Her parents divorced when she was young, so Hale and her siblings helped their mother operate the family horse business from childhood. After trying many equestrian sports, Hale knew from a young age that polo was her incomparable passion. She played in her first tournament at age 10 and started giving lessons to adults at age 12. Hale began competing regularly as a teen, and she hasn't stopped traveling the world, playing beside the sport's top players, and coaching polo since then. She became a professional around the age of 20, the first woman ever paid to play polo and one of the first females to compete at the highest levels among men.

Hale has continued her mother's quest to open polo to all genders and all persons. She had met many enthusiastic female players in her travels, and in 2005 she had the idea of networking them together via the Women's Championship Tournament (WCT), a series of qualifiers culminating in an international event for female players. Hale played on the 1990 U.S. Women's Open championship team with her mom and her sister Stormie, which was a historical moment venerating her mother's decades of contributions. While making more room for women in polo, Hale has expanded opportunities for all. She advertises polo as a wonderful sport for horse lovers of all incomes, all ages, and all skill levels.

Hale has produced several opportunities to broaden her sport and raise the professionalism of its practice. By founding the American Polo Horse Association (APHA) in 2006, Hale created a way to classify and trace polo ponies. Polo can be played on any breed of horse, such as Thoroughbreds, Arabians, Appaloosas, Quarter Horses and crosses, and until the registry no one realized how many of the top horses were related. Each polo horse can now have an online profile to track their statistics, record breeding, and credit their contributions to the sport. The website also provides links to find polo ponies for sale and promotes the grooms who care for them.

Here Hale shares how she balances her adventurous life of travel, sport, work and advocacy – and how she became a leader in her field.

Karen Braschayko for Equitrekking: What is your background with horses? How did you get hooked on playing polo?

Sunny Hale: I was introduced to polo and horses by my mom at a very young age. I tried several other horse sports such as show jumping and eventing, but polo was definitely my passion. I have been riding since before I could walk, and in fact I even did some showing at about three to four years old on my pony Pistol Pete.
Horses of any breed are welcome on the polo field, and Hale partnered with the American Quarter Horse Association (AQHA) to alert owners of this opportunity.
I became a professional player after a lot of dedication and hard work. I started at a young age – practicing, traveling and competing in polo tournaments. Early on, I had the realization that polo was all I wanted to do.
Equitrekking: What was your path to becoming the first woman to win the U.S. Open Polo Championship?

Sunny Hale: It was not any journey that sounds like it's supposed to lead there.

My path to winning the U.S. Open truly was born in the fact that ever since I can remember, even as a kid, no matter what I faced, I knew I had this dream I wanted to achieve. I never told anyone, but my dream since childhood was to play polo among the best players in the world – because they asked me to be there. I wanted this to be based only on me earning it with my skills as a player and no special circumstances. Winning the U.S. Open with the Outback Steakhouse Polo Team was a byproduct of that dream and absolute icing on the cake.

The actual way I got on the team is truly a story in itself. I was not on the original roster. The team had been reorganized by the owner and his team captain Adolfo Cambiaso (who was the best player in the world at the time) during the warm up tournaments. It was there that they chose me to be on the team, picking me over any player at my same handicap in the world, male or female. So, I didn't have as much prep time as everyone else. It was game on, and I couldn't wait to get started! This opportunity came after years of competing as a professional player. I had played on all levels of the sport with and against the best male professionals in the world.

Equitrekking: What have been your most rewarding moments as a professional polo player?

Sunny Hale: The best parts of my career are the relationships I've built with great horses, the camaraderie I feel with teammates in the heat of battle, and seeing the world while doing what I love. I have achieved one of my most important goals, and I did it on the terms that I wanted.

I have had so many rewarding moments that it's hard to count. But, truly the best part has been living out one of my main dreams. That is priceless. I knew from an early age that I had a couple of unspoken dreams, and I got to achieve the biggest of them.

Currently, I love seeing the growth and enthusiasm of top level women's polo. We have connected players around the world through the Women's Championship Tournament (WCT) series, which I started in 2005. Women now represent one of the largest growing sectors in our sport today.
Hale has helped organize many tournaments, including those that raise awareness for a good cause.
Equitrekking: What are the biggest challenges you've faced?
Sunny Hale: Truly, the biggest challenge I've ever faced in my career has been to keep silent and add no comment when someone has tried to discourage me. Over the years, many people have felt the need to tell me what they thought I shouldn't try or shouldn't do. Especially, there were people who heard I was on track to get on big teams and felt the need to tell me that I would never make it. They had to come tell me some hurdle they knew about.
That was the toughest thing, to smile quietly as they spoke and think to myself, "I am going after it, and I will get it, and I'm not sure what you just said but I did see that your lips were moving." The inspiration I've felt within myself and witnessed affecting other people when I lived out what I wanted for myself – that was absolutely worth every second of restraint I practiced in those discouraging moments.

Equitrekking: What is a typical day like for you, if there is such a thing?

Sunny Hale: Ha! There is no "normal" day, and that seems to be a reoccurring fact. Actually, at this point in my career I have a completely different schedule than I used to. The last chapter's schedule involved a ton of time daily training horses, practicing and riding. I was maintaining a rotating string of horses to play in polo leagues of all levels, which takes a huge amount of time, especially if you like to do things right.

In this current chapter, I spend my time working to grow the two organizations I started. The American Polo Horse Association (APHA) is a polo pony registry, and the Women's Championship Tournament (WCT) is currently the largest women's polo tournament series in the world. Both organizations are one of a kind, because neither idea existed in America at the time I started them. They are built from what I saw we needed in our sport.

These days I have a heavy travel schedule of playing and promoting women's polo around the world. Also, for the first time in my life I am working with a top-notch personal trainer, fitness model and Mixed Martial Arts (MMA) competitor named Michael Mancini. He has brought a whole new level of inspiration to the equation and expanded my future goals for myself.
Sunny Hale has been training with MMA competitor Michael Mancini to raise her fitness level for polo.
There just seems to be no normal anywhere in my experience. It's a constant evolution.
Equitrekking: What do you want people to know about polo?

Sunny Hale: Polo is an amazing sport that has been around for over 2,000 years. It is one of the most fun equine sports you could possibly participate in, especially if you are competitive. Warning: polo is addicting!

Polo is also very welcoming to spectators, and most clubs do not charge admission. They encourage fieldside tailgating, where fans get to mingle on the sidelines sharing food and drinks as the game rushes by you.

Equitrekking: Tell us about starting the American Polo Horse Association. What inspired you to track the careers of these horses, and what has the organization accomplished?

Sunny Hale: I felt that it was really important to recognize the equine side of polo as well as to provide a place to find verifiable information on the horses. Until I started the APHA in 2006, this type of registry did not exist in America.
So far, the APHA has accomplished a lot. We've formed a place to recognize polo ponies in America through our website, Facebook page and awards. We've produced a database of polo ponies that is free to search, established a platform to connect the polo pony industry with polo pony enthusiasts around the world, and launched the National Polo Pony Show. In the works, we're creating a platform for corporate interests to gain exposure to this network of people. I feel polo is a unique equine consumer industry that until now has never been identified as such.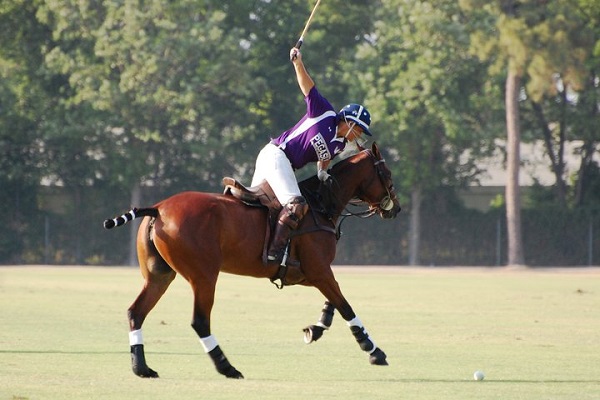 Sunny Hale has worked for decades as a passionate ambassador of the polo sport, welcoming anyone who would like to play. Photo by R. Bollenbach.
Equitrekking: What advice would you give to someone who wants to try polo?
Sunny Hale: Absolutely go give it a try. Don't hesitate. Polo is open to everyone. In fact, it is one of the fastest ways to learn how to ride if you have never ridden.

Equitrekking: What advice would you give to someone who wants to make a career in the equine industry, as you have?

Sunny Hale: If that's what you love, then go for it, but be prepared to put in long hours if you want to do it right. Realize there are no more "9 to 5" normal days or weeks. The day ends when the horses are tucked in, happy and healthy, and sometimes they cause a ruckus in your plans. But the result is a lifelong relationship with one of the greatest animals ever created, and that is worth every second.

Catch up with Sunny Hale on her Facebook page, Sunny Hale Polo.

Karen Braschayko is a freelance writer and horse lover who lives in Michigan.