Dream Jobs: Life of a Horse Trainer
Top horse trainers, of any breed or discipline, live a life of complete dedication to horses and the horse industry. As any horse person knows, horses require a lot of care, a lot of money, and a lot of time; and horse trainers must work hard to ensure that their horses are well-rounded, well-behaved, and well-ridden for the success of their clients.
Founders and owners of Center Ring Show Horses, Arabian horse trainers Sterling and Melissa Bradley are a perfect example of these type of individuals. Located in Sanger, Texas, the Bradley's have built their lives and marriage upon their love for the Arabian horse and the industry that supports them. I have had the privilege to know and ride with Center Ring Show Horses for the past seven years, and can, in every way, recognize their passion for their horses and devotion to their clients.
To gain insight into the everyday life of a horse trainer, I spoke with Sterling and Melissa, who showed me that being a horse trainer is truly a job like no other.


Sterling and Melissa Bradley of Center Ring Show Horses
How It All Began
Growing up in the Northern United States, Sterling and Melissa were both interested in horses from a very young age.
Melissa, originally from Arco, Idaho, was born into a family of Arabian horse lovers. Her family raised Arabian, and Melissa participated in her first horse show when she was five years old. After winning her first ribbon at the age of six, she decided that this was her passion. She followed in the footsteps of her father as an Arabian horse trainer.
Sterling, born and raised in Salt Lake City, Utah participated in 4-H as a young child and spent his summers riding horses in the mountains with his uncle. These childhood agricultural experiences sparked his interest in a career with horses, and led him to his dream of "riding horses and getting paid for it". He worked for his father in the cabinet business, and later for an aerospace company while running a horse business on the side. At the age of 25, he began working full time as a Paint Horse trainer, until seven years later, when he shared a barn with Arabian trainers. He fell in love with these trainers, their clients, and the Arabian Horse industry, and soon after, began to work for them.
Both being Arabian horse trainers at the time and being that the Arabian horse world is relatively close-knit, Melissa and Sterling were bound to cross paths at some point in their lives. After meeting at a horse show, the two befriended each other, eventually fell in love, and got married in Oklahoma City. Now, 25 years later, they are both happy as ever, doing what they love most with the person they love most.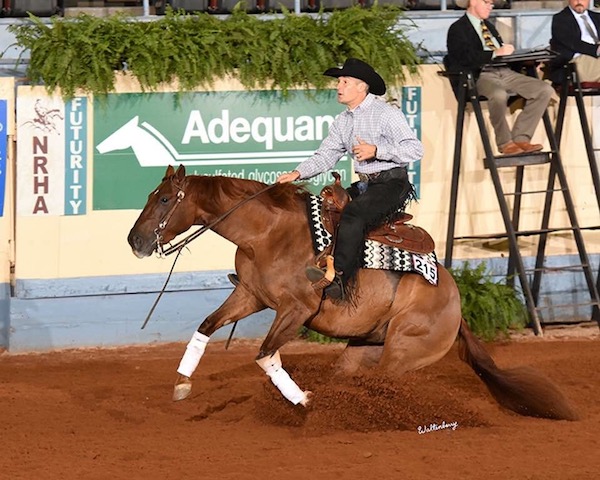 Sterling Bradley at the National Reigning Horse Association Futurity show
A Typical Day at Center Ring Show Horses
As we all know, if you're a horse person, you're a morning person. Melissa And Sterling start each of their days at the barn by 7:30 a.m. and often work until about 6 p.m. in the evening, normally with little to no lunch break. After waking up and taking care of their four legged friends at home, they head over to the barn to begin their daily routine of working horses.
They begin each morning by checking on and feeding all of the horses, and plan out their day to determine which horses are to be worked or ridden first. Not every horse gets ridden every day: "Some days the program is exercise and turn out. Some days are schooling and lessons".

Between the clients coming up for lessons, and Sterling or Melissa actually training the horses, each horse will typically be ridden three to four times per week. Each horse's workout plan varies greatly with their discipline and maturity under saddle. During their off days, horses may be turned out in a small paddock, lunged, or put on the walker as a lower intensity form of exercise.
Sterling and Melissa are also responsible for maintaining their horses' health and hygiene. They are constantly bathing, clipping, and grooming the horses to keep them happy and healthy. While they do have barn help that clean the stalls and feed the horses, Sterling and Melissa must manage the diets of each horse and make sure their living conditions are adequate.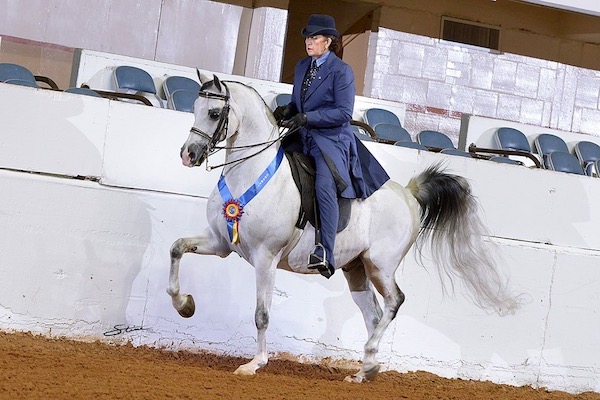 Melissa-Barter Bradley after a win
One of the more exciting components for trainers and clients are horse show competitions. Sterling, Melissa, and their clients often travel to compete in Arabian horse shows of all levels. These horse shows are located both in and outside the state of Texas, and no matter how far the distance, require a lot of preparation.
Sterling and Melissa each require their own horse trailers to take to horse shows, due to the number of horses and amount of equipment. When preparing for a show, they make certain that the trucks and trailers are loaded with tack, fueled up, and safe to travel. As far as getting the horses ready, Sterling and Melissa have to make sure all of the veterinarian paperwork is done for each horse, all of the horses are injury free, and each horse is bathed and clipped before arriving at the show grounds.
Sterling and Melissa normally arrive at the show grounds two to three days before the show actually begins. They must get the horses settled in, and make sure they all have time to recover and rest from traveling. They then check in with the show office, to ensure that all of their horses and clients are registered for the correct classes and have all of the information and paperwork needed.
Once the housekeeping is done, the fun can begin. When clients begin to arrive at the show, Sterling and Melissa schedule lessons and work the horses to get them acclimated to the new environment. The next few days then consist of the show itself, in which Sterling and Melissa are up even earlier every morning to ensure that the horses are ready for the day.
Horse shows often make for long days and hard work, with equal the amount of fun. According to Sterling, "Most shows have morning, afternoon, and evening classes so the day is spent prepping and showing, and it's not uncommon to have five or six horses per session". Each day at the horse show will go until about 9 or 10 in the evening, followed by a big dinner with all of the clients. The next morning, Sterling and Melissa are up by 5:00 a.m. and ready to do it all again.
Sterling and Melissa's days, whether at home or at a show, don't follow your typical 9-5 work day, nor your typical Monday through Friday work week. Training horses is a seven day per week job, each of those days filled with long hours and multiple responsibilities. Melissa put it best when asked about their typical working hours: "The day is done when the work is done".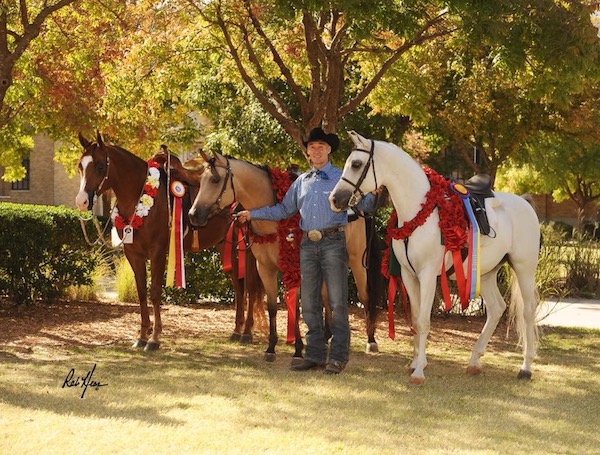 Sterling Bradley with his champion horses
Is It All Worth It?
Just as any other career, being a horse trainer has many unique challenges and rewards.
Sterling and Melissa pride themselves on their hard work and dedication, and would tell you that in the end, it all pays off. As mentioned above, they are up before the sun rises and aren't done for the day until all of their tasks are completed. Training horses requires this type of dedication and determination in order to be successful. They are often left with no free days during the week, and are in a constant work state of mind.
Not only does training horses consist of long days at the barn, but requires a certain level of people skills. One of Sterling and Melissa's main priorities at Center Ring is to satisfy their customers and promote their love for the industry. Just like any other business, the customers are paying their way. Sterling and Melissa make it a point to build relationships with each of their clients, and invest in their lives even outside of the horse scene.
As much as they love to do so, Sterling and Melissa mentioned that keeping their clients happy is one of their biggest challenges.
They mention that, "When dealing with multiple personalities, both horse and rider, you can bet you will go through every emotion imaginable. That can be very tiring for everyone involved. There are so many ups and downs, as we all want to win and have good rides."
Melissa explained that every client has different demands, and requires different types and levels of training. When clients send their horses to a trainer, they expect to see positive results in the show arena. If the clients don't receive the results as expected, Sterling and Melissa must work through any issues and meet with the client about their concerns, for better future results.
Ultimately, Sterling and Melissa are running a business where clients and customers fluctuate, creating another big challenge for these trainers: "People and horses come and go. It's the nature of business, and it's often hard to say goodbye to horses and students that you have watched grow up and spent many great memories with."
While keeping happy clients can be one of the greatest challenges for a horse trainer, it can also be one of the greatest rewards. Of course, winning big prizes at a horse show is exciting to everyone, but as a trainer, Melissa says that seeing the smiles and love towards their horses that come with the clients' small accomplishments, shows their appreciation for all of the hard work that goes into training them.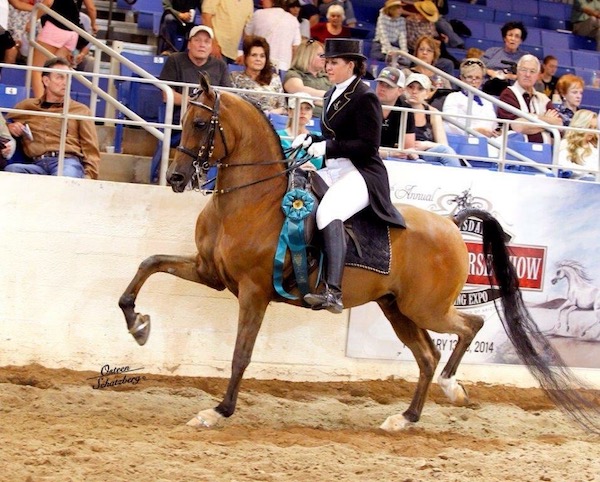 Melissa Bradley after an Arabian English Show Hack Class
The Practicality of Being a Horse Trainer
It has been said before that horse trainers don't do what they do for the money, but rather because of their passion for the horses and the industry. Since passion doesn't pay the bills, I asked Sterling and Melissa to tell us what it takes to make a career out of the basic love of horses.
As said many times before, success comes with hard work and dedication. In order to establish yourself as a successful trainer, one must work long hours, and perhaps many years, without recognition.
Everything good comes with time… and sacrifice. Not only do Sterling and Melissa dedicate the majority of their week to training their horses, but also sacrifice their weekends and their personal lives to bettering their clients and their performances. This isn't just a career, it's truly a lifestyle.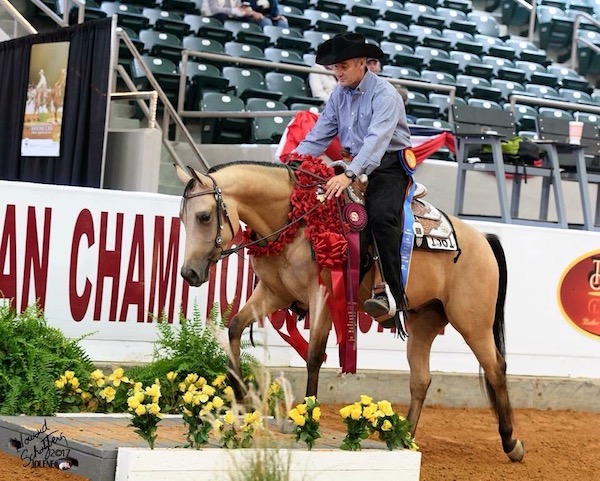 Sterling Bradley after a win in a trail competition
While being a horse trainer asks a lot of one person, Sterling and Melissa would tell you it's all worth it. Having a passion for people and horses is what really drives their devotion to the industry and getting to do it alongside your soulmate makes it all the more worthwhile. When asked her overall thoughts on being a horse trainer, Melissa explained that "It's a lifestyle. You work hard, and every day you fight giving up. But in the end, no matter what, I'd do it all again in a minute."
Learn More about Center Ring Show Horses and The Arabian Horse Association.
About the Author: Madeleine Davis is a college student at Texas A&M University, studying Animal Science and pursuing an Equine Certificate. Having ridden and competed Arabians since the age of seven, she has a passion for the Arabian horse, and enjoys writing about her experiences and knowledge of the industry.