Donna Ponessa Finishes with High Marks at 2012 Paralympic Games in London
Since we recently profiled Donna Ponessa in Donna Ponessa's Paralympic Equestrian Dressage Dreams, an excerpt from For the Love of the Horse, Amazing True Stories About the Horses We Love, Volume IV by Ann Jamieson, I thought we should share a follow up on how Donna Ponessa and Rosie performed at the 2012 Paralympics in London.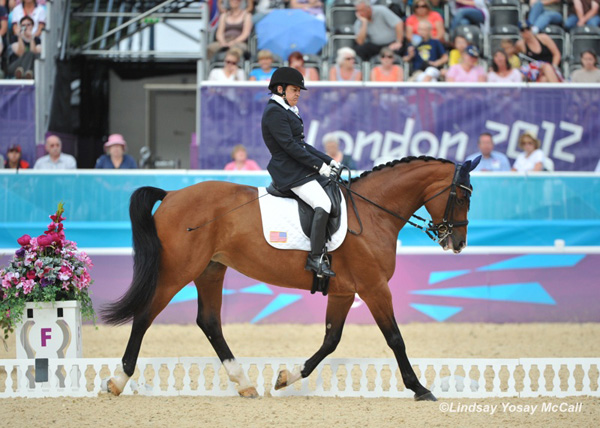 Donna Ponessa riding Western Rose or "Rosie" in the London Paralympics. Photo credit: Lindsay McCall.
The below update was sent to me by Emily Collins, Bang + Collins PR, who does pro bono public relations for Donna Ponessa to help share her story.
Donna Ponessa, riding Wes Dunham's 9-year-old Oldenburg mare Western Rose, or "Rosie", successfully and triumphantly completed their three competition tests at the London 2012 Paralympic Games this week. The experience was "electric, surreal and addicting", said Donna. "Riding against the top Para-Equestrian athletes in the world was the toughest competition I've ever experienced."
Donna's Grade 1a Class, for those whose impairment has the greatest impact on their ability to ride, comprised of 14 of the top Para-Dressage riders in the world. Riding on alternate days, Donna and Rosie earned a strong 70.235% for fifth place in the Team Test, a 69.200% for sixth place in the Individual Championship Test and a high 70.750% placing them eight in the Freestyle Test.

After her Team Test competition, Donna was pleased with "a respectable test finishing fifth out of 14 competitors" and added, "As a team, we nearly had the bronze medal within our grasp. Like my teammates, I was salivating at the chance to better my scores not only to improve my own chances at leaving my mark here in London, but also to do my country and all those who have supported my quest proud." Rosie's strong walk did not go unnoticed, with the U.S. Paralympic Equestrian Association lauding her as a "superb Grade 1a horse".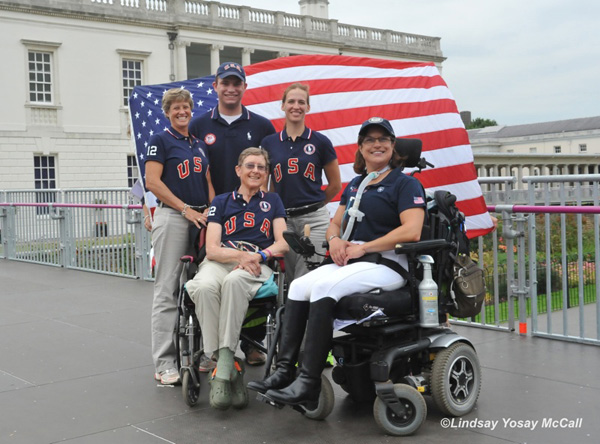 Team USA! Standing from left are Missy Ransehousen (Chef d'Equipe), Jonathan Wentz (Grade Ib) and Rebecca Hart (Grade II); seated from left are Dale Dedrick (Grade II) and Donna Ponessa (Grade 1a). Photo credit: Lindsay McCall.

As a Team the United States came in seventh place with a total of 417.528 points. Great Britain took gold overall with 468.817, followed by Germany with 440.970 and Ireland with a total of 428.313 points.
Said Donna, "Although I didn't achieve my goal of coming home from the Games with at least one medal, I am certainly not coming home empty handed. This Paralympic experience has been golden beyond description. Not only did I learn what it takes to compete on par with the Para-Dressage elite, I learned that to perform at their level is within my reach."

Visit DonnasDestiny.com for more information on Donna and read more about her life in Donna Ponessa's Paralympic Equestrian Dressage Dreams.
Check out more recent stories on the Paralympics, including Donna Ponessa.
At Paralympics, First Thing Judged is Disability The New York Times Aug. 31, 2012
Paying for the Paralympics The Wall Street Journal Aug. 24, 2012
Truly Inspiring Athletes Play Paralympic Games The Times Herald Record July 24, 2012