Day Horseback Rides in Scotland's Highlands
Grab a Highland Pony and hit the trail with these great pony treks in Scotland!
by Jocelyn Pierce
Open moors, old castles, and perhaps even sea monsters are just a few of the things you can see while horseback riding in Scotland. Whether you'd like to take a leisurely trek through Cairngorm National Park or try your luck at spotting Nessie on the edge of Loch Ness, there are plenty of day riding options to explore.
Borlum Farm
Family run Borlum Farm, situated on 400 acres on the shores of Loch Ness, has riding holidays tailored to guests' individual needs. Take in views of Loch Ness and the Great Glen, or meander through flat open countryside and woodlands at this BHS approved riding centre just outside of Iverness.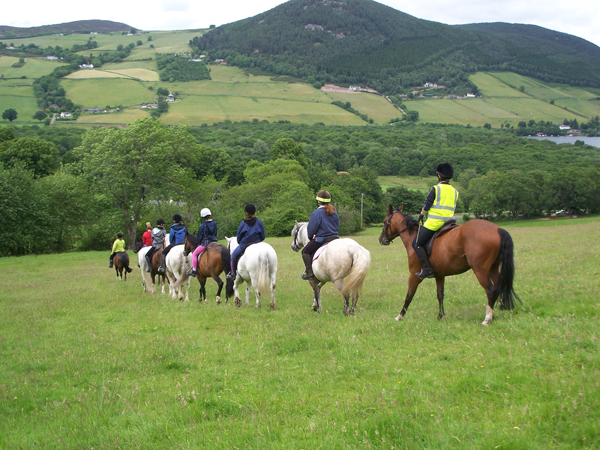 The staff at Borlum Farms will lead you through fields, forest and mountain paths. Choose from one, two, or three hour rides, or take a full day ride to explore Glenurquhart, which runs from Loch Ness in the east to the town of Corrimony in the west. Every ride is graded by experience level with all experienced rides including walk, trot, and canter.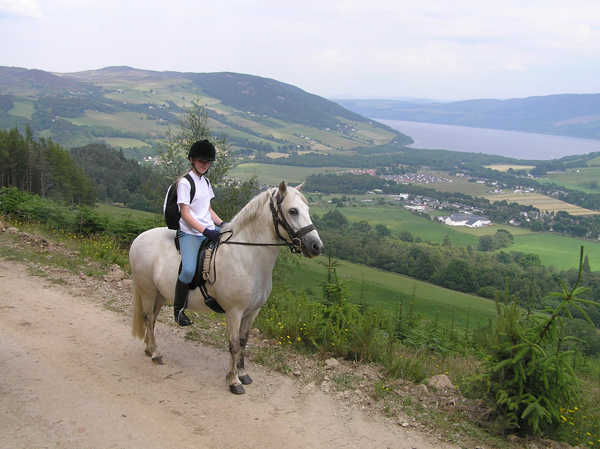 Gairloch Trekking Centre

Ride well mannered native horses and ponies along sandy beaches in the Scottish Highlands at the Gairloch Trekking Centre. Situated on the West Coast route between Inverness and Ullapool, this stable specializes in beach rides. Established in 2000, Gairloch Trekking Centre has just relocated to be even closer to the Red Point beaches.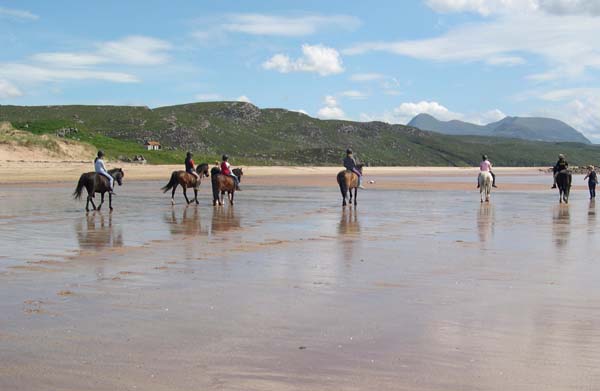 Gairloch offers several riding options including lead line and walkouts of ¼ hour, ½ hour, or one hour for young and inexperienced children. They also have "Kids Riding Breaks" of either a full or half day for children that want to spend more time with the ponies. Kids can take a trek as well as groom, feed, and care for a pony for the day. For adults and more experienced riders, or for those just looking for more time in the saddle, Gairloch also offers two-hour treks.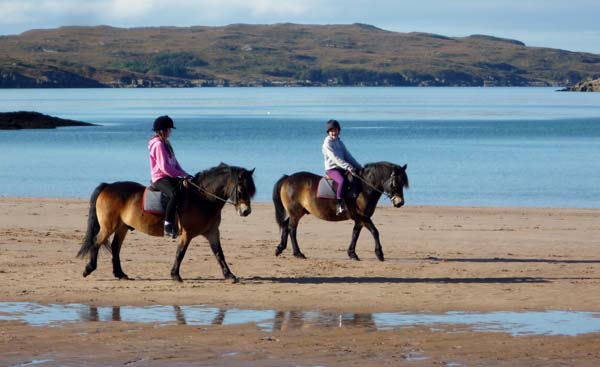 Highlands Unbridled
Highlands Unbridled in East Sutherland offers pony trekking and ride outs for all ages and abilities. Various lengths of rides are offered, from half hour rides for small children to all day picnic rides. Ride beaches, glens and mountains on tough, native Highland ponies or Highland crosses. Highlands Unbridled has safe horses for beginners and forward going mounts for more experienced riders.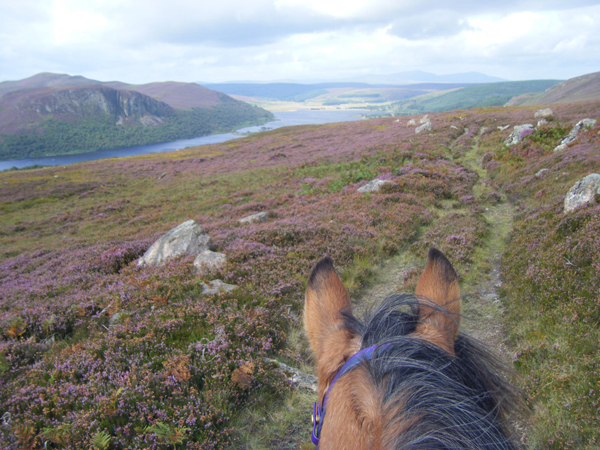 In addition to day rides, Highlands Unbridled also offers trail riding holidays, working holidays, and pack pony tours. Trail riding holidays vary from three to fifteen days and have options such as their "Coast to Coast Trail Ride," which is just that-a true coast to coast horseback trail ride with plenty of beach riding.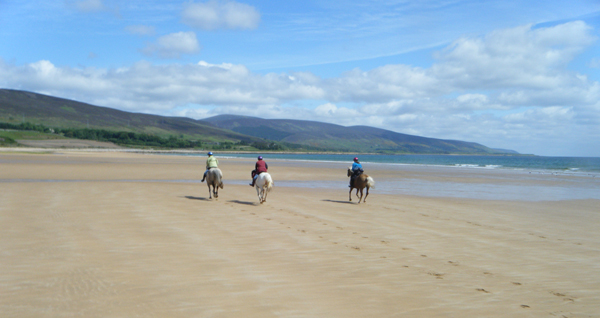 Blair Castle Trekking Centre
Guided treks at Blair Castle Trekking Centre take riders along forestry tracks and through river crossings at Blair Castle in Highland Perthshire. Blair Castle has been the seat of the Dukes and Earls of Atholl for over 700 years. The Blair Castle Trekking Centre was established in 1956 by the Duke of Atholl, making it one of the oldest riding centres in Scotland.
The Atholl herd is of the traditional Highland Pony type-strong, level headed, and sure-footed, making them ideal for riding holidays. Atholl Estates has bred and trained these working ponies since the 1860s and takes great pride in their quality. The ponies are used to bring deer off the hill and estate, and trekking is a way to keep them in shape and in use in the off-season.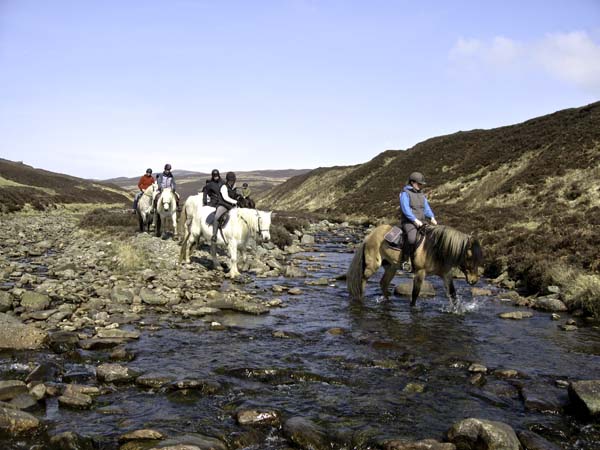 Schedules pony treks are offered between April 1 and the end of August. Rides are tailored for riding ability, so all levels of riders are welcome. Choose from one, two, or three hour treks as well as day rides. Guests can opt for a daily scheduled trek or book a private trek for groups of up to six riders. Expect to take in views of patchwork countryside, moors, and of course, Blair Castle, all from the back of a well-bred Highland Pony.
Want a longer riding vacation? Check out Equitrkeking Travel's packages at Gleneagles in Scotland's Highlands. Learn more about horseback riding holidays in the Equitrekking Vacation Guide and check out discounts to get you there on Equitrekking Travel Deals.