Dancing with Andalusians in Spain
On a riding holiday in Spain, Jan Norman discovers that pressing the right buttons can result in some serious dance moves from high-performance Spanish horses.
"You have to feel it more than do it", called out Vivi. A near perfect walk to canter transition was it seemed just a feeling away. Platito, my Andalusian for the week, bunched up, tensed his hindquarters, and almost as if in a slow-motion mini-rear, his forelegs rose up and rolled into the smoothest of canters. Whoops and cheers from my fellow cavaliers on the sideline and a jaw-splitting beam from me.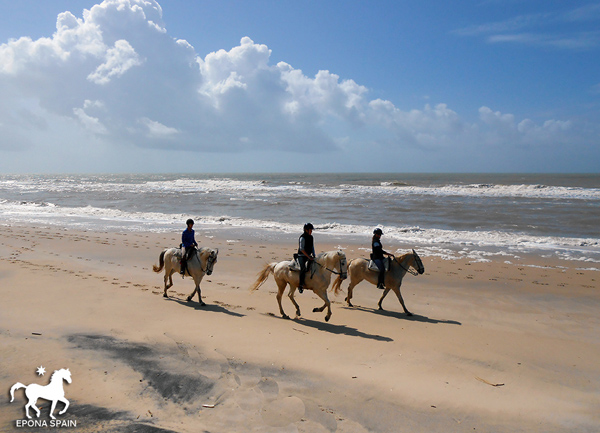 This is the riding holiday that dreams are made of. Photo courtesy Epona Equestrian Center.
Six nights to explore fifty-nine bars and restaurants in Carmona, a medieval hilltop village near Sevilla. Five days of equine euphoria at the Epona Equestrian Centre. Eight hours of brain popping and muscle testing intensive dressage lessons. An hour of seat-perfecting lunge lessons. And two hours at The Royal Andalusian School of Equestrian Art to inspire us to new heights.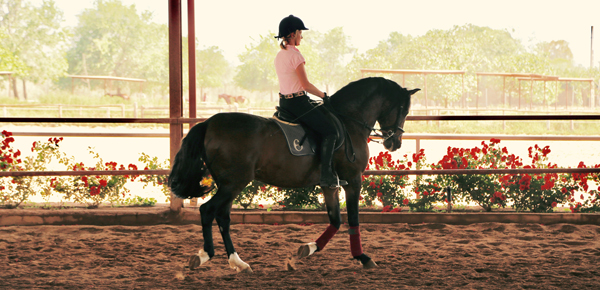 The author enjoying a dressage lesson on one of the center's magnificent Andalusian horses. Photo by Annie Dower.
The García family offers a rare and privileged opportunity for expert to wannabe dressage riders. Exceptionally schooled Spanish horses, coupled with professional and constructive teachers--guarantee that every rider goes home with new smile lines, new friends, and full flash drives of memories.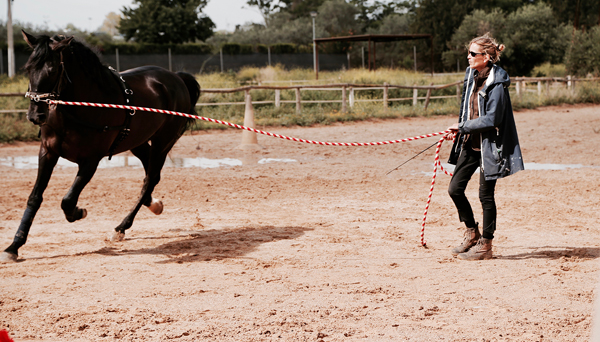 A trainer lunges one of the youngsters at Epona Equestrian Center. Photo by Annie Dower.
There are a few options to choose from within the six-night package. Trail riding includes outrides from the farm and one spectacular beach ride can be combined with daily school training. The outriders are allocated a highly responsive trail horse for the duration of the week. Big, bombproof, and experts at the forward-going walk, trot, canter, and quick-stop--every rider returned lovestruck. The school horses are all pure Spanish Andalusian, and this is the moment where the mental picture becomes flesh, fur, and hooves. Huge, often-grey horses with big necks, long manes (sometimes elaborately plaited), and kind eyes emerge from the stables and it is difficult to believe that one of them is your mount for the week. Those that choose to forgo the trail riding and sign up for the intensive training are allocated two dressage horses for the five days (a morning and an afternoon horse). Each mount becomes a favorite for different reasons, and your riding skills are further tested and enhanced by two characterful steeds.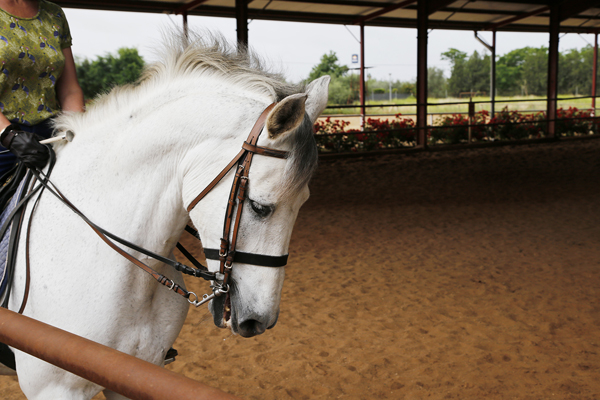 Dressage lessons on a dreamy white Andalusian. Photo by Annie Dower.
The first morning starts with an introduction to Vivi, a member of the García family who owns Epona, the top teacher and a graduate of the Royal Andalusian School of Equestrian Art. The riders are asked to briefly detail their recent riding experience and knowledge of dressage. Vivi is clearly reading what she can from the non-verbal signals too …. confidence, size, fitness, and nerves. As the days progressed and every rider gushed on ever more lovingly about their equines, I did wonder if Vivi was, in fact, the real Tinder of horse-matching. That she successfully sells horses to delighted new owners all over the world should be something to remember for those in this rarefied marketplace.
Typically, the intensive riders would have one lesson in the morning, another in the afternoon, and an additional half-an-hour lunge lesson during two of the days. As the lessons in the arena were never more than three at once, all spare time could be filled with horse eye candy, such as watching your friends at work, or the center's professional riders training the youngsters. There's never an equine-less moment, but if you felt so inclined some downtime at the pool was always a possibility. I preferred to fill my memory sticks both cerebral and electronic.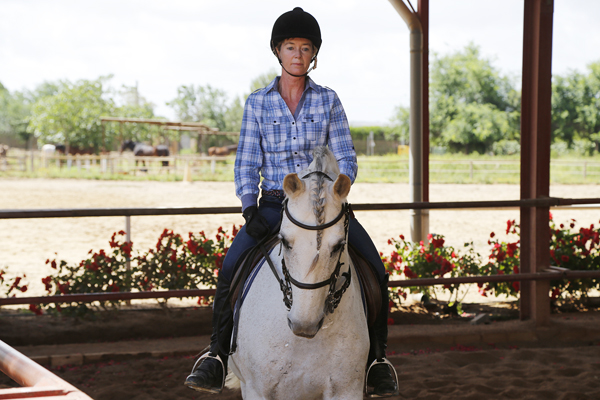 Author Jan Norman and her perfectly matched steed. Photo by Annie Dower.
With so much mental and physical exertion, thoughts do turn to refueling. Restoring Spanish-inspired lunches were served in the dining room, complete with local wines and indulgent desserts. A strong sense of being in calorie-deficit meant that we did not hold back. The cooks, a pair of charming sisters with "nada" English, hugged us every morning while hand signaling admiringly upon our appearances..…yet bemoaned our hat hair by the time lunch was served.
Evenings and nights passed in a blur of the visual and culinary feasts on offer in Carmona, the oldest continually inhabited settlement in Europe and the most authentic Spanish experience imaginable. A luxury hotel that was originally a 14th Century fortified palace provided the perfect stabling for the tired equestriennes. The dreamiest of beds and the smartest of bathrooms revived us for the adventures and challenges of each new day.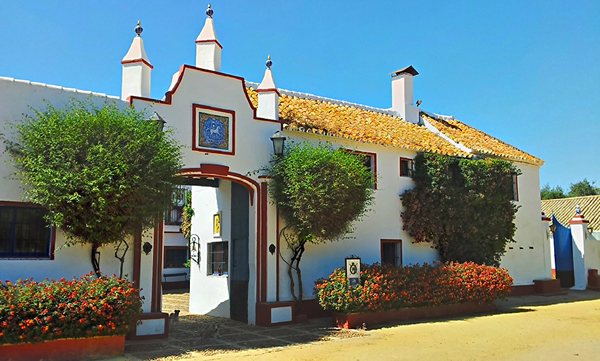 Epona's restored 16th-century hacienda. Photo courtesy Epona Equestrian Center.
All too soon though, it was all over and farewells were shared over a celebratory lunch of paella and sangria. Swopping addresses, final photos, and big hugs--we simply could not come down from that equine high.
So on the final evening, with hat hair restored, we gathered in the hotel's foyer to depart for a night of tapas and talking. As we mustered together, the delightful team at reception covertly called over one of our group and whispered as to the imminent arrival of Antonio Banderas…but the call of the local red wine was too loud, and besides--there were conversations to be had about counter canters, shoulder-ins, and the magnificence of our new equine loves.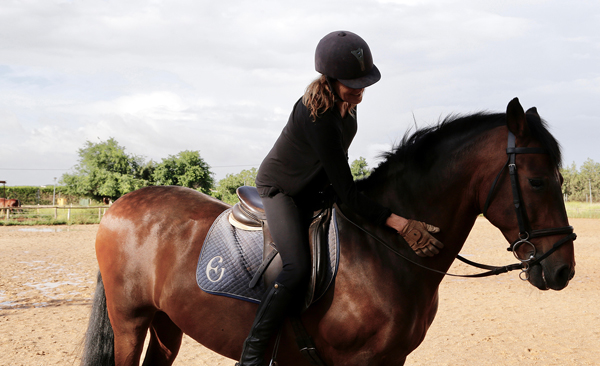 Epona Equestrian Center's elegant equines are easy to fall in love with. Photo by Annie Dower.
We left without waiting for him. How the mighty had fallen for an Andalusian horse.
Top tips:
Seville, the closest town to the riding center is definitely worth a stay of one or two nights. Airbnb apartments are abundant, well-priced, and well-appointed--as are the small hotels.
Some equestrian-inspired shopping is arranged during the week. Think belts, whip-stitched leather boots, flashy tack and jodhpurs--so keep some Euro's aside, as well as some space in your luggage.
Do not be intimidated by the intensive training, as all levels of riders are warmly welcomed. More experienced dressage riders were doing piaffe, flying changes, and the Spanish Walk by the end of the week while the newbies mastered leg yield, shoulder-in, walk to canter transitions through serpentines and the counter canter. The groups are split daily according to Vivi's ongoing assessment of ability and every rider trots away feeling inspired and improved.
Contact them:
About the Author: Jan Norman is a freelance writer, part-time traveler, and full-time horse-lover. She uses her previous experience as a trend-forecaster to sleuth out the best of every destination visited. Equestrian holiday articles and equine profiles are some of her very favorite subjects. Read her blog at www.alwaysjumpingneverlanding.com. Follow her on Facebook and Instagram.