Creative Arts Emmy Gala Downtown Los Angeles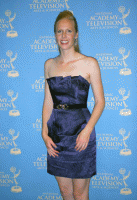 On Friday night, Equitrekking was honored with a third Daytime Emmy nomination at the 37th Annual Daytime Creative Arts and Entertainment Emmy Awards gala in the California Ballroom of the Westin Bonaventure Hotel in downtown Los Angeles. All dressed up for the black tie affair, Executive Producer Chip Ward and I mingled with fellow nominees including soap and reality stars and music producers before heading to the event to take in the pre-show ambience. It was a busy night in downtown LA. There was a nearby rave going on that night called the Electric Daisy Carnival as well as the NHL Draft, so tuxedos mixed with team jerseys and ravers in bathing suits and eccentric costumes.
Upstairs outside of the California Ballroom, there was a frenzy of flash photographs as nominees and celebrity guests took to the red carpet before entering the ballroom. I gave a nod to Ruby, star of the reality show on The Style Network "Ruby," mainly because she was nominated in the same category as Equitrekking, Outstanding Special Class Series. I looked around, noticing many familiar faces.
The ceremony began with Emmy winner Christian LeBlanc, the host of the Daytime Entertainment Creative Arts Emmy Awards, appearing onstage in his boxers and a t-shirt, bringing some comedy to the start of the night. LeBlanc is known for his role as Michael Baldwin on the soap opera "The Young and the Restless." Other presenters included Jeannie Mai of Style Network's "How Do I Look?", comedian Niecy Nash of "Clean House" and "Reno 911" ( who was really funny), TV judge Cristina Perez and starlets from "The Bold and the Beautiful."
We didn't have to wait long to hear that this year's Emmy for Outstanding Special Class Series went to Travel Channel's the Relic Hunter. It was the first award announced. Next year! We were really happy to be at the event and honored with Equitrekking's third nomination. Last year, Equitrekking was honored with an Emmy win for Equitrekking's Outstanding Photography and a nomination for Outstanding Special Class Series.