Finding the Perfect Cowboy Hat
My first immersion into the Western lifestyle as I chose my first "real" cowboy hat.
by Molly Murphy
Okay, so, full disclosure–– I am not a cowgirl. Yes, I am working as a wrangler for the Home Ranch, a dude ranch near Steamboat Springs, Colorado for the summer. Yes, I grew up on the back of a horse, and yes, I love the beautiful outdoors, but my world is one of English saddles, tall boots, and delicate show horses.
Stepping out of my English background and into a pair of cowgirl boots for Western work this summer is going to be exciting, but the newness of the experience makes me a complete amateur on wrangler fashion. Finding the cowgirl boots wasn't too bad, as Ariat, my favorite English boot brand, also had some extremely comfortable Western boots at a decent price (I highly recommend the Ariat Heritage boots. They're comfortable, supportive, and look great!). The jeans didn't trip me up too much either (all cowboys wear Wranglers, right?) But I hit my first snag when trying to decide on the perfect cowboy hat.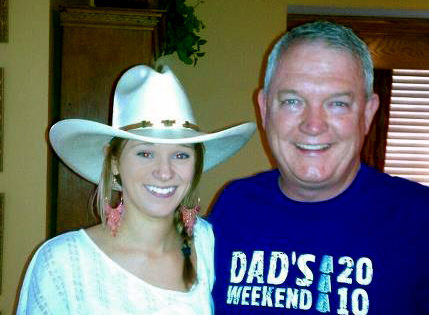 Molly with her dad, Kevin, on the day she got her new Cowboy hat.
It turns out, the cowboy hat could arguably make or break the legitimacy of the whole Western ensemble. If you get a cheap floppy "fashion" hat, it shows that you're not serious about the job and not a real wrangler. Then there's the issue of felt hats vs palm or straw hats, and once you've narrowed that down, there's about 50 different sizes, styles and price ranges to choose from. Needless to say, I felt very out of my depth as I awkwardly navigated the endless rows in Cavender's hats, not even sure what I was looking for.

I originally picked up a light brown straw hat that had a looser fit and was a stiffer version of a fashion hat, but I kept being drawn to the white Stetsons, and eventually, I found myself trying them on when someone tapped me on the shoulder. It was an older man, holding what seemed like an enormous white hat.
"'Scuse me ma'am, but I've found your hat," he said politely.
I looked around, confused, sure he was mistaking me for someone else. He saw my expression and clarified, "You can keep looking around if you want, but I've found your hat right here. You're a slight build so you need a wide rim, and I looked at your head and got the smallest size I could find." I looked at him dubiously, but took the hat, and was surprised with how much I loved the fit. When I still browsed casually at other hats, he said if I didn't believe him that that was the one he'd go get his wife. She came over shortly after.
"You need to tip it more forward," she said with a practiced eye. Then she, too, rooted around for alternative hats for a few minutes, before agreeing that the original one her husband chose was "the" one. We talked for a few minutes about my summer plans and where I was headed before we went our separate ways.
I want to send out a big thank you to my anonymous hat guides! They immediately absorbed me into their culture and were more than happy to lend a helping hand when I needed it. If you're curious on which hat was "the" hat, it's a beautiful Resistol, and it comes highly recommended by "real" cowboys. You can find it and many other beautiful hats at your local Cavender's store, or at www.cavenders.com.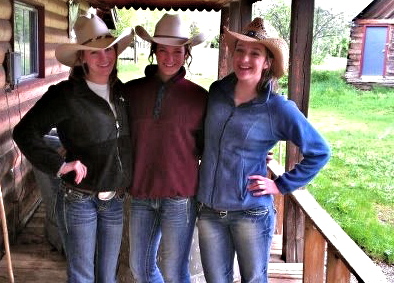 Molly with fellow Home Ranch employees, Lindsey (center) and Rachel (right).
Cowboy Hat Fast Facts and Tips:
Cowboy hats are most commonly made of straw, wool or felt (Beaver and/or Rabbit fur). Prices can range anywhere from $20 up to $4000!
You want your hat to fit snugly on your head, as it will give a little with wear and you don't want it blowing away as you ride. Pick up a piece of foam insulating tape when you purchase your hat. As your hat expands with wear, you may need to use this later on in your trip. You can also get a stampede string to keep your hat in place. Happy hat shopping!
About the Author: Molly Murphy is a college student at KSU studying Creative Writing and an English rider. For her dude ranch blog on Equitrekking, she writes about her adventures as a wrangler at Home Ranch, a Colorado dude ranch that has been welcoming guests since 1980. Visit Home Ranch and other great dude ranches in Equitrekking Vacation Guide.