Courtney Cares: The Grimshaw Equine Therapeutic Riding Program
Preparing Students for the Future of Equine Assisted Therapy.
Equine-assisted therapy programs have been put into practice all over the country as a recreational activity for individuals with special needs. These programs help in a variety of ways, including developing and increasing differentiated life skills and attributes, and allowing them to connect with horses.
Courtney Cares is a therapeutic riding program located in College Station, Texas, which connects students from Texas A&M University with the participants of the program, and allows them to build relationships and learn about equine-assisted therapy, all while serving the special needs community.
The staff at Courtney Cares has taken this program's purpose to a new level. Not only do they work hard to improve their participants' riding abilities and life skills, but they are actively working to impact the future of equine-assisted therapy programs. Courtney Cares is reliant upon their college volunteers and focuses their efforts on preparing these students to take what they've learned and cultivate a successful future in the equine-assisted activities and therapies industry.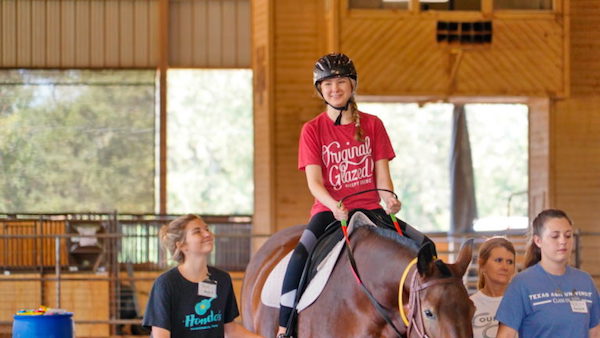 One of the child participants in the Therapeutic Riding Program enjoying an afternoon riding lesson.
Photo Credit: The Grimshaw Equine Therapeutic Riding Program
About Courtney Cares
Courtney Cares is a PATH International (Professional Association of Therapeutic Horsemanship International) accredited program managed by the Texas A&M System. Founded in 2011, this therapeutic riding program was brought about by a simple request for such a program to be implemented and associated with Texas A&M University. Courtney Cares was established in honor of Courtney Grimshaw Fowler, a former Texas A&M graduate who loved horses and aspired to help those with special needs.
Courtney graduated from Texas A&M University in 1985 with a bachelor of science in Animal Science and beef cattle production. She then went on to get her master's degree in Public Accounting from the University of Texas at Austin, and became a very successful businesswoman. She had a dream of starting her own therapeutic riding program and was in the process of building her horse ranch in Thorndale, Texas upon her passing.
In 2011, Texas A&M received a phone call from Courtney's brother, who was reaching out with hopes of starting up a therapeutic riding program in her honor. The Courtney Grimshaw Fowler Therapeutic Riding Program was officially founded that year and began their practice in the fall of 2012.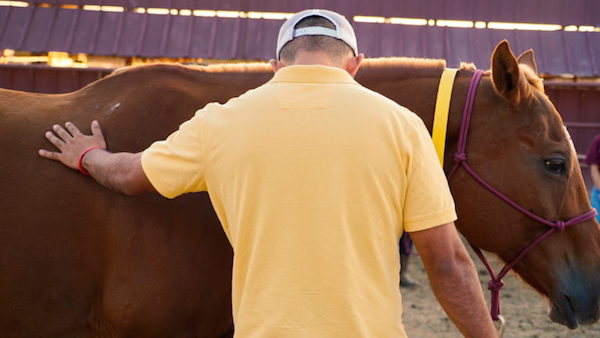 Photo taken during one of the Equine Services for Heroes sessions.
Photo Credit: The Grimshaw Equine Therapeutic Riding Program
Who is Involved with Courtney Cares
Courtney Cares is run on donations and is largely supported by its partnerships with Texas A&M's Parson's Mounted Calvary ([url=http://pmc.tamu.edu]http://pmc.tamu.edu[/url]) and ROCK (Ride on Center for Kids) ([url=http://rockride.org]http://rockride.org[/url]) . ROCK provides the program with the management, consulting, and technical assistance that is needed for the success of Courtney Cares, while Parson's Mounted Calvary provides the horses and the training for the safety of the program.
The Courtney Grimshaw Therapeutic Riding Program has a handful of permanent staff for directing, managing, and counseling the participants in the program, but also relies on Texas A&M undergraduate and graduate student volunteers for everyday activities.
Courtney Cares "mission is to cultivate future leaders and supporters of equine-assisted activities and therapies through education and service learning opportunities". "In January 2018, Courtney Cares became a Professional Association of Therapeutic Horsemanship Higher Education Member, offering Texas A&M University students access to not only exceptional educational resources but also a solid base for networking and success in the equine-assisted activities and therapies (EAAT) industry."
Texas A&M has also recently introduced a new class for its students interested in getting involved in Courtney Cares. The Introduction to Equine Assisted Activities and Therapy class is taught by Dr. Nancy Krenek, the executive director of Courtney Cares, and Dr. Priscilla Lightsey, the lead therapist. This new curriculum allows students to better understand the workings of an equine-assisted therapy program and gain experience to help them in their future endeavors.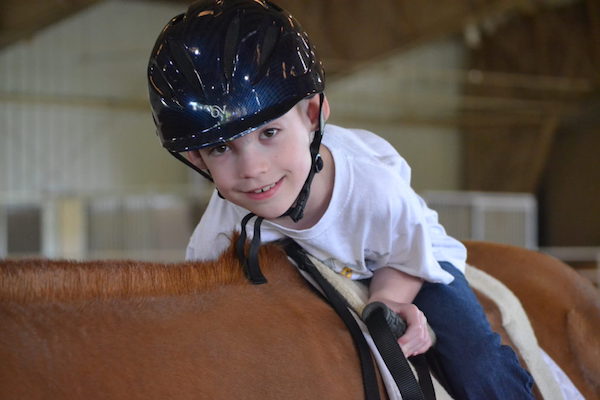 Staff and Volunteers walking alongside a participant during a riding lesson.
Photo Credit: The Grimshaw Equine Therapeutic Riding Program
How Courtney Cares Helps
Courtney Cares offers three programs for its participants.The first of these is equine-assisted activities for children and adults with special needs. These activities are taught by PATH International certified therapeutic riding instructors, and focus on the development of different life skills through horsemanship and riding lessons.
Courtney Cares also has a hippotherapy program. Hippotherapy is the use of horseback riding for therapy and rehabilitation, and is taught by a licensed physical therapist. In this aspect of the program, the individuals are riding the horses as a form of physical therapy. Hippotherapy "refers to how occupational therapy, physical therapy, and speech-language pathology professionals use evidence-based practice and clinical reasoning in the purposeful manipulation of equine movement to engage sensory, neuromotor, and cognitive systems to achieve functional outcomes" (American Hippotherapy Association, Inc.).
The last of these programs is the equine services for heroes. In this program, active service members and veterans come together for riding sessions. These sessions include a horsemanship lesson and a meal, to allow for fellowship with other veterans. This program provides a unique form of psychological rehabilitation for veterans and active members in the army, as they are able to connect with the horses of Parson's Mounted Calvary and spend time with people in similar situations.
According to Executive Director, Nancy Krenek, "Courtney Cares partners with numerous agencies and programs in the area to collaborate on serving and educating others".
Courntey Cares is also involved in research, collaborations, and internships. Courtney Cares relies heavily on their collegiate volunteers and offers Instructor in Training for individuals who are seeking PATH International Certification.
Overall, Courtney Cares aims to serve the special needs community and educate future leaders about equine-assisted therapeutic programs. Courtney Cares is unique in that it focuses on furthering the education and experience of its collegiate volunteers, to prepare them for their futures in other such programs.
When asked about the benefits of this program for staff and volunteers, Executive Director, Nancy Krenek, brought to light the importance of their help, and the life changing experiences it brings.
"Workers are able to work with amazing horses, amazing families, and have the ability to see life changing milestones in our participants," said Krenek.
The Courtney Cares Program has been, and will continue to be a huge success at Texas A&M University, and I have no doubt that Courtney Grimshaw Fowler would be proud of such a program.
About the Author: Madeleine Davis is a college student at Texas A&M University, studying Animal Science and pursuing an Equine Certificate. Having ridden and competed Arabians since the age of seven, she has a passion for the Arabian horse, and enjoys writing about her experiences and knowledge of the industry.