Costa Rica on Horseback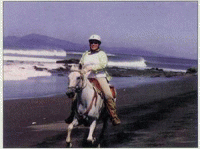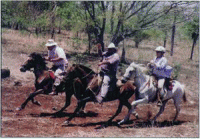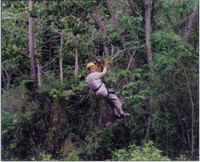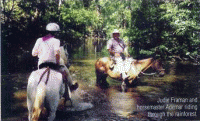 By Judie Framan
Photos by Elliot Framan

"Trust your horse and stay in my tracks," said Jose, our Costa Rican horse master and multi-lingual guide, "These horses are bred to navigate this country." And with that, he headed up a steep hill, along a 180 degree switchback trail no wider than three feet. Following Jose, I had little time to hesitate. I took slow even breaths as my horse walked up the long, narrow rock-strewn trail, a steep slope to our right, a steep drop off to our left.

Whenever Jose turned his horse up the next switchback, I did the same with a light touch of the rein to Estrella's neck. I relaxed after the second switchback. Head down, alert, calm, the horse carried me to the top of the hill with grace and ease. At the top, we were treated to a breathtaking 360 degree panorama of the mountains and terrain that make up the Central Valley of Costa Rica, where most of the population lives. We watched transfixed as the sun set in the west, splashing orange, salmon and pale yellow across the evening sky, the glistening Pacific Ocean beyond. Pura Vida.

My husband Elliot and I were vacationing in this lush country on an EcoSafari Riding Expedition. We arrived in San Jose on a balmy Sunday evening. Our guide whisked us away to the beautiful Hotel Bougainvillea, a wonderful European-style place with magnificent formal gardens that were in full bloom. After a restful night, Jose picked us up and transported us to Cien Fuegos EcoRanch, one of Costa Rica's most prestigious riding centers, located on the grounds of La Trinidad Hacienda. There we rested in the shade of a huge Guanacasta tree and sipped a refreshing glass of sour orange juice (which is not sour), and met Ademar, our Sabanero (cowboy) guide, who helped us choose our horses.

My horse Estrella was an eight-year old Criollo Andalusian cross who stood 15.2 hands, and had an amazing temperament and endurance. One of the best parts of riding in Costa Rica is the horses. The Costa Rican Criollo, which were bred by the Ticos, as the Costa Ricans are called, were bred for working the farms that are only accessible by horseback. Ticos love their horses and their naturally calm and gentle manner is imprinted on the horses. These amazing horses are good natured and surefooted, responsive to voice or neck rein and always willing to go. It was only about 35 years ago, Costa Rican ranchers introduced new horse bloodlines such as Andalusians, Quarter Horses, Arabians and Peruvian Pasos, which they crossed with the working Criollo to compliment their characteristics and develop larger horses.

An introductory ride around the ranch acquainted us with the horses, the tack tack, and the Costa Rican riding style. Costa Ricans ride modified McClellen saddles, which are comfortable, especially on long rides. They use the Costa Rican hackamore, a simple rope noseband and rope reins. Because the horses are so gently and well schooled, bits and other restraints are rarely used.

We left EcoRanch and headed for La Maravilla, a beautiful hacienda located on a 1500 acre working farm that was to be our home for six days. It is situated in a remote rural community of Costa Rica's Central Pacific Region.

We had been riding for about an hour among rolling hills and meadows when we spotted the Gallery Forest ahead, spanning both sides of the Cuarros River. We were still on the ridge above when I saw the fires off in the distance, white smoke curling up to meet the perfect azure sky. "We're in the dry season, so fires are an every day occurrence," explained Jose.

One of the results of the fires was the migration of the animals toward the river. "Follow me," said Jose. I eased Estrella off the trail and into the underbrush of the forest. "Shhhh, look there," he whispered. I looked up into the verdant treetops and saw four or five White-Faced Capuchin Monkeys running along the top branches. One of the group was peering at me through the leaves.

"Look," I said to Jose, "She wants to be with us."

"She's young and afraid of the fire," he said.

I sat on my horse for the longest time peering at her - she peering back at me. In that moment, a magic message passed between us. She was so curious and precious, and she may never again see another human in her lifetime. I wanted the moment to last and for her to know the joy that she had brought to me.

During our week's stay in Costa Rica we were completely isolated from the activities of the outside world. We found the diversity and natural beauty of Costa Rica truly extraordinary. Every day was an adventure on horseback. The places we rode ranged from rain forests to rolling meadows, from dry savannahs to tropical mangrove swamps, across sparkling rivers and streams, through quaint rural villages and along pristine ocean beaches. Sometimes there was no trail at all, and Ademar would get out his machete and hack a path through the jungle.

Getting up in the morning is not on my list of favorite things to do. But Thesday was beach day, and I did not want to miss fulfilling my dream of galloping on Bajamar Beach. We had to be on the trail by 6:00 AM in order to catch the tide and cross the estuary. Stumbling out of bed in the dark, we were treated to the morning sounds of La Maravella- roosters crowing, cattle lowing as they were being milked, later to be driven out to pasture. Guests at Maravilla are invited to participate in farm activities such as early morning milking and afternoon cattle drives.

"Riding is what you do in between meals," said my husband as we finished a traditional breakfast of gallo pinto (black beans and rice), scrambled eggs, tortillas, coffee and fresh fruit juice. The food at Maravilla is fabulous, and the cook is a master of tuming simple native food into a taste sensation. The wide variety of available fruits and vegetables when combined with the interplay of native and European ingredients translates into a unique Costa Rican flavor. The cuisine is characterized by its mildness, which comes as a surprise to most visitors. Fresh ingredients used by cooks include chayote squash, avocados, sweet potatoes, cassava, as well as potatoes. Fruit is abundant and appears at every meal. Lunch, typically known as Casado (married), includes rice and beans, a choice of meat, chicken fish or pork, salad and plantain, a type of sweet banana that is often fried, boiled, mashed and stuffed with cheese. Of course, Costa Rica produces some of the finest coffee in the world.

Our three-hour ride through the ever-changing countryside brought us to the Pacific Coast. Catching the sunrise was breathtaking, making the early morning awakening worthwhile. Sometimes we walked, sometimes we cantered to make up time. These magnificent horses are so responsive that I just had to think trot, shift my weight slightly and we'd be off at a trot, covering ground. Another slightly forward weight shift and we were cantering over the ground with amazing speed. We rode along an old ranch trail that leads to Tivives Crag, formerly known as Port Landecho. It was here that the Spanish first started their conquest of the Central Pacific region of Costa Rica. Splashing across the estuary, we rode into the Cascajalillo Mangrove Swamps, the horses in water up to their knees.

We then trotted toward Bajamar Beach. The tide was out, and the long stretch of damp sand looked perfect for a gallop. Estrella and I were communicating, and I felt wonderful. Something caught my eye to the left. Jose came prancing up on his fire-breathing steed, a grin spread across his face. "This is unbelievable," I shouted to him. "Let's pick up the, pace," he shouted back. The horses seemed to understand. Estrella executed a courbette and shot down the stretch of sand, and I suddenly realized how powerful and surefooted this incredible animal was. For a minute my whole world centered on staying aboard as we accelerated. Adrenaline still pumping, I relaxed my shoulders and leaned into the gallop. Estrella's pace reflected my improved position and her gait became smoother and faster. I was astride Pegasus, flying along the deserted tropical beach, the wind in my face. My childhood dream had come true.

Bound by the Pacific Ocean on its West Coast and the Caribbean off its East Coast, Costa Rica is a country that has escaped the civil and political upheaval of it Central American neighbors. In 1945, the country abolished its army and invested the money in educating teachers. As a result, Costa Rica has a 98 percent literacy rate and a strong healthcare system. Costa Rica boasts over 800 species of birds, 10 percent of the world's butterflies, including the spectacular Blue Morpho, 150 species of edible fruit, and 1200 species of orchids.

Costa Rica offers a multitude of other adventures to round out a great holiday. In fact, it is practically impossible to describe them in a few lines. Ocean kayaking, rain forest lagoon canoeing, mountain biking, white water rafting, and the best catch and return sail fishing in the world are some of the top adventures that people choose. I chose a canopy tour, sailing through the trees several hundred feet above the forest floor, realizing yet another dream.

Costa Rica had cast its magic spell, and I didn't want to go home. I was in a trance from the beauty of the land and the comforting rhythm of my wonderful horse Estrella. As the plane rose, I glanced out the window for one more look at the awesome beauty, and took a piece of this wonderful place with me in my mind and heart. Pura Vida!

How you can go: Learn about great riding vacations in Costa Rica at EquitrekkingTravel.com, our sister website which offers exceptional equestrian vacations.