Combine Horseback Riding with Bourbon Tasting on Kentucky's Bourbon Trail
Plan your Kentucky Bourbon Trail trip around all things horsey in the Bluegrass State!
by Jocelyn Pierce
Kentucky culture is big on horses. The Bluegrass State has sprawling and immaculate Thoroughbred farms, Keeneland and Churchill Downs racetracks, beautiful spaces for trail riding, the Kentucky Horse Park, and yes, the state's claim to fame—Bourbon. It's easy to add on horse-centric activities while in Kentucky, and definitely make time to do so even if your focus is on the Bourbon trail.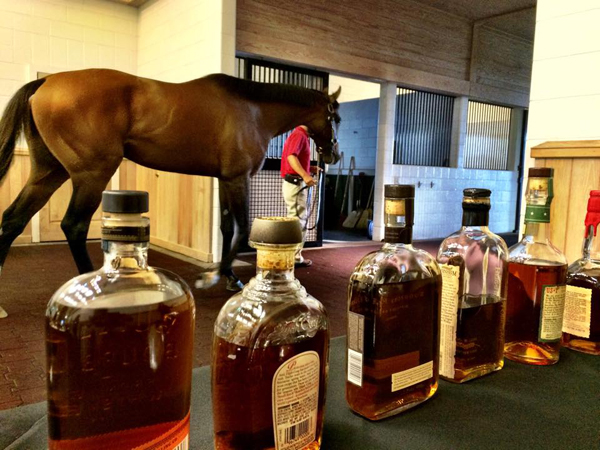 Photo courtesy of Kentucky Bourbon Trail
Congress officially declared Bourbon as "America's only native sprit" in 1964, but Kentucky's Bourbon history goes back much further—to the 1700s. The first settlers of Kentucky quickly learned that converting excess corn and other grains to whiskey made them much easier to transport. Farmers shipped their whiskey in oak barrels, which gives the Bourbon its distinct flavor and color.
The Kentucky Bourbon Trail was formed in 1999 by the Kentucky Distillers' Association with the aim to educate visitors on the history and tradition of Bourbon in Kentucky as well as how the drink is crafted.
Photo courtesy of Kentucky Bourbon Trail
There are a total of fourteen distilleries in Kentucky, seven larger ones that make up the Kentucky Bourbon Trail including Wild Turkey, Jim Beam, and Maker's Mark, and seven micro-distilleries that make up the Kentucky Bourbon Trail Craft Tour. The Kentucky Distillers' Associations suggests visitors take 3-4 days to explore the distilleries. Suggestions to plan your Kentucky Bourbon Trail trip here.
The Kentucky Bourbon Trail is located mostly in the central part of the state, but doesn't exactly have a beginning or end, nor it is a "trail" per se, meaning you have the freedom to meander through Kentucky's rolling hills and stop at points of interest along the way. Helpful directions if you plan to navigate the Bourbon trail on your own.
In addition to checking out Keeneland race track, Churchill Downs, the Kentucky Horse Park, and taking a tour of a Thoroughbred farm, below are some places where you can stay during your Bourbon Trail tour and/or take in a trail ride.
Meadow Lake Equestrian Center/ Ashley Inn—Lancaster, Kentucky

The Meadow Lake Equestrian Center is located on 133 acres of rolling hills. Keep your horse here on an equine layover while you stay in the Ashley Inn Bed & Breakfast, a historic and elegant restored pre-Civil War mansion located on the same property as the equestrian center.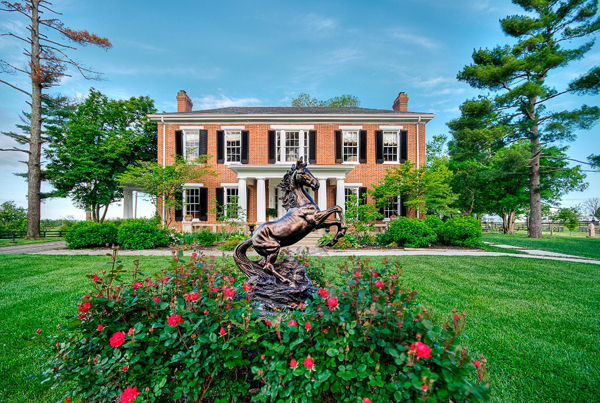 Horse Lick Creek Equestrian Retreat—McKee, Kentucky
Horse Lick Creek Equestrian Retreat is located on over 1500 acres, and just 20 minutes from Berea and 45 minutes from Lexington. You can bring your own horse and stay in the guesthouse on the property with the option to keep your horses in field turnout with a run-in shed or in a stall in the main barn.
Guests have access to miles of private horseback riding and hiking trails in unspoiled Kentucky landscapes.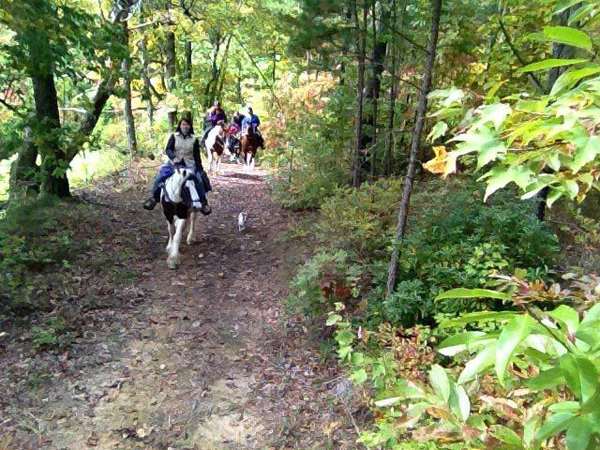 Whispering Woods Trails—Georgetown, Kentucky
Whispering Woods Trails has over 250 wooded acres of riding trails suitable for beginners. You can ride one of the farm's 24 horses or bring your own. These rides are heavily wooded with hills, creek crossings and wildlife such as deer, fox, raccoon, skunk, and wild turkeys. For more experienced riders, there are sections of the trail where you will be able to pick up the pace.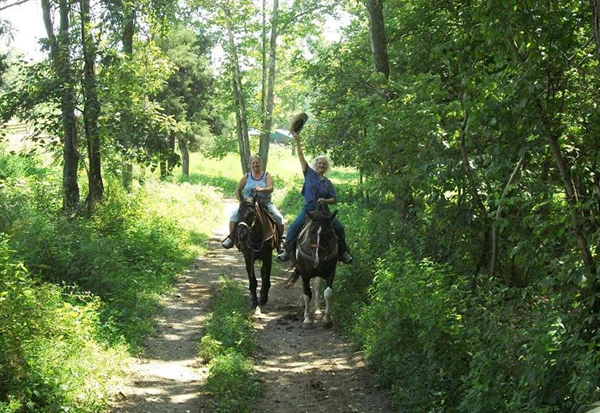 Deer Run Stable—Richmond, Kentucky

Deer Run Stable is located 7 miles south of Lexington and located in the heart of Daniel Boone Country, known for its scenery. They offer guided trail rides and western pleasure natural horsemanship packages.