Clew Bay Trail Riding Vacation in Ireland- Traveler Review
A rider sets off on a horseback riding holiday on Ireland's Wild Atlantic Way and reviews it for Equitrekking.
by Dorothea Heaton

We, three friends, arrived at Dublin Airport on Saturday the 24th of May and drove with a hire car to Westport. Westport is a very pretty and lively town on the West Coast of Ireland. There are lots of pubs, often featuring live music, and plenty of restaurants to eat out in the evening. We stayed at the Clew Bay Hotel in Westport, which can be booked as part of the package with the Clew Bay Trail Ride. The staff at the hotel were very friendly and helpful, and we enjoyed our stay there.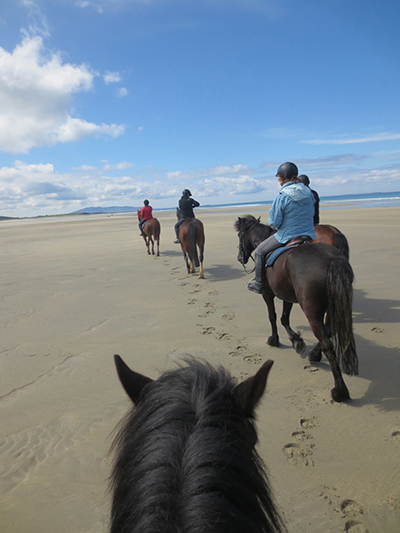 Guests on the Clew Bay Trail Ride can choose a 3-day or 6-day riding vacation.
Every morning we were picked up by Padraic Foy's father, who took us to where we started our ride each day. Padraic runs the Clew Bay Trail Riding Vacations. The first day it was a mountain ride, so that we could get used to our horses.
Travelers will ride through diverse landscapes including sandy beaches, sea and off-shore islands, country lanes, mountain tracks and local heritage sites.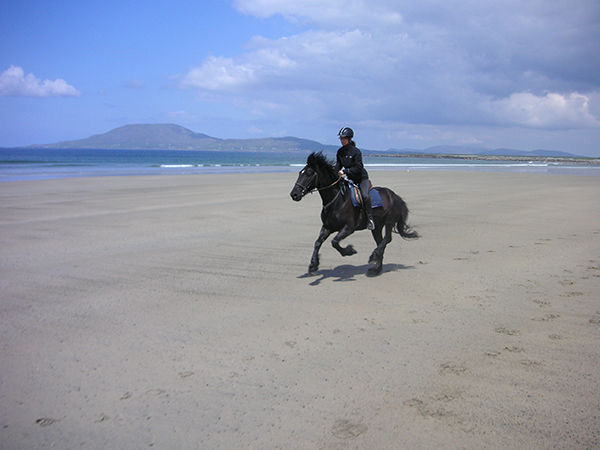 There are ample opportunities to gallop on Carrowniskey Beach and White Strand.
The next four days we rode mainly on the beaches. The scenery was fantastic and galloping along miles of sandy beach must be every rider's dream. There are several great beaches from which to choose; once we even spotted some dolphins. We absolutely loved the beach rides.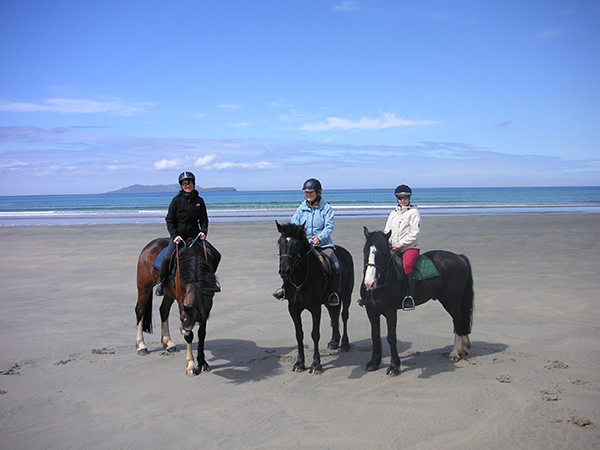 The base for these trail riding vacations is at Drummindoo Stud, family-run by the Foy's since 1963.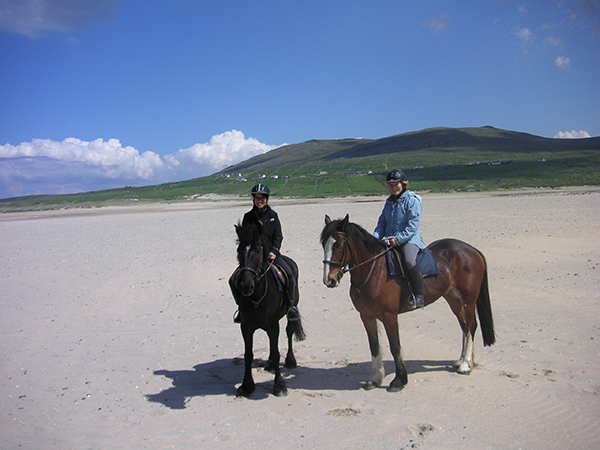 Guests ride Connemara Ponies, Irish Sport Horses, Irish Draughts or Irish Cobs.

Padraic was our guide for all five days and looked after us really well. The horses were brought by lorry to the start of our ride each day and we returned to it for our lunch break, except on the mountain ride.
The horses were lovely and you could see that they were very well cared for. You should be confident to walk trot and canter in open countryside to enjoy this Trail Ride. We were also extremely lucky with the weather – no rain at all! We certainly love to come back!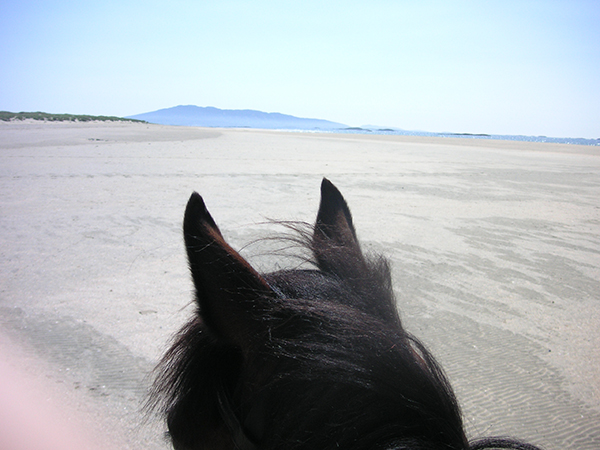 Views of the endless beaches on Ireland's Wild West Coast.
Learn about the Clew Bay Trail Ride on the website and on their page in the Equitrekking Vacation Guide, an online guidebook to great riding vacations.