Chocolate Satin Mint Cake Recipe from Elk Mountain Ranch
An important part of any travel experience is the food. At dude ranches across the USA, food takes center-stage as chefs whip up everything from S'mores Cookies to Pinon Crusted Chicken with Cherry Chipotle to Apple Berry Cobbler. Elk Mountain Ranch, located in the heart of the Colorado Rockies, is no exception. Below, owners Tom and Sue Murphy share a favorite guest dessert-- Chocolate Satin Mint Cake. Delish!
Chocolate Satin Mint Cake Recipe
Ingredients for the Cake's Filling
1-8 oz. cream cheese ¼ cup sugar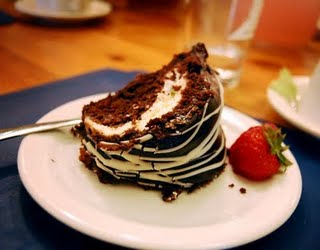 2 Tbsp. butter 1 Tbsp. cornstarch
1 egg 2 Tbsp. milk
¾ tsp. peppermint extract
Beat cheese, butter sugar and cornstarch. Add egg, milk and extract. Mix Until smooth.

Ingredients for the Cake
1 devils food cake mix 1 cup water, 1/3 cup vegetable oil and 3 eggs
Spread 2 cups batter in pan.
Place a center tube of filling.
Slowly pour remaining batter over filling.

Bake at 325 for 55-60 minutes. Cool.

Glaze & Drizzle
1/3 cup light corn syrup
1/3 cup whipping cream
6 squares (1 oz.) semi-sweet chocolate squares, chopped
2 squares (1 oz.) white chocolate squares, chopped
2 tsp. vegetable oil ¼ tsp. peppermint extract

For glaze, bring corn syrup and whipping cream to a simmer, stirring constantly with whisk. Remove from heat. Add semi-sweet chocolate, stir until smooth. Spread 2/3 cup glaze over top and side of cake. Freeze cake for 5 minutes until glaze is set. Meanwhile, keep remaining glaze warm over low heat. Slowly pour over cake. Let cool in refrigerator.
For drizzle, microwave white chocolate and oil about 1 minute or until mixture is smooth when stirred. Stir in extract. Let cool and drizzle over cake. Refrigerate.

Learn more about Elk Mountain Ranch. Check out Elk Mountain Ranch's page in the Equitrekking Vacation Guide, a searchable online guidebook to dude ranches, guest ranches and horseback riding vacations. Elk Mountain Ranch is also featured on Top20Ranches.com, showcasing 20 of our favorite North American dude ranches.