Chiropractic Work On Your OTTB
Did you know that horses can have chiropractors––just like humans? Many ex-racehorses suffer from the residual effects of untreated injures. Here's how a visit from an equine chiropractor might help!
My ex-racehorse Bahamut's first visit with an equine chiropractor
While riding Bahamut, I could feel he was off in his back end. I've tried massage and various stretches to try to get to the root of his discomfort. Although he enjoyed the massages and stretching, it didn't resolve the problem. I knew it was time for chiropractic help.
The owner of the barn where my horse is stabled had Tony Britain, an equine chiropractor, coming out to adjust her horses. Tony fit Bahamut in for a session. There are different techniques and tools used by equine chiropractors, and Tony prefers to use mallets.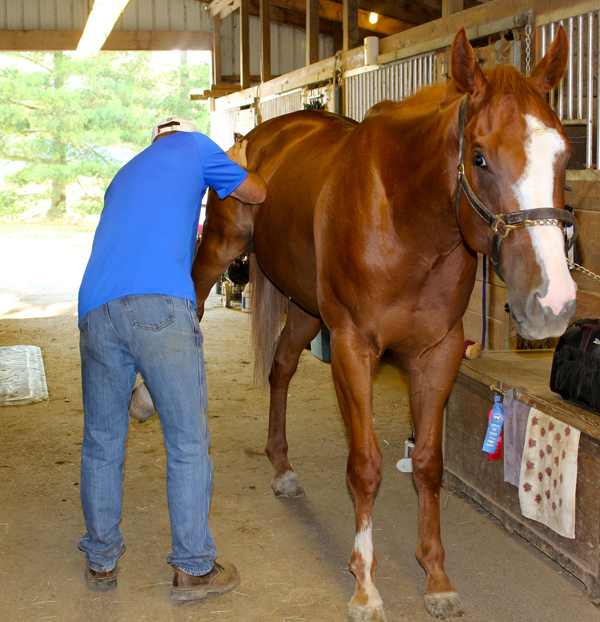 Tony Britain working on Bahamut's right-hind leg / Photos by Cait Cassidy
Tony started by doing an exam of Bahamut's vertebrae. He noticed where his back was out of alignment and moved it into the correct position. I'm not certain if Bahamut was ever adjusted before, but judging from this experience, I would say no. He about jumped out of his skin and bulldozed me at one point.
After Tony found and corrected the source of Bahamut's pain, he began to relax. Having Tony work on Bahamut was a valuable experience because it confirmed my intuitions about where my horse was stiff. I was surprised to discover just how "off" my horse was in other areas of his body. I also learned what I could do to help my horse's physical issues in the future by way of supplements.
How Equine Chiropractors Can Help
It can be helpful for horses to have chiropractic work, especially OTTB's. The physical demands of daily training and racing wear the body down. Even after some time off or stall rest, many ex-racehorses suffer from residual effects of untreated injures. Remember, regardless of your horses' past performance record, they are amazing athletes.
There are many reasons that after a long layoff that injuries seem to "show up" out of nowhere. Once drugs and pain medications have worn off or detoxed, the horse's body returns to its natural state. Often times during the retraining of an off-the-track-Thoroughbred, prior injuries surface.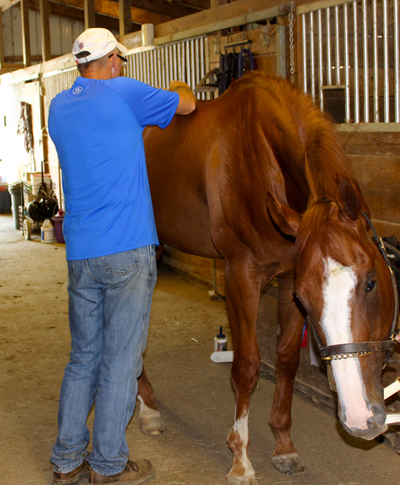 Equine Chiropractor Tony Britain adjusting Bahamut / Photos by Cait Cassidy
If you don't feel any soreness while riding but are experiencing resistance from your horse, ask yourself: Does my horse have difficulty doing something I ask? Does his or her attitude change to a negative demeanor under saddle or during lunging? Defiance from your horse during training exercises isn't always a behavioral issue. The underlying issue in many situations, unknown to the rider or owner, is physical pain.
While not a replacement for your veterinarian, chiropractic care is a holistic approach that can benefit health and performance problems in horses. Make sure to choose a reputable equine practitioner. You may want to seek a recommendation from your veterinarian or other horse owners in your area.
Your horse may benefit from chiropractic adjustments, which in turn benefits you. When pain has been alleviated, it frees the horse's mind. Your horse may become more supple and relaxed. Your horse's performance level can also be maximized when there is no body pain.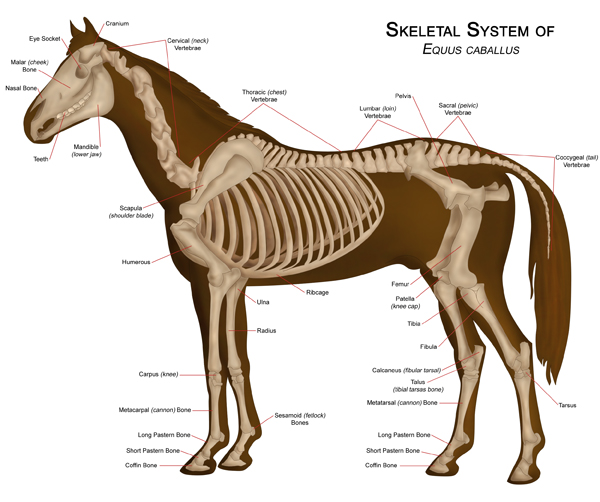 The skeletal system of the horse
Bahamut will have a couple of days of stall rest before I turn him out or work with him. I'll keep you updated on his progress in my next blog entry.

Here are further resources on horse anatomy and equine chiropractics:
The Well Adjusted Horse: Equine Chiropractic Methods You Can Do by Dr. Daniel Kamen
Where Does my Horse Hurt? by Renee Tucker, DVM
Horse Anatomy for Performance by Gillian Higgins
Considering adopting your own ex-racehorse? Here are some great rescue organizations with horses looking for their new home:
---
About the Author: Raina Paucar is an adventure loving equestrian and female jockey. She likes to ride and compete in many disciplines, explore new places, read great books, gadget hoard, play games, take pictures and write. She currently exercises racehorses and works with her own off-the-track-Thoroughbred (OTTB). Her career in media focuses on equestrian lifestyle. You can add her to your Google+ circles, subscribe on Facebook and follow on Twitter.