Performing Horses in Chicago: Noble Horse Theatre
Equine actors and their riders present exclusive shows in Chicago's Old Town.
by Karen Braschayko

Horses performing "The Nutcracker"? Cossack trick riding in Chicago? Andalusians, Lipizzaners, Arabians and Thoroughbreds living in the city? When a friend told me about the Noble Horse Theatre in Chicago, Illinois, I knew I had to see the unique equestrian experience for myself.

Right in Chicago's Old Town, blocks from Lincoln Park and Lakeshore Drive, below lofty buildings of condos, and near the rattling 'L' line, the Noble Horse Theatre is a surprising entertainment option for horse lovers. Presenting "Quadrille," "The Legend of Sleepy Hollow" and holiday performances of "The Nutcracker," the theater celebrates equines and riding in an exceptional way.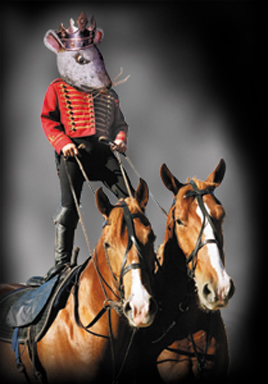 The Mouse King rides high during a performance of "The Nutcracker" at Noble Horse Theatre. Photo by Stacey Hopp.
Equine Performances in a Historic Riding Hall

Walking up to the castle-like brick and stone entrance is like going back in time and stepping into an era when, even in the city, horses were a valued part of daily life.

The Noble Horse Theatre is located in what it claims is the oldest riding hall in North America. Constructed in 1871 as a livery hall and riding stable, right after the Great Chicago Fire, it housed hansom cabs and horses at a time when they were the main form of transportation. In 1922, the building became Lakeshore Stables, an elegant riding academy that offered trail riding through Lincoln Park. In 1972 the hall closed, but in the 1980s and 1990s it once again housed a boarding facility and riding lessons.

Having undergone major and necessary renovations in 2003, the riding hall was reborn as the Noble Horse Theatre. It is the only stable left in the city, and it can house up to 55 horses. Equestrians will find the familiar barn scent as evidence that horses are near.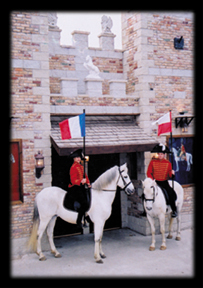 The entrance to Noble Horse Theatre in Chicago's Old Town. Photo by Stacey Hopp.
Creator Dan Sampson envisioned distinctive horse productions, and he wanted to showcase horses and riders from around the world. He and his team have worked hard to create shows with glamorous costumes, music, backgrounds, pageantry, classical dressage and trick riding in a historic setting. Horses are not just performers—they are the stars.
After 30 years of effort to make his idea a reality, Sampson has now retired. The Illinois Horse Park Foundation will continue his vision at Noble Horse Theatre.

I met Agnieszka Turek, director of development for the Illinois Horse Park Foundation. She has also trained the horses and performed in productions.

"It's a building that has always provided a home for horses, someway or another," Turek said. "It's been here a long time. We're very lucky to have it, be able to use it and have the horses."

Turek began her own riding career there, taking riding lessons as a child. She was a horse crazy city girl who eventually moved on to work with European trainers and rode in the World Famous Lipizzaner Stallions show, performing in the U.S. and Canada.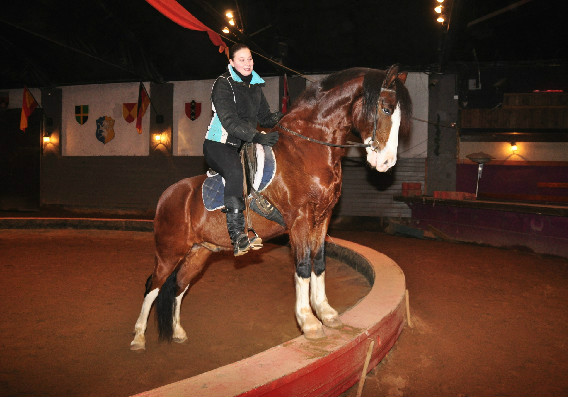 Agnieszka Turek and her American Warmblood named Murdoch perform a trick.
She has much sympathy for fellow horse lovers living in the city, and Noble Horse Theatre welcomes volunteer help.
"I have a lot of college girls who volunteer," Turek said. "They were taking riding lessons at home, and they miss the horses so much that they want to get back into riding. It's really good. It helps us and the horses out a lot. I'm happy that they give something back."

Being located in the middle of a city is challenging and more expensive, Turek explained. Noble Horse Theatre can't buy hay in bulk, because a large truck can't navigate the narrow streets. They are able to get the horses what they need, however, in weekly shipments. The horses have daily turnout in the theater's indoor arena, and weather permitting they can use a paddock across the street that a donor has provided. The theater also has stables at the Illinois Horse Park, 80 miles west of the Old Town location in Triumph, Illinois. The horses vacation there and are rotated between the sites.

Cossack Trick Riding in Old Town Chicago

I met Omar Chinibekov, head trainer for the Cossack riding team. Originally from Kazakhstan, he grew up in the Moscow Circus and dedicated decades of his life to mastering the tricks he now enjoys teaching others.

"I was a professional circus performer," he said. "I share my own experiences here."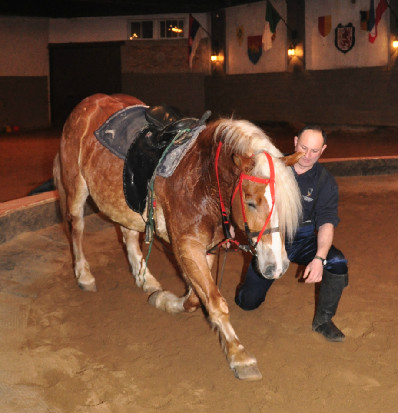 Omar Chinibekov and Bubba perform a bow.
The theater finds performance riders by asking equestrian friends, via Chinibekov's contacts in the circus world, and through advertising. They train between show seasons and year round. He explained that sometimes riders come for a trick riding lesson because they want to try something different than jumping or dressage.
"Then after the first lesson, nobody comes back," he laughed. "It looks easy, but this took me over 20 years."

People frequently ask Chinibekov if he brought the trick horses from his own country.

"No," he said. "If you know horses, if you know your job, it's like if you go from America to Russia and you drive a Russian car. It's the same thing. Each horse has a different personality. Some are smart. Some are harder to teach. Some it seems to take a couple days, and some it takes years."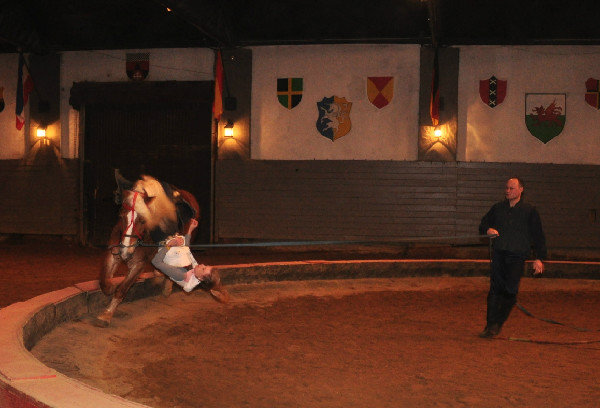 Trick rider Victoria Costa hangs inches from the ground.
Chinibekov said that he prefers crossbred horses for trick riding. Quarter Horses crossed with Belgians or draft mixes are his favorites, and they make a strong, sturdy platform for trick movements.
He was exercising Bubba, one of the trick horse stars and the largest Haflinger I've ever seen. Chinibekov rescued him from an auction, and he's now in training for performances. Watching them perform tricks, I could see why a wide back and a calm temperament are the keys.

There are several types of trick riding, but Noble Horse Theatre decided on a circular ring near the seating area so everyone can have a close view. Bold cracks of the whip add drama, along with lively music and the sound of hooves pounding around the angled wooden base. Add a rider standing tall on the horse's back, lying horizontally across the withers, hanging her head inches from the ground, or mounting at the canter, and it's a fun, exhilarating show that didn't look one bit easy to me.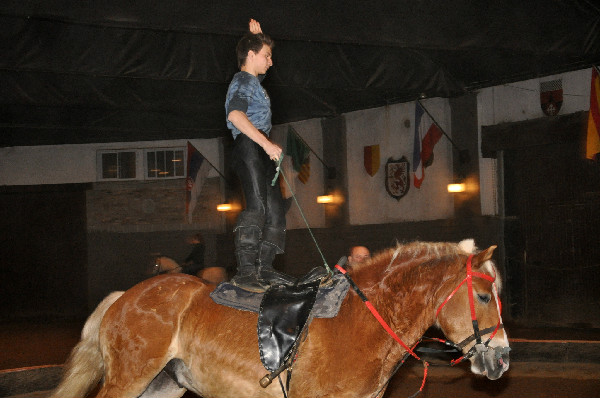 Trick rider Orest Sosnivka atop Bubba.
Equestrian Arts Shows with a Personal Touch
The Noble Horse Theatre is proud of their unique performances and personal touch. They invite their Old Town neighbors to visit. While I was there, a neighborhood family came in with their children to watch the practice, a golden opportunity for a horse crazy kid in the city.

After performances, the theater allows interaction with the equine performers that few other shows offer. Having seen the amazing things they can do, and after getting excited about the horses, people can actually meet them.

"What I really like about our show is the ending where everyone can come up and actually pet the horses," said Turek. "We do offer carriage rides or wagon rides after the show. Kids also have the option to be led around by Omar's team after the show on the horses. They get to ride on the stars of the show, the trick horses. They really, really enjoy it."

The theater encourages visitors to bring carrots and apples to feed the horses.

"The horses really enjoy it, and the people really enjoy being able to pet them and see them up close and interact," said Turek. "Then they get to see how all of the horses are different and have different personalities. They do a fabulous job. So it's like a big treat at the end."


The historic riding hall that houses Noble Horse Theatre.
The riding hall can seat 290 visitors, and all of the seats provide great views with no obstructions. The castle-style seating includes birch wood tables and is wheelchair accessible. Guests are welcome to bring their own snacks and beverages or to purchase from the concession area. Noble Horse Theatre has a parking lot with 25 spots that guests can use on a first-come, first-served basis. The theater is a short walk from the Sedgwick 'L' station.
Noble Horse Theatre also offers carriage rides by appointment in Old Town and in downtown Chicago. Birthday parties, field trips and special events are also welcome, and the theater has a gift shop and an equestrian art gallery. Riding lessons and an internship program are available. The horses and performers have also taken part in television and movie productions, photo shoots and parades.

The Noble Horse Theatre will be performing Wild Bill Hickok shows this summer at the Illinois Horse Park in Triumph, Illinois, including trick riding and shooting from the horses. They will begin their Old Town performance season in July, and they sometimes feature special guest riders from the horse world. Check the schedule on their website for details.

Whether you are looking for truly unique entertainment or you need a horse fix in the middle of the city, a visit to the Noble Horse Theatre will not disappoint.

How you can go: Noble Horse Theatre is located at 1410 N. Orleans St., Chicago, IL 60610. Visit their website at noblehorsechicago.com, e-mail Noblehorse1@hotmail.com, or call (312) 266-7878.

Karen Braschayko is a freelance writer and horse lover who lives in Michigan, and she would like to thank C.H. for this idea.